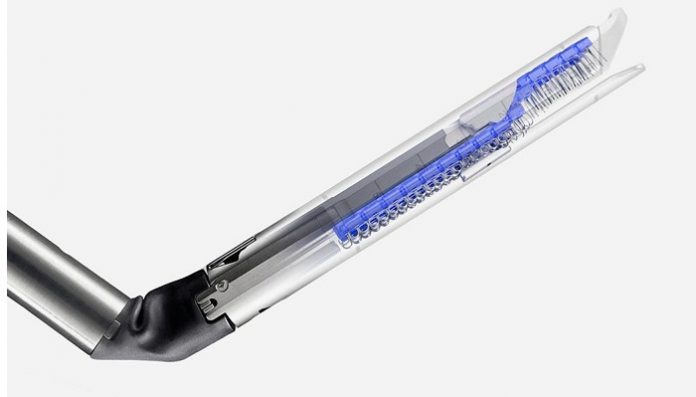 miVIP Surgery Centers, a network of ambulatory surgery facilities providing minimally invasive surgery, is the first outpatient facility in the world to use the SureForm 60™ Stapler from Intuitive Surgical. Bobby Bhasker-Rao, MD, a general and bariatric surgeon who has expertise with the robotic da Vinci® Xi Surgical System, used the SureForm 60 mm in a robotic-assisted sleeve gastrectomy, or gastric sleeve, procedure this week. Gastric sleeve surgery changes the shape and size of the stomach to reduce food intake, helping patients lose weight.
Surgeons at miVIP provide robotic-assisted surgery for obesity, hernia, sleep apnea, GERD, prostate cancer and other medical concerns. They continually seek ways to improve surgical techniques that deliver better outcomes for patients. Used with the da Vinci system's SmartFire™ technology, the SureForm 60 offers 120 degrees of fully wristed articulation, providing more precise stapler placement to reduce the risk of tissue damage to the patient.
"The SureForm 60 is the smartphone of surgical staplers," said Dr. Bobby Bhasker-Rao of miVIP Surgery Centers in Southern California. "This computer-interfaced stapler has all the intelligence and mechanics built in, allowing for a more consistent staple line."
According to Dr. Bhasker-Rao, the stapler's SmartFire technology helps optimize tissue approximation and sealing to prevent leaks and bleeding, leading to much safer and higher-quality surgeries. The instrument's articulation feature approaches tissue where it naturally lies, minimizing tissue manipulation and, therefore, minimizing tissue damage.
"This stapler further improves my ability to provide bariatric patients with the safest and most precise minimally invasive procedure possible," adds Dr. Bhasker-Rao. "For patients, this translates into a lower risk of complications, less pain, a shorter recovery time, and the best possible outcome."
About miVIP Surgery Centers
miVIP is a network of state-of-the-art outpatient surgery centers providing minimally invasive procedures in specialties that include Bariatrics, Gastroenterology, General Surgery, Gynecology, ENT (Ear, Nose & Throat), Orthopedics, Podiatry, Spine Health and Urology. miVIP facilities are equipped with robotics and other innovative technologies, and meet or exceed national assurance standards for safety and quality. Dedicated patient support teams provide concierge-level care and VIP treatment for an unparalleled healthcare experience. For information, visit www.mivip.com