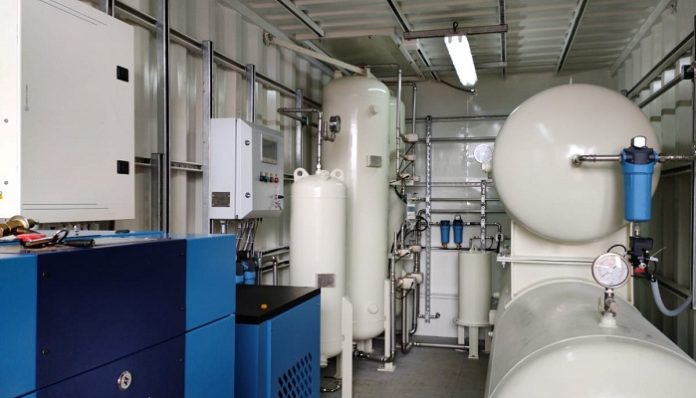 Recent figures released by the Philippines health department revealed that over 1,000 people receiving treatment for Covid-19 are severe or critical cases. As with other hospitalised patients, a continuous flow of life-saving Oxygen is crucial for their recovery but can supply be guaranteed when ordering traditional cylinders?
To achieve self-sufficiency with this vital gas a growing number of medical facilities in the Philippines are switching to Oxygen Pressure Swing Adsorption (PSA) technology from Oxair, supplied in the country by distributor and hospital systems specialist Brilliant Metal Craft & Machine Design (BMC).
PSA systems are high quality, robust medical devices designed to last and deliver consistent, high purity oxygen on tap to hospitals and healthcare facilities – even in the remotest locations around the world. BMC has now installed almost 40 Oxair PSA solutions in hospitals across the region, from Isabela to Tagum City, with more in the pipeline.
Australia-based Oxair, a global leader in gas processing systems, offers a simpler, safer alternative to dependence on cylinder-stored medical oxygen. As it extracts its supplies directly from the atmosphere, PSA oxygen provides better patient care with a permanent flow of high-quality oxygen.
This system saves room space, offers output pressure and a flow rate to suit the needs of the hospital and is capable of piping oxygen to every department where it is needed. Many medical centres across Philippine islands now have peace of mind, free from the worries associated with deliveries of cylinders – thanks to the dedicated work from BMC.
Oxair's system delivers constant oxygen of 94-95 per cent purity through PSA filtration, a unique process that separates oxygen from compressed air. The gas is then conditioned and filtered before being stored in a buffer tank to be used directly by the end user on demand. Oxair has expanded its operations in order to keep up with demand for standalone Oxygen PSA units.
BMC's Kristine Belle, explained: "PSA systems enable self-generated oxygen so supply for the hospital is secured. No more worries and red tape associated with deliveries of cylinder-stored oxygen. Handling and storage difficulties are also effectively eliminated."
The cost to a Philippines health facility generating its own oxygen is a fraction of purchased oxygen, meaning fast equipment investment payback and great savings in the long term.
David Cheeseman of Oxair added: "We've seen terrible consequences from a lack of life-saving medical oxygen, especially when treating Covid-19 patients. Medical facilities in the Philippines can rely on our technology for their oxygen needs as it is tried and tested over many years and the installations are carried out by BMC to an extremely high standard."
The covid-19 pandemic is far from over and is continuing to place additional pressure on oxygen supplies. More and more hospitals in the Philippines are recognising that PSA systems provide almost instant access to vital oxygen supplies under significantly safer conditions.