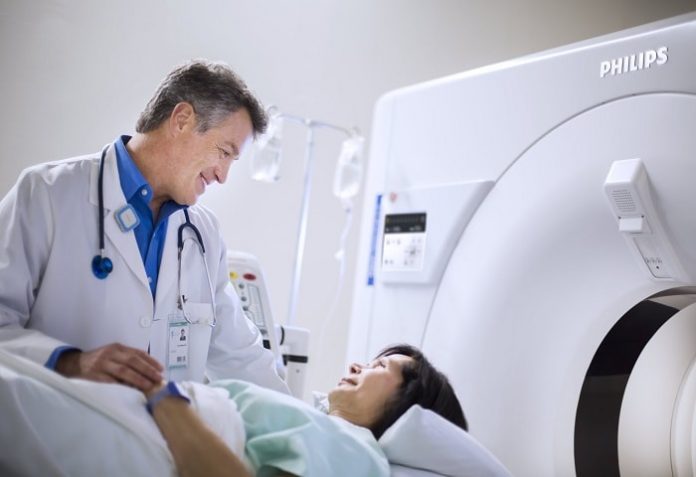 Royal Philips , a global leader in health technology, unveiled the IQon Elite Spectral CT to provide clinicians with increased diagnostic certainty in every scan, with zero compromise.

The IQon Elite Spectral CT, a new configuration of the world's first spectral detector-based computed tomography (CT) scanner, debuts a suite of features that will enhance the clinical benefits of the IQon platform to improve diagnostic confidence while enhancing the patient experience, and supporting the needs of emergency/trauma and oncology care.
"The IQon Elite Spectral CT is the first detector-based spectral CT of its kind to deliver more confident patient diagnoses in the first scan, representing a revolution in CT performance, "aid Kees Wesdorp, Business Leader, Diagnostic Imaging, Philips.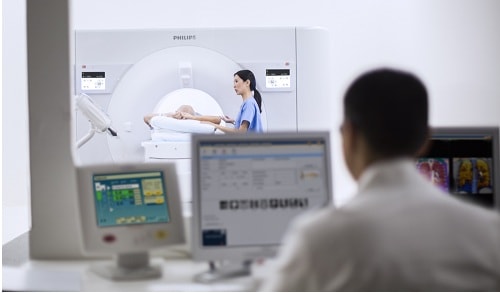 Pioneering a new spectral standard of care
Representing an evolution of the original IQon Spectral CT scanner, the IQon Elite advances the capabilities of its predecessor through a series of key benefits that support emergency/trauma department care and Philips' commitment to oncology excellence. This new configuration provides a number of enhanced features and benefits, including:
Enhanced diagnostic certainty – The IQon Elite's faster reconstruction speeds and better visualization of bone marrow pathology enhance diagnostic confidence within emergency and trauma departments, providing the opportunity to reduce the need for subsequent scans1. Its ability to estimate electron density provides enhanced tissue characterization, enabling a new level of diagnostic certainty for oncology clinicians and their patients.
Increased patient volume – IQon Elite's faster reconstruction speeds have been shown to enable up to 200 CT patients per day2. This is an important benchmark for healthcare facilities experiencing a high volume of patients, especially in the emergency department where CT can be a commonly used imaging modality.
Enhanced clinical breadth – Its new radiation therapy planning couch and bariatric table top allow larger patients to be scanned with increased positioning controls, providing greater clinical breadth.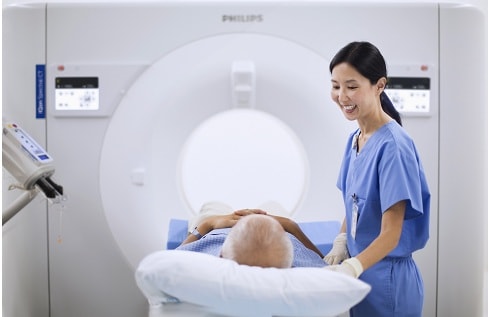 The IQon Elite Spectral CT scanner will be available globally during the first quarter of 2018. For more information about Philips IQon Spectral CT and the Philips Spectral Diagnostic Suite, including clinical images demonstrating the spectral difference, please visit: http://www.spectralctlearningcenter.philips.com/.
Philips will be showcasing the new IQon Elite Spectral CT alongside its full portfolio of integrated imaging systems, devices, informatics and services at booth #6735 in Hall B at McCormick Place. For more information about Philips' presence at RSNA, please visit www.philips.com/rsna.
[1] Results from case studies are not predictive of results in other cases. Results in other cases may vary.
[2] Typical protocol includes 600 images per SBI, 3 conventional series per patient, and 1.5 SBI per patient.
For further information, please contact:
Kathy O'Reilly
Philips Group Press Office
Tel.: +1 978 659 2638
E-mail: Kathy.oreilly@philips.com
Twitter: @kathyoreilly
Steve Klink
Philips Group Press Office
Tel.: +31 6 10 888 824
E-mail: steve.klink@philips.com
About Royal Philips
Royal Philips (NYSE: PHG, AEX: PHIA) is a leading health technology company focused on improving people's health and enabling better outcomes across the health continuum from healthy living and prevention, to diagnosis, treatment and home care. Philips leverages advanced technology and deep clinical and consumer insights to deliver integrated solutions. Headquartered in the Netherlands, the company is a leader in diagnostic imaging, image-guided therapy, patient monitoring and health informatics, as well as in consumer health and home care. Philips' health technology portfolio generated 2016 sales of EUR 17.4 billion and employs approximately 73,000 employees with sales and services in more than 100 countries. News about Philips can be found at www.philips.com/newscenter.