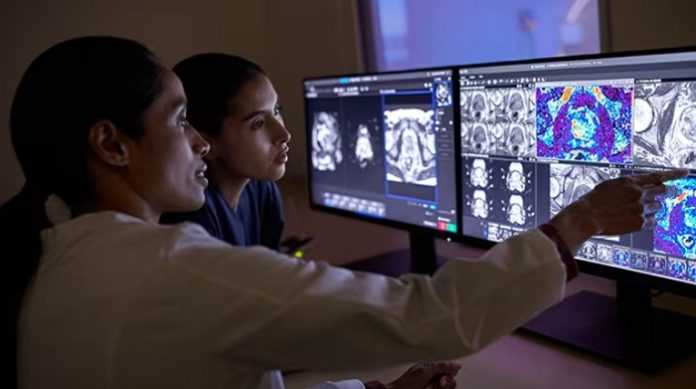 Prostate cancer goes on to have an important global impact. The American Cancer Society reports that almost every one in eight men across the US will face a prostate cancer diagnosis during their lifetime.1 Early detection when it comes to this disease mainly depends on a prostate-specific antigen, also known as a PSA screening blood test. This test can be especially useful in identifying cancer in the prostate at an early stage, especially when it comes to slow-growing tumours that remain localised within the prostate gland and fail to spread to other parts of the body. PSA screening tests, however, have little specificity when it relates to detecting serious types of cancer.
The result- this can lead to a high number of false positives as well as overdiagnoses. Therefore, patients end up going through painful biopsies that ultimately yield unfavourable outcomes, resulting in considerable anxiety as they eagerly await their biopsy results, which, by the way, is further made worse by an unnecessary burden on the pathology workload.
Although MR exams are typically more expensive and time-consuming as compared to PSA tests, current evidence suggests that MR scans can be beneficial as one of the assessing tools in case of guiding biopsy decisions. Additionally, MR exams can go on to serve as valuable diagnostic tools for treatment planning as well as personalised therapy, irrespective of the results from PSA testing.2 
MR exams have the ability to lead to cost savings as well as more precise diagnoses for patients by decreasing the number of unnecessary biopsies and allowing better-targeted therapy in cases of prostate cancer that require treatment. This can result in faster and more efficient healthcare outcomes.
It is well to be noted that Philips is currently making use of AI-powered technology, such as the MR SmartSpeed image reconstruction software. This software elevates clinical confidence by providing images with up to 65% higher resolution as well as exceptional quality.3
Philips and Quibim have partnered in order to develop an integrated solution that has in it Quibim's QP-Prostate software4, which makes use of AI, to automate the division of the prostate gland in real-time magnetic resonance- MR images5. This solution aims at offering valuable quantitative insights while creating a uniform reporting system for MR prostate exams. By leveraging Philips' AI-based MR imaging methods, the solution strives to equip clinicians with the required speed and precision to address the rising number of patients that look for MR exams. This will ultimately go on to enhance diagnostic trust, enable personalised treatment, and, at the same time, improve overall patient outcomes.
As per Ruud Zwerink, General Manager of MR at Philips, this collaboration seeks to enhance early detection of conditions such as cancer, boost accuracy in cases of first-time-right diagnoses, and at the same time optimise hospital operations in order to provide better care at reduced costs. The association with Quibim is going to eventually expand to include other types of cancer outside of prostate cancer. This is necessary because there is a growing need to enhance effectiveness and tackle staff shortages so as to provide high-quality oncology care to a larger set of patients. 
It is well to be noted that the collaboration between Philips and Quibim incorporates high-speed MR imaging coming from Philips with Quibim's QP-Prostate software. The objective of this collaboration is to offer rapid and dependable diagnostic support across all stages of an integrated evaluation, treatment, as well as therapy assessment workflow. The upcoming form of the lesion detection algorithm will greatly enhance the potential of MRI as a game-changer in prostate cancer evaluation6, stated Angel Alberich-Bayarri, the CEO of Quibim. The purpose of this integrated approach, along with its workflow-enhancing features, is to deal with the challenges faced by radiology and oncology departments, such as staffing shortages, higher burnout rates, as well as financial limits. Patients will also experience significant benefits, such as lower complex and painful biopsy procedures7, as well as individualised treatment.
MRI has become an essential component of the prostate cancer diagnostic route due to its high sensitivity to aggressive tumors. One needs to enhance its sensitivity in order to prevent unneeded biopsy and improve its inter-reader replication so as to ensure accurate diagnoses can be made outside of expert centres, says Professor Oliver Rouviere, who leads the Department of Radiology at Hopital Edouard Herriot in Lyon. One of the major challenges for any AI software devoted to prostate MRI is to achieve both good specificity and an elevated degree of sensitivity. Their top priority is to ensure that they provide accurate and reliable diagnostic results, regardless of the imaging guidelines, magnetic field strengths, along with vendors involved.
References: 
American Cancer Society, Key Statistics for Prostate Cancer
Moore CM et al.: Prevalence of MRI lesions in men responding to a GP-led invitation for a prostate health check: a prospective cohort study; BMJ Oncology 2023
Compared to Philips SENSE
QP-Prostate is an FDA 510k cleared solution and a UKCA and CE mark (Class IIb) cleared solution under MDR.
Jimenez-Pastor A et al.: Automated prostate multi-regional segmentation in magnetic resonance using fully convolutional neural networks. European Radiology 2023
Automated lesion detection is pending regulatory clearance and is currently only available as a research-only solution.
Elwenspoek MMC et al.: Comparison of Multiparametric Magnetic Resonance Imaging and Targeted Biopsy With Systematic Biopsy Alone for the Diagnosis of Prostate Cancer: A Systematic Review and Meta-analysis. JAMA Network Open 2019