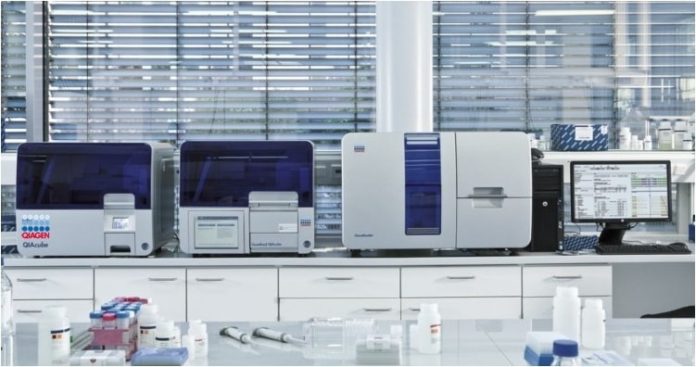 QIAGEN announced a series of agreements that expand its immuno-oncology assets for future commercialization of novel companion diagnostics for precision medicine in immuno-oncology, in particular based on the powerful next-generation sequencing (NGS) technology.
The agreements include a new collaboration with the Japanese company Repertoire Genesis Inc., which will provide access to novel technologies for the development of T-cell / B-cell receptor repertoire assays for use on NGS systems. QIAGEN intends to highlight these new agreements and other elements of its oncology portfolio at the Association for Molecular Pathology (AMP) Annual Meeting, which is being held from November 7-9 in Baltimore, Maryland.
Additionally, QIAGEN has entered into a new licensing agreement with researchers at the University of Bonn in Germany for novel epigenomic biomarkers based on immune checkpoint gene methylation, including CTLA4, PD-L1 and PD1, with rights to co-develop predictive companion diagnostics. In a second licensing agreement, QIAGEN has gained exclusive access to biomarker intellectual property held by the German diagnostic company STRATIFYER Molecular Pathology GmbH that is intended to provide guidance for treatment decisions in bladder cancer.
This series of agreements comes after QIAGEN recently entered into an agreement with Illumina Inc. to accelerate the adoption of NGS in clinical decision-making. QIAGEN has non-exclusive rights to develop and globally commercialize companion diagnostics and other IVD kits to be used together with Illumina's MiSeq™ Dx and NextSeq™ 550Dx Systems. The agreement also includes rights for expansion of the partnership on future Illumina diagnostic (Dx) systems. The partnership will initially focus on commercializing oncology IVD kits to support patient management and may expand in the future to include additional clinical diagnostic fields, such as cardiology, hereditary diseases, infectious diseases, as well as inflammatory and autoimmune diseases.
"We continue to expand our access to intellectual property and novel technologies that will help us to support our pharmaceutical and laboratory customers in the development of novel NGS-based solutions for precision medicine in immuno-oncology," said Thierry Bernard, Senior Vice President, Head of the Molecular Diagnostics Business Area and Interim CEO of QIAGEN. "We look forward to working with our new partners and expanding the presence of their breakthroughs to customers around the world, and with the vision of improving outcomes for patients."
Immuno-oncology collaboration with Repertoire Genesis
The worldwide, non-exclusive cross-marketing and promotion agreement with Repertoire Genesis covers joint market education efforts of the complementary capabilities of both companies. The goal is together to accelerate the development and availability of companion diagnostic tests on Illumina NGS platforms using the TCR technology developed by Repertoire Genesis in the field of immuno-oncology.
The TCR NGS technology includes the isolation of T-cells from peripheral blood as front-end processing, and uses a combination technology created by QIAGEN and Repertoire Genesis for TCR measurement, single primer set-based gene amplification, bioinformatics for interpretation of TCR repertoire analysis results, and the support of biomarker studies in Repertoire Genesis´ laboratory, located in Osaka, Japan.
"Providing a complete workflow for complex TCR analysis, combined with QIAGEN´s expertise in companion diagnostic development and commercialization and validated on Illumina´s NGS instruments, is a key step to leverage individual TCR diversity to clinical applications," said Ryuji Suzuki, President & CEO of Repertoire Genesis Inc.
Immune checkpoint epigenomics
QIAGEN has received licensing rights relating to an epigenomic immune checkpoint gene methylation test developed at the University of Bonn.
Immuno-oncology drugs, e.g. immune checkpoint inhibitors targeting the programmed cell death 1 (PD-1) pathway or the cytotoxic T-lymphocyte-associated protein 4 (CTLA-4) elicit powerful immune responses in various cancers. Researchers at the University of Bonn have studied epigenetic modification of immune checkpoint genes, including CTLA-4 and PD-1, and identified DNA methylation biomarkers to predict response to diverse immunotherapies.
QIAGEN intends to leverage this license to develop companion diagnostics for use in selecting patients likely to benefit from specific immuno-oncology therapies. Multiple pharmaceutical companies are developing immunotherapies that are designed to inhibit or activate a growing list of immune checkpoints, including the CTLA-4 pathway, to unleash an immune response to cancers.
mRNA gene expression signatures to guide treatment decisions
QIAGEN has gained exclusive access to biomarker intellectual property from STRATIFYER Molecular Pathology GmbH, a German company with more than 10 years of Research & Development experience in the field of molecular biology, that may provide guidance for treatment decisions in bladder cancer and potentially also in other urothelial cancers.
In retrospective clinical studies conducted by the interdisciplinary German Network of Pathologists and Urologists, BRIDGE (Bladder cancer Research Initiative for Drug targets Germany), the mRNA gene expression signatures were shown to potentially provide important guidance for the selection of therapies, including the selection of immuno-oncology therapies compared to other targeted therapies.
These developments build on QIAGEN's I-O portfolio, which includes QIAseq panels for comprehensive profiling of TMB (tumor mutation burden) and MSI (micro-satellite instability), the Omicsoft ImmunoLand bioinformatics database for visualization of immuno-oncology datasets, and ongoing collaborations with various pharmaceutical companies to develop novel multimodal companion diagnostics for immuno-oncology therapies.
QIAGEN is a global pioneer in precision medicine and markets a portfolio of about 30 companion diagnostics, which detect genetic abnormalities to provide insights that guide clinical decision-making. QIAGEN continues to expand its pipeline of solutions for precision medicine in cancer and other diseases, partnering with more than 25 pharmaceutical and biotechnology companies to co-develop companion and complementary diagnostics. These solutions span various stages of the "patient care continuum" – from screening, diagnostic, prognostic, predictive, therapeutic treatment and recurrence monitoring. QIAGEN's pipeline draws on a full range of testing platforms: polymerase chain reaction (PCR) using QIAsymphony workflows, next-generation sequencing (NGS) solutions and near-patient testing with QIAstat-Dx.
About QIAGEN
QIAGEN N.V., a Netherlands-based holding company, is the leading global provider of Sample to Insight solutions that enable customers to gain valuable molecular insights from samples containing the building blocks of life. Our sample technologies isolate and process DNA, RNA and proteins from blood, tissue and other materials. Assay technologies make these biomolecules visible and ready for analysis. Bioinformatics software and knowledge bases interpret data to report relevant, actionable insights. Automation solutions tie these together in seamless and cost-effective workflows. QIAGEN provides solutions to more than 500,000 customers around the world in Molecular Diagnostics (human healthcare) and Life Sciences (academia, pharma R&D and industrial applications, primarily forensics). As of September 30, 2019, QIAGEN employed approximately 5,200 people in over 35 locations worldwide. Further information can be found at http://www.qiagen.com.