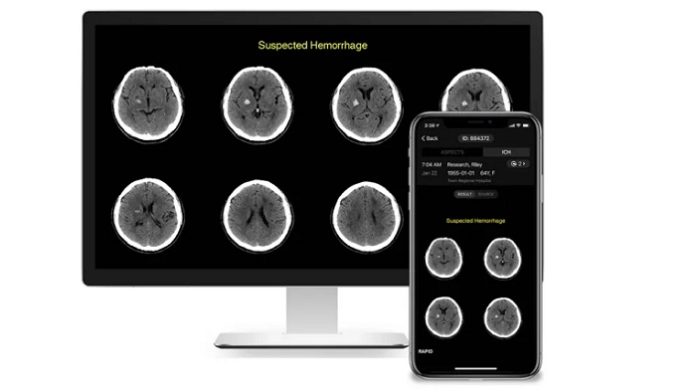 RapidAI, a startup developing a Cerebrovascular Imaging Product using AI, recently closed a $25 million Series B funding round led by Lennertz & Co. Family Equity Fund. The company will use these funds towards strategic growth initiatives, licensing, and acquisitions.
RapidAI claims to be the worldwide leader in advanced imaging for stroke. Its platform uses artificial intelligence to create high quality, advanced images from non-contrast CT, CT angiography, CT perfusion, and MRI diffusion and perfusion scans. The Rapid imaging platform includes Rapid CTA, Rapid LVO, Rapid ICH, Rapid ASPECTS, Rapid CTP, and Rapid MRI. RapidAI also offers a comprehensive aneurysm management platform called SurgicalPreview. All of these products feed into RapidAI Insights, which combines operational, clinical, and imaging data, offering reports on patient care decisions and treatment effectiveness through logs covering scan errors, processing times, patient volumes and demographics, logins by the user, training participation, and more.
RapidAI empowers clinicians to make faster, more accurate diagnostic and treatment decisions for stroke and aneurysm patients using clinically- proven, data-driven technology. Using their products developed by medical experts, they aim to improve patient care and outcomes every day. RapidAI claims to have analyzed over one million scans from over 1600 hospitals in over 50 countries. The company's annual revenue is estimated to be between $25 million and $50 million.
Computer vision in medicine is gaining more and more popularity over time with many companies in the race. For example, Zebra Medical Vision uses a computer vision system for diagnosing breast cancer and cardiovascular diseases. MedyMatch is using AI for medical imaging scans from acute stroke victims. Google's DeepMind, Google AI, and Arterys use AI to detect the presence of diseases like cancer or degenerative eye conditions, etc.
DeepMind is also trying to engineer an algorithm to search for early signs of blindness.