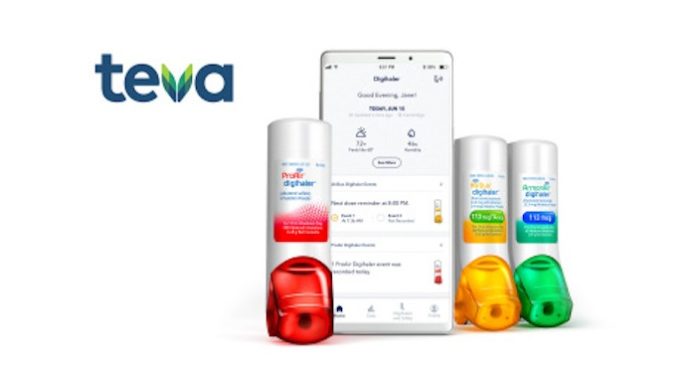 Teva Respiratory, an affiliate of Teva Pharmaceutical Industries, completed its digital inhaler portfolio today with the launch of two new products: the AirDuo Digihaler and the ArmonAir Digihaler.
Both of the new inhalers are prescription inhalation powders designed to treat people with asthma 12 years and older. The AirDuo can be used to control symptoms of asthma and to prevent symptoms such as wheezing, while the ArmonAir is designed for the long-term treatment of asthma.
Neither inhaler should not be used to relieve sudden breathing problems and won't replace a rescue inhaler, Teva said.  The new inhalers join Teva's ProAir DigiHaler to round out the company's digital maintenance inhaler portfolio for treating people with asthma.
"The full Digihaler family is a major step forward for digital health technologies in helping to transform patient care, and we hope it will enable patients and their healthcare providers to better inform treatment decisions," said Sven Dethlefs, the executive vice president of global marketing and portfolio at Teva Pharmaceuticals, in a statement. "For Teva, the Digihaler launch is the starting point for new software-based innovations in respiratory, moving treatment options beyond new therapeutic entities."
WHAT'S THE IMPACT?
The Digihaler line is equipped with Bluetooth wireless technology that automatically records inhaler-use data every time the cap is opened or a user inhales.
The data connects with a companion app that can remind users how often the device has been used, measure inspiratory flow rates, determine if the inhalation technique needs improvement and share patient data with their doctor. The company is pitching this as a way to better keep track of this data.
"Until now, I have had to rely on my patients' memory to share the details of their inhaler use habits with me – which, despite their best efforts, can be difficult and confusing," said Dr. J. Allen Meadows, a clinical faculty member at Alabama College of Osteopathic Medicine, in a statement. "Being able to see my patients' rescue and maintenance inhaler use data can help me assess if they are using their inhalers as prescribed."
The wholesale acquisition price of the AirDuo is between $399 and $449 depending on the dosage size. For the ArmonAir, the WAC is between $239 and $299.
THE LARGER TREND
Teva's original digital inhaler, the ProAir, was launched in the U.S. in July. It is a digital rescue inhaler designed for people four years or older with reversible obstructive airway diseases such as asthma and COPD, as well as for the prevention of exercise-induced bronchospasm (EIB) among this same group.
Propeller Health has been a longtime figure in the digital inhaler space. This year, it received 510(k) clearance for a sensor and app to be used with AstraZeneca's Symbicort inhaler for asthma and COPD. Propeller also entered a new market in Japan this year through a partnership with Novartis.
AireHealth, another respiratory health company, recently acquired BreathResearch and its IP, research and patents. The merger supports the virtual care platform's capabilities so that it can support the early detection of respiratory decline.
ON THE RECORD
"Being able to now offer AirDuo Digihaler and ArmonAir Digihaler to patients is an exciting step forward for Teva, and one that we are extremely proud of," said Brendan O'Grady, the executive vice president of North America commercial at Teva Pharmaceuticals, in a statement. "With the launch of these two maintenance products, we're now able to offer the full Digihaler portfolio to patients, potentially allowing them to gain an even deeper understanding of their overall asthma treatment regimen, due in part to the data collection capabilities of the Digihaler portfolio of products."