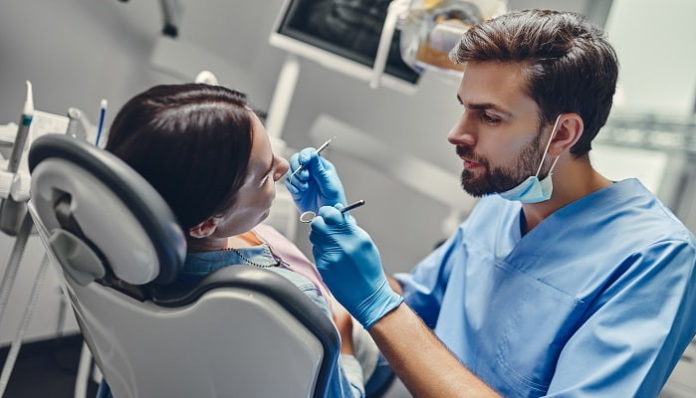 The pandemic has caused many dental offices to introduce new protocols to limit exposure as much as possible. Reducing the amount of time patients spend in your dental practice can help increase efficiency, but will also help keep your staff as safe as possible. 

These tips can allow you to minimize patient interaction inside the office, helping people move quickly in and out of your practice without causing anyone involved undue stress.
Avoid Crowded Waiting Rooms 
When patients book their appointments, have receptionists advise them to enter the office no sooner than five minutes before their appointment to check in. This can help keep patients from overcrowding the waiting room, creating excess noise, and potentially spreading germs around.
Advise them that it's for the safety of everyone in the office, including them, should they question receptionists. You can also adopt a mobile queue where patients can see in real time how long they have to wait for their appointment using their smartphone. On occasions where their appointment might be delayed, patients can be notified through the queue so they know to show up a little later.
Get Insurance Information Before The Appointment
One of the longest processes keeping patients in waiting rooms at reception is giving insurance provider information. It's worth having receptionists ask patients whether or not they have insurance when the patient phones, and having the receptionist enter that information into the computer if it's a new patient or the patient has switched providers.
Use Contactless Card Machines 
Having a contactless card machine can help you save time having to use a manual machine. They make the checkout process much simpler and much quicker for administrators and patients, so they can be presented their bill, pay quickly, and be on their way.
Contactless card machines can also make it so a patient simply has to tap their card to pay. They don't need to type in their pins or press any buttons, so less patients will be spreading their germs to each other. It's good to have a backup system in case someone doesn't have tap, though that's rare these days.
Implement A Paperless Patient Portal 
In order to keep patients out of the waiting room without making them late for their appointments by doing paperwork, it's worth looking into an app or online portal, or even a text messaging protocol to have patients update their information or sign in for their appointment.
Patients are able to complete these necessary steps on their own time before their appointment, making it so they don't feel the need to show up early in case they need to update a phone number or something of that nature.
When it comes to handling sensitive patient data, you can still go paperless, having an iPad or tablet that patients can use that is sanitized after each use. There are many platforms and portals one can use to keep patient information safe and secure.
Automate Appointment Reminders 
With receptionists potentially doing more on the phone to keep patients out of the waiting rooms for extended amounts of time, automating simple things such as appointment confirmations and reminders can help reduce much of reception's workload.
Patients may be more prone to checking texts or emails rather than answering their phone, so receptionists won't have to keep calling, and hopefully, you'll reduce the frequency of no-shows.
Delegate Reception Tasks Appropriately
If you have one receptionist handling face to face interactions with customers, while another is preparing for the next day and contacting patients, it makes it much easier to avoid overwhelming reception with too many tasks to do at once.
Final Thoughts
There isn't much that can be done to reduce procedure times apart from keeping updated on new procedure protocols that make things easier. Apart from that, rushing through procedures to have patients move through the practice quicker isn't recommended.
Trying to have patients spend less time in the waiting room is your best bet to reduce time patients spend in your dental practice, and there are many simple solutions that will allow you to do so. This way, everyone in your practice stays safe and healthy, reducing the risk of being short-staffed or having to reschedule appointments due to staff illness.