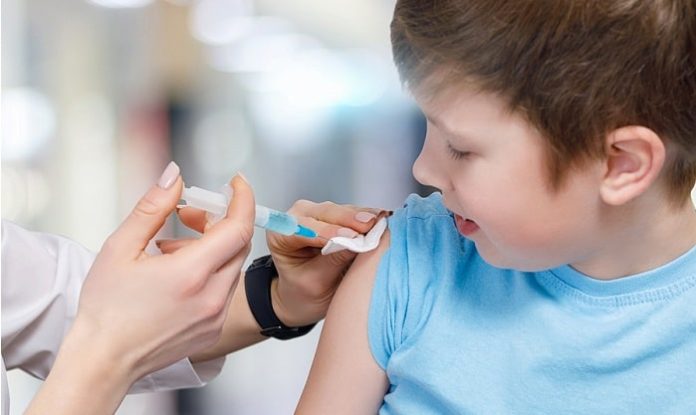 The National Health Service has disclosed there is a drop in coverage across 13 routine childhood vaccinations in England. The decrease is in the bracket of 0.2%-1.0% compared to the previous year. The major point of concern for the health officials is the fact that the six-year continuous decline coverage of five in one vaccine (diptheria, tetanus, pertussis, polio, and haeomphilus influenza type B) currently stands at 94.2%, which is falling short of the 95% target that is set by the World Health Organization. This is the first time since 2008 that the coverage has dipped below 95%. Besides, coverage for both doses of measles, mumps and rubella vaccines have also slipped again this year. The statistics are a bit alarming as the first dose at 24 months is down to 90.3% from 91.2% while the second dose at five years is down to 86.4% from 87.2%.
Mary Ramsay, PHE's Head of Immunization says that the changes though are of a small proportion yet they are big drops in terms of public health. The trend for the last 5 years according to her is concerning. The government has been urged by the Royal Society for Public Health (RSPH) to deliver a comprehensive strategy this autumn to address the widening gap in the vaccination uptake. This may involve the much-required catch-up programs for people who might have missed out on periodic jabs, intervention by local groups to under-vaccinated communities and thoughtful investment in media campaigns that would help drive the importance of these vaccines.
The society also stresses on improving the existing strategies for better uptake by increasing the availability of appointment times or even sending reminders to parents. Adequate funding needs to be looked into by the Government for such steps. Matt Hancock, Health Secretary is of an opinion that everyone has a role to play when it comes to halting the vaccination decline. These falling rates according to him are unacceptable. The loss of measles-free status of the country is a stark reminder to all that these devastating diseases can resurface.  Shirley Cramer CBE, Chief Executive, RSPH says that the loss of measles-free status early this year is alarming and the latest figures on childhood vaccination coverage go on to show that the world-leading child vaccination program is under threat. She further adds that one must be wary of the growth of misinformation which is spread through the online platforms. This can greatly damage the trust in vaccines. According to her, their research found out that negative messaging around vaccinations was high on social media with 2 in 5 parents succumbing to it. Shirley further adds that the parents must make full use of the free PHS vaccines as they are safe and effective.