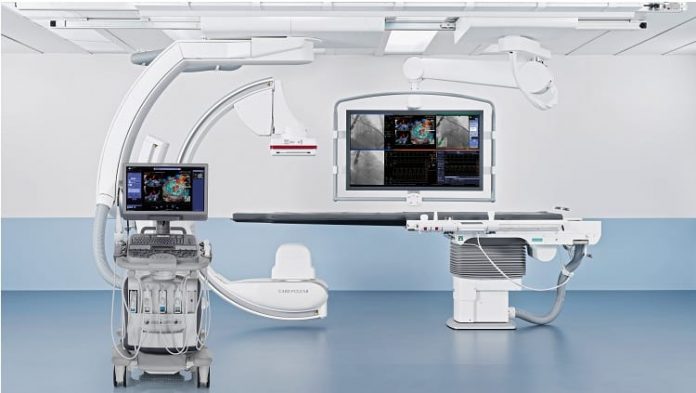 Siemens Healthineers has introduced TrueFusion1, an application on the new Release 5.0 of the ACUSON SC2000 cardiovascular ultrasound system that integrates ultrasound and angiography images. These integrated images can be used to guide cardiac teams when administering treatment for structural heart disease. With comprehensive imaging applications such as TrueFusion, in addition to laboratory and point of care diagnostics solutions as well as therapy guidance tools, information technology (IT), and services, Siemens Healthineers innovates to improve outcomes and reduce costs in cardiovascular care.

Fused imaging for structural heart procedures
Treatment options for structural heart disease are evolving rapidly. Increasingly, these minimally invasive procedures involve multimodality imaging and multidisciplinary clinical teams. To reliably diagnose structural heart disease and perform these complex interventions, clinical teams need detailed, real-time imaging information – specifically, real-time soft tissue and blood flow information from echocardiography as well as 2D imaging information from fluoroscopy – to be visible in one view for common orientation.
Addressing the need for fused images, the new TrueFusion application sends anatomical and functional markers as well as valve models from the ACUSON SC2000's True Volume transesophageal echocardiography (TEE) transducer to an Artis with PURE angiography system, overlaying ultrasound information with live fluoroscopy images to navigate structural heart procedures. By directly and seamlessly integrating co-registration of Artis fluoro and ACUSON SC2000 echo into the workflow via machine learning-based probe detection and automated registration updates, TrueFusion enables clinical teams to identify soft tissue-based structures that are provided directly from the integrated ultrasound system. With TrueFusion, not only can echocardiographers and interventionists better communicate and achieve more intuitive anatomical orientation during challenging procedures, but clinical teams potentially can reduce contrast usage and procedure time as well as patient and clinician X-ray exposure.
"With one of the industry's broadest portfolios for diagnosis, therapy, and follow-up of cardiovascular disease, Siemens Healthineers supports patient care along clinical pathways to improve outcomes," says Philipp Fischer, General Manager of Siemens Healthineers Cardiology. "For the high innovation pace of novel procedures and devices in structural heart disease, we provide data and image integration for clinical decision support and real-time therapy guidance."
1 TrueFusion represents a workflow consisting of syngo TrueFusion (syngo X Workplace) and TrueFusion echo-fluoro guidance (ACUSON SC2000 Ultrasound System, PRIME edition)
For further information on TrueFusion, please see www.siemens.com/truefusion
Siemens Healthineers is the separately managed healthcare business of Siemens AG enabling healthcare providers worldwide to meet their current challenges and to excel in their respective environments. A leader in medical technology, Siemens Healthineers is constantly innovating its portfolio of products and services in its core areas of diagnostic and therapeutic imaging and in laboratory diagnostics and molecular medicine. Siemens Healthineers is also actively developing its digital health services and enterprise services. To help customers succeed in today's dynamic healthcare marketplace, Siemens Healthineers is championing new business models that maximize opportunity and minimize risk for healthcare providers.
In fiscal 2016, which ended on September 30, 2016, Siemens Healthineers generated revenue of €13.5 billion and profit of over €2.3 billion and has about 46,000 employees worldwide. Further information is available at www.siemens.com/healthineers.
Contact
Mr. Jeff Bell
Siemens Medical Solutions USA, Inc. Healthcare
40 Liberty Boulevard
19355 Malvern, PA
USA
Mobile +1 (484) 868-8346
jeffrey.t.bell​@siemens-healthineers.com