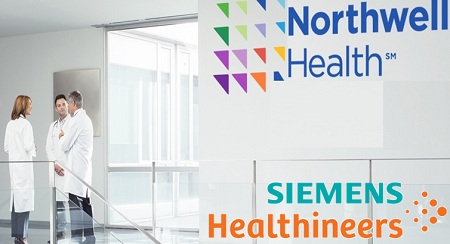 Siemens Healthineers to provide dedicated personnel and research support over the next four years to the Northwell Health Imaging Clinical Effectiveness and Outcomes Research (iCEOR) Program.
 "This partnership is first-of-its-kind for both Siemens Healthineers and Northwell Health to collaborate on research that could potentially define care pathways for various populations in the future," said August Calhoun, Senior Vice President of Services, Siemens Healthineers North America. "We are excited to bring to the partnership a long history of innovation excellence, and I know that in working closely with a top-ranking clinical and medical education institute like Northwell, the partnership will contribute great results to the healthcare marketplace. Agreements such as this are another milestone in our growth strategy of focusing on Enterprise and Digital Services and collaborating with customers to improve healthcare."
Preliminary results from the partnership's first study, the "Value of Advanced Imaging in Improving Health Outcomes and Healthcare Spending in Acute Stroke1," indicate that advanced imaging is preferred in acute stroke care leading to improved long-term health outcomes. The principal investigator, Pina Sanelli, MD, Vice Chair for Research at Northwell Health, noted that the optimal choice of computed tomography (CT) or magnetic resonance imaging (MRI) varies by patient's specific characteristics promoting a patient-centered imaging approach in which each patient will receive the imaging exam that will result in best outcomes based on their own personal features. These early findings suggest that further investigation is needed to perform a more-comprehensive analysis of the long-term benefits, harms and costs for different imaging approaches in acute stroke care incorporating a variety of personal characteristics.
"The Imaging Clinical Effectiveness and Outcomes Research (iCEOR) Program at Northwell Health is dedicated to performing the highest quality health services research in order to improve patient care as well as to inform health policy decisions affecting population health," said Jason Naidich, MD, Senior Vice President of Imaging at Northwell and Chair of Radiology at the Hofstra Northwell School of Medicine. "Northwell Health is committed to improving the health of the communities it serves. Our joint research initiative with Siemens Healthineers builds upon our organizations' long-term relationship and will help us advance this critical mission."
1 Siemens provided funding for this study which was independently designed and
Siemens Healthineers
Lance Longwell, phone: 610-448-6341
E-mail: Lance.Longwell@siemens.com
Northwell Health
Betty Olt, phone: 516-321-6709
E-Mail: bolt@northwell.edu

About Siemens Healthineers
Siemens Healthineers is the separately managed healthcare business of Siemens AG enabling healthcare providers worldwide to meet their current challenges and to excel in their respective environments. A leader in medical technology, Siemens Healthineers is constantly innovating its portfolio of products and services in its core areas of diagnostic and therapeutic imaging and in laboratory diagnostics and molecular medicine. Siemens Healthineers is also actively developing its digital health services and enterprise services. To help customers succeed in today's dynamic healthcare marketplace, Siemens Healthineers is championing new business models that maximize opportunity and minimize risk for healthcare providers.
In fiscal 2016, which ended on September 30, 2016, Siemens Healthineers generated revenue of €13.5 billion and profit of over €2.3 billion and has about 46,000 employees worldwide. Further information is available at www.siemens.com/healthineers
About Northwell Health
Northwell Health is New York State's largest health care provider and private employer, with 21 hospitals and over 500 outpatient practices. We care for more than 1.8 million people annually in the metro New York area and beyond, thanks to philanthropic support from our communities. Our 61,000 employees – including 15,000+ nurses and 2,500+ doctors within Northwell Health Physician Partners – are working to change health care for the better. We're making breakthroughs in medicine at the Feinstein Institute. We're training the next generation of medical professionals at the visionary Hofstra Northwell School of Medicine and the School of Graduate Nursing and Physician Assistant Studies. And we offer health insurance through CareConnect. For information on our more than 100 medical specialties, visit www.Northwell.edu.