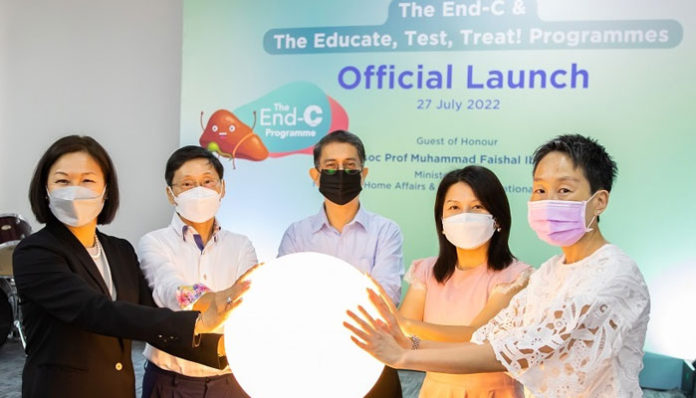 A day before World Hepatitis Day 2022, Singapore's HCSA Community Services (HCSA), a charity foundation, announced the commencement of a targeted HCV elimination initiative, in line with the WHO's demand to eradicate hepatitis C (HCV) by 2030.
The HCSA Highpoint Hepatitis C-Educate, Test, Treat! (ETT) Programme was established by HCSA and is managed by HCSA Highpoint Halfway House, a residential shelter for ex-offenders. Together with the End-C Programme established by Tan Tock Seng Hospital (TTSH), both programmes seek to provide HCV testing, education, and connection to care services for high-risk patient groups like former drug offenders, recently released convicts, and individuals in recovery from addiction. Gilead Sciences is a grant recipient that is supporting the ETT programme.
TTSH is now conducting a study in association with the programme with HCSA participants to assess the accuracy and practicality of a minimally invasive point-of-care test (POCT). The POCT would allow the potential of adopting a finger-prick blood test and a saliva test, which is a more practical and approachable method. In order to encourage people to test regularly and receive results in as little as 20 to 40 minutes, the POCT idea is centred on lowering testing obstacles. If the test is successful, the individual can request follow-up assessments and get the earlier assistance. Participants in the ETT programme who have been diagnosed with active HCV will also receive oral medicine for therapy.
The End-C Programme, which intends to progressively cure and test other at-risk groups, will further utilise the results of the ETT programme. Ultimately, encouraging public self-evaluation of HCV risks is one of its key objectives. The recently opened Hepatitis C clinic in TTSH and the establishment of a digital resource platform that provides access to educational materials and a friend-CBefrienders' Toolkit to motivate positive HCV patients to finish their treatment journey are just two examples of the collaborative efforts of HCSA and TTSH to fight HCV. The concurrent ETT and End-C programmes will concentrate on ensuring that individuals with HCV infection have easy access to treatment. The ETT Programme and TTSH study will both be carried out over a twelve-month period.
They intend to push the eradication of HCV by offering linkage to care for patients and adopting minimally invasive testing and straightforward treatment methods, says Senior Consultant, Gastroenterology and Clinical Hepatology, Tan Tock Seng Hospital, Dr. Yew Kuo Chao. If it is successful, they intend to broaden the scope of this service so that more individuals can take advantage of it.
By 2030, the World Health Organization wants viral hepatitis to be completely eradicated as a danger to public health. Through the Liver Index Study, they were able to pinpoint important knowledge gaps and community attitudes around liver health. According to General Manager, Hong Kong, Singapore, and Malaysia, Gilead Sciences, Stanley Li, they are collaborating with community partners to promote high-impact programmes that address current obstacles and difficulties to HCV elimination efforts.
Microelimination initiatives like the HCSA Highpoint Hepatitis C-Educate, Test, Treat! (ETT) Programme, with their emphasis on high-risk populations toward which prevention and treatment interventions can be more effectively delivered, are a starting point that, in his words, will result in a more favourable impact for local communities.
The Tan Tock Seng Hospital Gastroenterology and Hepatology Department will provide patients with instructional content and telephonic consultations as part of the integrated programme to aid them in their medical care. HCSA's FriEnd-C Befriender Program, an integrative support system to help patients who are HCV positive and make sure they do not drop out of the programme and finish the treatment path, complements this.
HCSA will also be undertaking educational campaigns through a variety of activities, including presentations at HCSA Highpoint Halfway House and other halfway houses in Singapore, to sustain and push extra education among specific patient groups.
Kim Lang Khalil, Chief Executive Officer, HCSACommunity Services, stated that as the first halfway house in Singapore to advocate and conduct this first-of-its-kind HCV elimination campaign, they are committed to raising awareness and education on HCV among vulnerable groups. They are convinced that the ETT and End-C programmes will allow all individuals to live to the fullest, eliminate unnecessary barriers to HCV care, and empower at-risk groups.