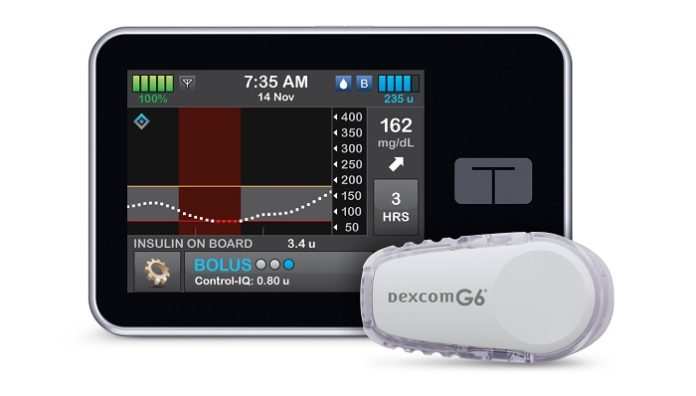 Tandem Diabetes Care, a leading insulin delivery and diabetes technology company,announced U.S. FDA clearance of the t:slim X2™ insulin pump with Control-IQ™ technology, an advanced hybrid-closed loop feature designed to help increase time in range (70-180 mg/dL)1, and the first system cleared to deliver automatic correction boluses in addition to adjusting insulin to help prevent high and low blood sugar.
The system integrates with Dexcom G6 continuous glucose monitoring (CGM), which requires no fingersticks for calibration or diabetes treatment decisions.2,3,4 Control-IQ technology for the t:slim X2 insulin pump is the first automated insulin dosing software in a new interoperable automated glycemic controller category that automatically adjusts insulin delivery to a person with diabetes by connecting to an alternate controller-enabled insulin pump (ACE pump) and integrated continuous glucose monitor (iCGM). This is the third category classified by the FDA for the interoperability of devices as a complete automated insulin dosing (AID) system.
All in-warranty t:slim X2 pump users in the United States will have the option to add the new feature free of charge via remote software update.5 The update is expected to be available by the end of January 2020, and new pumps with Control-IQ technology will begin shipping to customers in the same timeframe. The Company will continue to offer the t:slim X2 pump with Basal-IQ® predictive low glucose suspend technology as an option for people who prefer a system designed specifically to help prevent lows.
The t:slim X2 insulin pump with Control-IQ technology uses CGM values, in conjunction with other variables such as insulin on board, to predict glucose levels 30 minutes ahead and adjust insulin delivery accordingly. If glucose values are predicted to drop below 112.5 mg/dL, basal insulin delivery is reduced, and when predicted to be below 70 mg/dL, basal insulin delivery is stopped. If glucose values are predicted to be above 160 mg/dL in the next 30 minutes, basal insulin will be increased. If glucose values are predicted to be above 180 mg/dL, Control-IQ technology calculates a correction bolus with a target of 110 mg/dL, and delivers 60 percent of that value up to once an hour as needed. Control-IQ technology also offers optional settings for sleep and exercise that will change the treatment values to better match the different physiologic needs during these activities.
With the interoperable automated glycemic controller designation, the FDA establishes a new device class which includes special controls outlining requirements for this and future submissions in this category, as well as describes the reliability, device interoperability, cybersecurity, and clinical relevance data required to demonstrate acceptable performance. The t:slim X2 insulin pump was also the first to receive an ACE infusion pump classification in February 2019, and the first insulin pump designated as compatible with iCGM devices in June 2018.
"Not only do new closed-loop systems need to be effective at improving glycemic control, they must also be easy to understand and use so patients can experience the full benefits of the technology. The t:slim X2 insulin pump with Control-IQ technology successfully achieved both objectives in the clinical studies," said Boris Kovatchev, PhD, Director of the Center for Diabetes Technology at the University of Virginia and principal investigator of the International Diabetes Closed Loop (iDCL) trials. "We are very proud of the extensive academic research that went into this effort, and we are thrilled to see this work has translated into an FDA-cleared device for clinical use so that more people can experience the benefits of this technology."
"With this clearance, we will be launching the most advanced automated insulin dosing system commercially available in the world," said John Sheridan, president and CEO of Tandem Diabetes Care. "This is a testament to our commitment to improving the lives of people with diabetes by offering simple-to-use products that deliver superior performance."
"The approval of the Control-IQ system with Dexcom G6 CGM brings together two incredible products to deliver a powerful automated insulin dosing solution for people with diabetes," said Kevin Sayer, president and CEO of Dexcom. "Sensor accuracy is a critical component for automated insulin dosing, and we are excited that Dexcom G6 users can benefit from our collaborative effort to integrate this advanced hybrid closed loop system."
About Tandem Diabetes Care, Inc.
Tandem Diabetes Care, Inc is a medical device company dedicated to improving the lives of people with diabetes through relentless innovation and revolutionary customer experience. The Company takes an innovative, user-centric approach to the design, development and commercialization of products for people with diabetes who use insulin. Tandem manufactures and sells the t:slim X2 insulin pump with Control-IQ technology. The t:slim X2 pump is capable of remote feature updates using a personal computer, and is the only automated insulin dosing device approved for children as young as 6 years old. Tandem is based in San Diego, California.