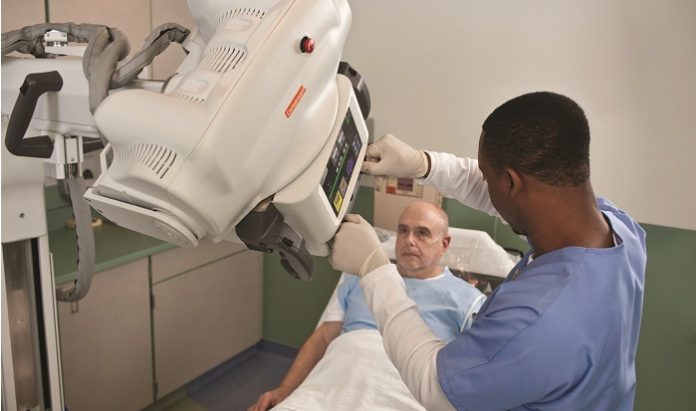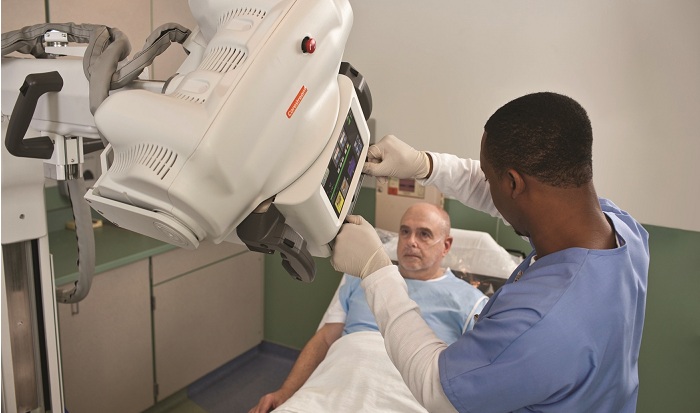 Physician-owned South Texas Surgical Hospital has improved user workflow and created efficiencies across its facility with the use of Carestream's DRX-Revolution Mobile X-ray System and a CARESTREAM DRX-1 System, both using DRX-Plus detectors.
"We're a surgical hospital so we're primarily here to provide service to the operating room. We do have an in-patient unit and a small emergency room," said Lisa Mason, Radiology Manager at South Texas Surgical Hospital. "The mobile DRX-Revolution has been invaluable in being able to go into the operating room during total hip replacement surgeries, where the surgeon doesn't want a C-arm in there the entire time. He just needs us to come in and take a couple of quick pictures during the procedure so he can see them in real time on the screen and then we're out."
"With the DRX-Revolution, it's a quick in and out and it serves the same purpose as a C-arm. The surgeons all love it," Ms. Mason added.
The CARESTREAM DRX-Revolution Mobile X-ray System provides fast, convenient digital radiography imaging for patients at the bedside, in the operating room, the intensive care unit or the emergency room. The portable system eliminates blind navigation in hallways, elevators and patient rooms, offering unparalleled maneuverability in tight spaces. At South Texas Surgical Hospital, the unit is housed in the radiology department and used throughout the hospital.
"We were looking online at the portables, we were watching videos to see how they work. The thing that stuck with me is that Carestream acquired input from technologists in designing it," Ms. Mason said. "Who better to say how an X-ray unit should operate than the ones who use it all day? That's what made me want to get in contact with Carestream and see what the system does."
South Texas Surgical Hospital also used Carestream's DRX-1 System to retrofit an existing analog X-ray room. The wireless DRX-Plus detector slides into existing X-ray equipment and can be used with imaging systems throughout a facility. South Texas Surgical uses the DRX detector in their retrofitted room where they perform chest exams.
"We purchased a larger detector, the 17 x 17, which is great for us because we're imaging chests all day," Ms. Mason explained. "So we never have to take it out and turn it around to get the horizontal and vertical orientations. We just leave it in there. It saves us time."
Carestream's DRX detectors, which lie at the core of its DRX portfolio, feature wireless connectivity to eliminate the hassles and hazards of cables and reduce the risk of infection; deliver instant access to images to speed decisions on patient care; and provide the ability to share detectors between any DRX room or any mobile DRX system. It also has a separate battery charger that allows the detector to be used while a spare battery is being charged.
Carestream's guidance as South Texas Surgical Hospital made its purchasing decision, especially on the DRX-Revolution system, helped make the process easy. "From the first phone call, everybody was so helpful in getting us the information we needed," Ms. Mason said.