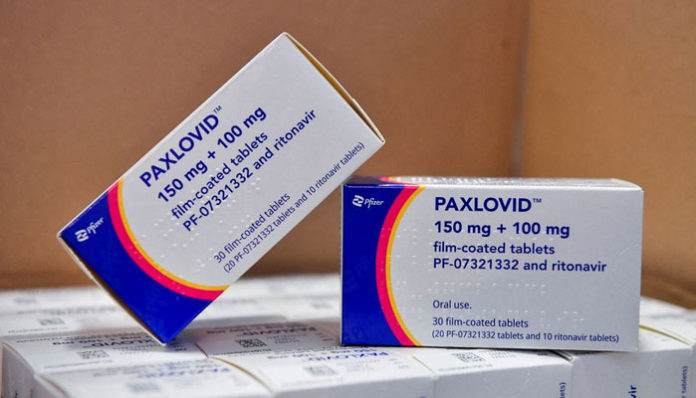 On July 6, the US Food and Drug Administration modified the COVID-19 antiviral drug Paxlovid's emergency use authorization to permit state-licensed pharmacists to recommend the medication to those who qualify.
Dr. Patrizia Cavazzoni, head of the FDA's Center for Drug Evaluation and Research, issued a statement saying, that the FDA appreciates the critical role pharmacists have played and continue to play in battling this pandemic. Since Paxlovid must be taken within five days of the onset of symptoms, allowing state-licensed pharmacists to dispense it could increase the number of patients who have prompt access to care and are qualified for Paxlovid for COVID-19 treatment.
The FDA advised those who screened positive for COVID-19 to first consult with their regular doctor or locate a nearby test-to-treat facility where they can acquire a prescription from a doctor.
People who want to purchase Paxlovid from a pharmacist must have with them printed or electronic health records that are no older than 12 months and also include blood work to check for kidney or liver issues and a list of all meds being taken, both prescription and over-the-counter, to check for drug interactions. The pharmacist and the person's healthcare practitioner could potentially consult in order to collect the health records.
According to the FDA, the updated EUA has specific restrictions to guarantee proper assessment and prescription. If there is insufficient information to examine liver function, kidney function, or probable drug interactions, if other prescriptions need to be changed, or if Paxlovid is not the right course of treatment, pharmacists should direct patients to medical professionals like doctors.
According to a study cited by the American Pharmacists Association, improving access to approved practitioners, including pharmacists, will boost availability and give more opportunity for socially vulnerable and medically deprived communities to receive these lifesaving medications.
Ilisa BG Bernstein, interim executive vice president and chief executive officer of the association, said in a statement that opening the door for pharmacists to act as practitioners will open the door to reasonable access at pharmacies in communities across the nation.
However, the FDA's action was criticised by the American Medical Association. Paxlovid is not right for everyone, and prescribing it necessitates understanding of a patient's medical history, clinical monitoring for side effects, and follow-up care to ascertain whether a patient is improving — prerequisites far beyond a pharmacist's purview and training, according to AMA President Dr. Jack Resneck Jr.
Physician-led teams that include pharmacists will provide the greatest, most thorough treatment for patients. But, whenever possible, the choice to prescribe should be made by a doctor who has access to the patient's medical records and the capacity to monitor the patient. Paxlovid is approved to treat mild to moderate COVID-19 in adults over 12 who have tested positive for COVID-19 and are at high risk for developing severe COVID.
In December last year, the antiviral received authorization for emergency use. Pfizer disclosed in May that it had submitted the application for the FDA to fully approve Paxlovid.
A third of Americans reside in counties with a high COVID-19 community level, in which the Centers for Disease Control and Prevention advise everyone to wear indoor masks and include a cautionary note about the potential for increased strain on the healthcare system. The US Department of Health and Human Services' data reveals that COVID-19 hospitalizations are slowly increasing across the country as well.