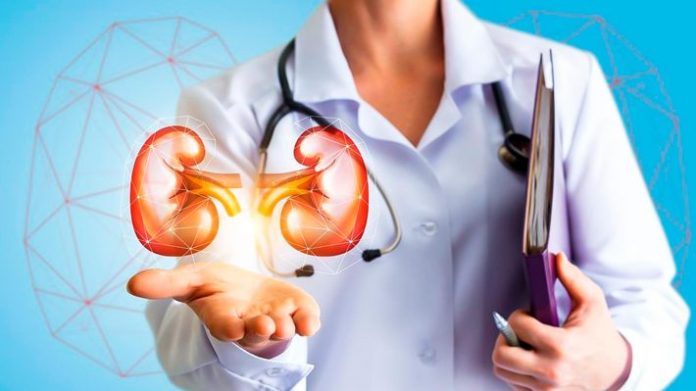 The National Kidney Foundation (NKF), a non-profit health organization dedicated to the awareness, prevention, and treatment of kidney disease, and Healthy.io, the global leader in transforming the smartphone camera into a clinical-grade medical device, announced a new effort to promote detection of chronic kidney disease (CKD). Through their partnership, the NKF and Healthy.io will offer Healthy.io's Minuteful Kidney™ at-home kidney test, free of charge, to people who are at risk for kidney disease.

As part of an NKF national public awareness campaign called "Are You the 33%?" Americans can take a one-minute quiz to see if they are at a higher risk for kidney disease and then can choose to receive a complimentary test kit through the mail.
Launched in time for Kidney Day 2023 on March 9, the quiz is an important tool for educating people about this deadly illness. It can be found on NKF's website at minuteforyourkidneys.org. In addition to receiving a test kit that they can complete at their own convenience, those who are identified as higher risk for kidney disease can also access NKF's educational materials, which will help them better understand the disease and how to follow-up with their healthcare provider.
Healthy.io's Minuteful Kidney test kit, which is the first and only FDA-cleared smartphone-powered at-home kidney test, allows for early detection of CKD by enabling patients to take a clinical-grade albumin-to-creatinine ratio (ACR) test in their own homes using a smartphone camera. Healthy.io's ACR test is a simple urine test that looks for albumin in urine, which can be a leading indicator for CKD. It is the only test on the market that allows patients to take the test – and receive results – in the comfort of their homes.
"Too many Americans face barriers to health care, whether that be because of transportation or high costs," said Paula LeClair, US General Manager of Healthy.io. "This is particularly concerning when it comes to annual urine testing for kidney disease. Early detection and treatment are critical for stopping the progression of kidney failure, which is why partnering with NKF to provide Minuteful Kidney test kits is so important. It will allow us to reach people who otherwise may not have undergone routine testing."
"The 'Are You the 33%?' campaign aims to raise awareness of the importance of early kidney disease detection," said Joseph Vassalotti, MD, Chief Medical Officer of the National Kidney Foundation. "CKD has been affecting underserved communities disproportionately – Black Americans, for example, are almost four times more likely to develop kidney failure than white Americans. Working to promote kidney health equity for all and increasing access to early detection are top priorities for NKF. A whole system approach is required to tackle barriers to testing, and an easy-to-use test in the palm of so many hands is a first step to engaging Americans at risk for kidney disease with their clinicians for additional testing and care. Additional care should include confirmatory uACR assessments and the blood test for kidney function, called the estimated glomerular filtration rate (eGFR)."
Through other partnerships, Healthy.io has shown that at-home testing with Minuteful Kidney can drive completion rates of 50% among previously untested populations, irrespective of demographic and socioeconomic differences.
This is important considering CKD is referred to as a "silent killer," since symptoms don't surface until the late stages of the disease. One in three Americans is at risk, including those with diabetes and hypertension, but most don't know they have the condition until it progresses to end-stage renal disease (ESRD), eventually requiring dialysis and/or a kidney transplant. 75 million Americans at risk should complete an annual ACR test, yet 80% of them don't take the test.
In light of the significant structural inequities preventing people from undergoing routine kidney testing, the campaign aims to empower and educate patients so that they can take control of their care. To access the Kidney Risk Quiz click here: minuteforyourkidneys.org.