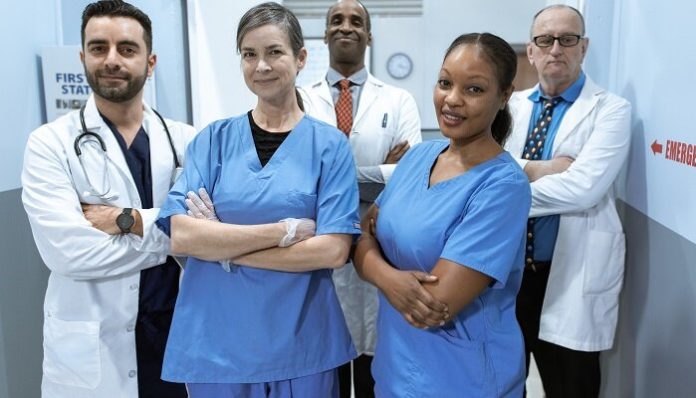 The healthcare industry is one of the most promising and enduring fields globally. The demand for comprehensive healthcare services has increased the need for healthcare professionals. This blog post will discuss the top 10 most in-demand medical jobs expected to grow in the coming years.
Registered Nurses
The demand for Registered nurses is always high due to their expertise in patient care delivery in various medical settings like hospitals, nursing homes, and other healthcare facilities.
The employment rates for registered nurses are expected to rise by 6% from 2021 to 2031, as per the Bureau of Labor Statistics. Nurses increasingly assume more complex and specialized responsibilities, stepping into patient advocacy, case management, and patient education roles.
There are several reasons to be a nurse, including job security, career stability, excellent benefits, and making a positive difference in people's lives. With the increasing advanced-age population, the demand for nurses is expected to remain high.
Physicians
Physicians diagnose and treat illnesses, prescribe medications, and perform surgeries when necessary. Recently the demand for specialist doctors such as urologists, gynecologists, and neurologists has grown significantly. Every physician must have the necessary skill and knowledge to accurately diagnose a patient's problem. They should have the required equipment and a good understanding of the latest medical technologies.
They must communicate effectively with their patients, families, and medical staff to provide the best treatment. Physicians must also complete ongoing education courses to keep up with the latest medical developments, which is part of their job requirements.
Pharmacists
Pharmacists are essential in healthcare by providing medication to the public or healthcare facilities. They monitor patients' prescriptions, counsel patients on medication use, and ensure dispensing of the correct medication.
Pharmacists work in drugstores, clinics, and hospitals. They are also involved in research and development, as they play a critical role in helping pharmaceutical companies create new medications that help to treat or prevent different medical conditions. Becoming a pharmacist requires a degree in pharmacy, passing licensure exams, and a state license.
Medical and Health Services Managers
Medical and health services managers oversee the operations of medical facilities, clinics, and hospitals. They work closely with staff, such as physicians, nurses, and other healthcare professionals, to ensure their facilities provide optimal healthcare services. They might also be responsible for budgeting, strategic planning, and supervising staff.
Medical and health services managers must also stay current on changes in healthcare regulations, technology, and trends. Most medical and health services managers have a master's degree in healthcare administration or a related field. They must also obtain certification from a professional association such as the American College of Healthcare Executives (ACHE).
Physical Therapists
Physical therapists help patients recover from injuries, illnesses, surgeries, or disabilities using exercise and other physical treatment methods. They work with patients to develop customized therapy plans and provide support during the rehabilitation process. They help people manage pain or problems with their mobility, and their job is to restore, maintain, and promote overall fitness and health.

Dentists
From routine cleanings and checkups to more complex procedures, dentists play a vital role in ensuring healthy oral hygiene for their patients. Dentists diagnose and treat oral health problems like cavities, periodontal disease, or jaw irregularities. 
Dentists work in offices or dental clinics to provide preventive care and perform various treatments for teeth and gums. Dentists can make extra cash in many ways, including cosmetic procedures like teeth whitening or porcelain veneers. Becoming a dentist requires at least eight years of education and passing licensure exams.
Respiratory Therapists
Respiratory therapists diagnose, treat, and manage respiratory problems in patients of all ages, including chronic conditions such as asthma or chronic obstructive pulmonary disease (COPD) and recovering from acute issues like a heart attack or stroke.
Respiratory therapists can also educate their patients on how to deal with their condition. They work in hospitals, emergency departments, or other healthcare facilities and work with doctors and nurses to treat various conditions affecting the cardiopulmonary system.
To become a respiratory therapist, one must complete an accredited program and obtain state certification or licensure from the National Board for Respiratory Care (NBRC). They also need to stay up-to-date with the latest developments in their field and technological changes.
This can involve taking continuing education classes or attending conferences.
Occupational Therapists
These skilled professionals work with individuals with physical, mental, or developmental conditions to help them achieve their goals and participate in daily activities. From helping stroke patients regain their speech and motor skills to assisting individuals with autism in developing social and life skills, occupational therapists play a critical role in improving the quality of life for countless individuals across the globe.
Occupational therapists treat physical, emotional, social, and cognitive issues that may hinder a person's ability to care for themselves or carry out everyday tasks. Occupational therapists work with patients in hospitals, clinics, nursing homes, schools, or private practices. They may also work with older adults to help them remain independent by addressing physical, cognitive, and environmental barriers.
Medical Laboratory Technologist
Medical Lab Technologists work in clinical, diagnostic, and research laboratories to analyze body fluids, tissues, and other substances samples. They use various laboratory equipment, instruments, and techniques to perform tests on patient specimens that help identify diseases and determine the best course of treatment. Lab techs must be detail-oriented, organized, and have excellent problem-solving skills. You must complete an accredited program and obtain certification or licensure. 
Surgeons
Surgeons specialize in diagnosing and treating different conditions through invasive and non-invasive surgeries. They must be highly skilled in medical procedures, such as suturing, tissue repair, and anesthesia administration. Surgeons must also have excellent communication skills to ensure that patients feel comfortable with their care team and understand the risks and benefits of any procedure they are considering.
They can specialize in a specific area, such as neurosurgery or cardiovascular surgery. Cosmetic surgery is also a popular specialization area requiring additional training and certification. With the latest technology and research in the medical field, surgeons can now perform surgeries with minimally invasive techniques.
With an aging population and increasing numbers of people suffering from chronic conditions, the demand for skilled healthcare workers is higher than ever. From dentists to respiratory and occupational therapists, these professionals are crucial in providing quality care and treatment to their patients. To become a healthcare professional, complete an accredited program and obtain certification or licensure. With a focus on patient care and an eye for detail, you can help improve the lives of countless individuals.