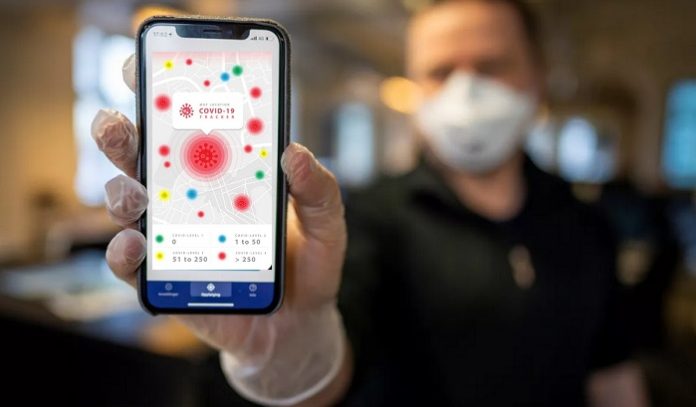 Trials of a revamped NHS Test and Trace app have kicked off with residents on the Isle of Wight and NHS Volunteer Responders across England.
Tech giants Google and Apple worked with the NHS to develop the new app, after the pilot of an earlier version using Bluetooth was abandoned for having a poor success rate in tracking proximity to other devices.
The new app is designed to log the time and distance a user has spent near to anyone, so it can alert them if that person later tests positive for COVID-19.
Features include alerts to let users know the level of risk in their postcode district, a QR check-in alerting users if they have recently visited a venue where they may have come into contact with the virus, a symptom checker, test booking and a self-isolation timer.
To protect people's privacy, the system generates a random ID for an individual's device, which can be exchanged between devices to monitor the spread of the virus while rotating frequently to prevent tracking.
Following the initial trial, the app will be rolled out to residents in the London borough of Newham from next week.
UK charity, The Health Foundation has called on the government to ensure the trials are properly evaluated and findings are shared, saying that the ultimate test for the app will be whether it increases the proportion of contacts traced.
According to the latest statistics, the Test and Trace service is reaching more than 79% of all those who test positive, and 83.4% of their contacts where contact details were provided.
WHY IT MATTERS
The app aims to negate the need to know the contact details of people in order to warn them that they have been in contact with someone who has tested positive.
THE LARGER CONTEXT
Alongside Google and Apple, the Trace and Track programme has worked with scientists within the Alan Turing Institute and teams in countries across the world such as Germany using similar apps.
Last week, Northern Ireland became the first country in the UK to deploy a contact-tracing app. The Scottish government also announced that its app will be launched in Autumn.
Meanwhile, Norway's contact tracing app Smittestopp was temporarily banned in June due to privacy concerns from the Norwegian Data Protection Authority.
ON THE RECORD
Executive chair of the NHS Test and Trace Programme, Dido Harding, said: "By launching an app that supports our integrated, localised approach to NHS Test and Trace, anyone with a smartphone will be able to find out if they are at risk of having caught the virus, quickly and easily order a test, and access the right guidance and advice."