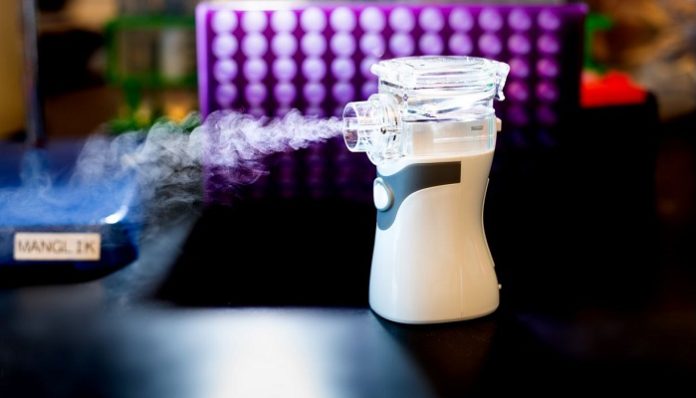 Scientists at UCSF have engineered a new antibody-based antiviral for fighting the COVID-19 pandemic that can be administered as a nasal spray, providing a promising new avenue for slowing the spread of the virus. The potential therapy, dubbed AeroNabs, uses synthetic nanobodies, a class of small, antibody-like molecules, to prevent the SARS-CoV-2 virus from infecting human cells.
AeroNabs was co-invented by Aashish Manglik, MD, PhD, faculty member in the UCSF School of Pharmacy's Department of Pharmaceutical Chemistry; Peter Walter, PhD, faculty member in the School of Medicine; and UCSF graduate students Michael Schoof, Bryan Faust, Reuben Saunders, and Nick Hoppe. The six colleagues together hold a provisional patent on AeroNabs. The findings are the product of efforts in the QBI Coronavirus Research Group (QCRG), the international collaboration created by the UCSF Quantitative Biosciences Institute (QBI), and were published in a pre-print in bioRxiv on August 10.
To develop AeroNabs, the team sifted through a library of two billion nanobodies provided by the Manglik Lab, hunting for molecules that blocked the SARS-CoV-2 spike protein from binding to receptors on human cells—a critical step for viral infection. Three of the most promising nanobodies were sent to collaborators at the Institut Pasteur in Paris for testing against live SARS-CoV-2. The most potent of these nanobodies was further refined by the UCSF scientists to maximize its antiviral effect.
A combination of three variants of this nanobody exceeded the team's ability to measure its antiviral potency against the virus.
"We're not alone in thinking that AeroNabs are a remarkable technology," Manglik told UCSF News. "Our team is in ongoing discussions with potential commercial partners who are interested in manufacturing and distributing AeroNabs, and we hope to commence human trials soon. If AeroNabs prove as effective as we anticipate, they may help reshape the course of the pandemic worldwide."