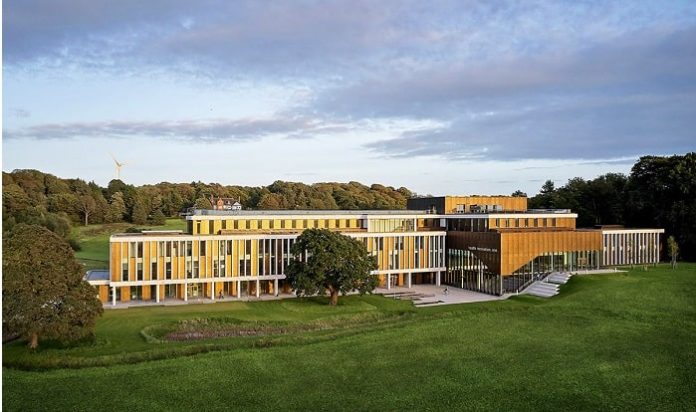 In light of COVID-19, the role of preventative healthcare is more recognised than ever.  Our environment and the buildings we occupy play an important role for both our physical and mental wellbeing.  This is something London based architects, John McAslan + Partners, have recognised since the award winning practice was first founded in 1993. Timeless materials and serene spaces that are easy-to-orient oneself in, as well as the supply of ample natural light and good cross-ventilation have continued to inform the practice's designs.
Most recently, John McAslan + Partners completed a new Health Innovation Hub for Lancaster University in the North of England that focusses on improving preventative healthcare.  By locating students alongside practitioners, the Health Innovation Hub is set to establish Lancaster University as a major international presence in the field of preventative medicine.  The ambition is to facilitate the development of new ways of improving health and social outcomes in an economically viable and sustainable manner, especially amongst an increasingly ageing population.  In many ways, the Health Innovation Hub is a physical catalyst for new thinking in this field and in better preparing populations from medical threats such as pandemics.
The very design of the building with its long vistas and easy circulation, including generous staircases, is exemplary of an environment conducive to healthy living.  Moreover, the design is a showcase for the cross-fertilisation of academia and practice. For example,  the Health Innovation Hub offers state-of-the-art teaching facilities, including a simulated hospital ward within a Clinical Skills Centre, and a well-equipped anatomy suite.
The arrangement of rooms at the Hub brings together the Faculty of Health and Medicine at Lancaster University with local service providers, including National Health Service (NHS) tenants.   Teaching, research and external partners' experience in health innovation thus come together in a collegiate way that is conducive to innovation.   In their design approach, the architects have sought to give everyone a sense of ownership of the building through the strong character of common areas, but also through the provision of spaces suited to both traditional ways of working and more recent informal collaborative methods.
The lighting, materials and views from the building to the landscape outside are thought through carefully to allow the eye rest and create a sense of calm within the building.  They are about creating a humane healthcare architecture.
This welcoming and peaceful design concept was put into good use over the past two months as the Innovation Hub was used as a COVID-19 vaccination centre. John McAslan + Partners are currently exploring similar ground through an initiative to improve the design of care homes so that in a future pandemic they would be safer places for their residents as well as provide positive environmental stimulation through their design.