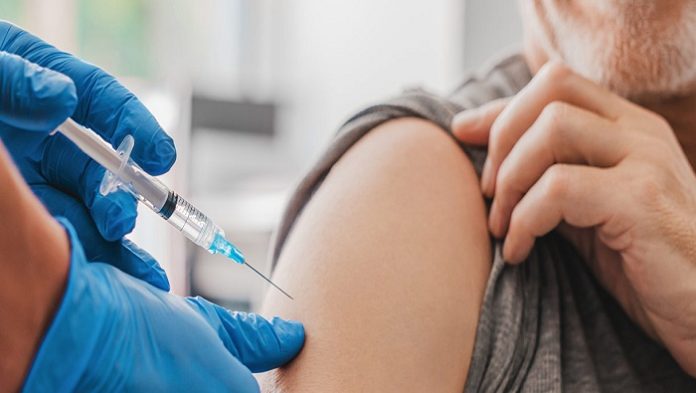 Researchers at the University of Maryland School of Medicine (UMSOM) have found promising results in pre-clinical studies for a new experimental vaccine against COVID-19 made by Novavax. The vaccine was found to generate a robust immune response in animals exposed to the vaccine with strong data indicating safety and efficacy, according to the study published today in the journal Nature Communications. The results have been used to begin testing the vaccine in human trials in the U.S. with a Phase 3 trial that recently launched at the UMSOM's Center for Vaccine Development and Global Health.
The vaccine is a stable protein that is manufactured from the genetic sequence of the SARS-CoV-2 coronavirus spike protein. As with traditional vaccines like the flu shot, the Novavax vaccine uses adjuvants to boost the immune response in those who receive it. "We found this vaccine produces high antibody levels leading to significant protection from SARS-CoV-2 in mice," said study co-author Matthew Frieman, PhD, Associate Professor of Microbiology and Immunology at UMSOM.
The Novavax vaccine candidate, NVX-CoV2373, is a stabilized, prefusion protein antigen derived from the genetic sequence of the SARS-CoV-2 coronavirus spike (S) protein and is formulated with Novavax's proprietary adjuvant Matrix?M™. NVX-CoV2373 contains purified protein antigen and can neither replicate nor can it cause COVID-19.
The vaccine has been in Phase 3 trials in the U.K., with more than 15,000 participants enrolled. Interim data in this event-driven trial are expected as soon as early first quarter of 2021. Dr. Frieman and his UMSOM colleagues also co-authored a recent Phase 1-2 trial involving 83 participants that was published in the New England Journal of Medicine; the study determined the vaccine's safety and efficacy for larger scale trials.
E. Albert Reece, MD, PhD, MBAE. Albert Reece, MD, PhD, MBA "Our coronavirus experts at the University of Maryland School of Medicine have been at the forefront of basic research efforts that have helped develop new treatments and vaccines against COVID-19," said E. Albert Reece, MD, PhD, MBA, Executive Vice President for Medical Affairs, UM Baltimore, and the John Z. and Akiko K. Bowers Distinguished Professor and Dean, University of Maryland School of Medicine. "This latest research will lead us a step closer to providing another potentially lifesaving tool in the vaccine arsenal."
About the University of Maryland School of Medicine
Now in its third century, the University of Maryland School of Medicine was chartered in 1807 as the first public medical school in the United States. It continues today as one of the fastest growing, top-tier biomedical research enterprises in the world — with 45 academic departments, centers, institutes, and programs; and a faculty of more than 3,000 physicians, scientists, and allied health professionals, including members of the National Academy of Medicine and the National Academy of Sciences, and a distinguished two-time winner of the Albert E. Lasker Award in Medical Research. With an operating budget of more than $1.2 billion, the School of Medicine works closely in partnership with the University of Maryland Medical Center and Medical System to provide research-intensive, academic and clinically based care for nearly 2 million patients each year. The School of Medicine has more than $563 million in extramural funding, with most of its academic departments highly ranked among all medical schools in the nation in research funding. As one of the seven professional schools that make up the University of Maryland, Baltimore campus, the School of Medicine has a total population of nearly 9,000 faculty and staff, including 2,500 student trainees, residents, and fellows. The combined School of Medicine and Medical System ("University of Maryland Medicine") has an annual budget of nearly $6 billion and an economic impact more than $15 billion on the state and local community. The School of Medicine, which ranks as the 8th highest among public medical schools in research productivity, is an innovator in translational medicine, with 600 active patents and 24 start-up companies. The School of Medicine works locally, nationally, and globally, with research and treatment facilities in 36 countries around the world.