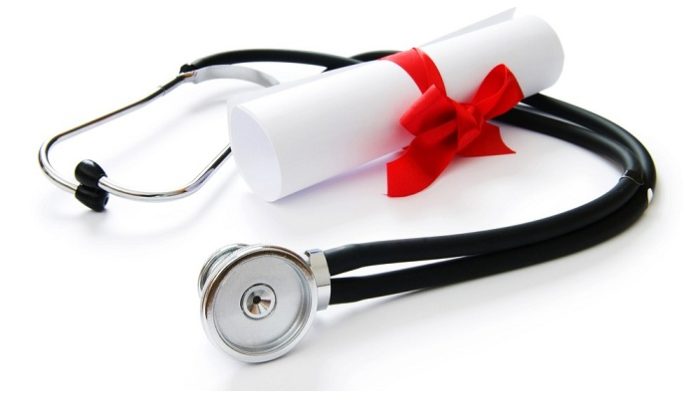 If you are interested in healthcare, earning a graduate degree in medicine can open up several career options. Once you have your undergraduate degree, you are only scratching the surface of what there is to learn in the field. A graduate program allows you to focus on a particular area of interest that will lead to a rewarding, and well-paying, career.
For those who are considering continuing school for a medical degree without a science-based undergraduate, you may need to do some prep work before being admitted to a program. While there is no need to return for a second bachelor's, your program will have some specific classes you may need to take to ensure you can keep up once class starts. Likewise, if you have been out of school for more than five years, many programs will require you to retake or test out of certain classes.
Paying for School
After earning your undergraduate degree, paying for additional schooling may be the last thing on your mind. Before deciding this isn't the right idea for you, look at the career opportunities it will open up. Competition is fierce for the high-caliber jobs you may be interested in, and higher education, even if not mandatory, can open many doors. Taking out a student loan from a private lender allows you to pay for your graduate degree by shopping around and choosing a loan with the interest rate and repayment terms that makes sense for your financial situation. Whether you are a student or are planning to cosign the loan, private lenders can provide an affordable option.
Finding Focus
The medical field is very broad, but to do solid work, you need in-depth knowledge. You only touched the very surface of many areas when working on your bachelor's degree. When considering a master's, it is time to find some focus. If you enjoy staying up to date on the latest technology, many career options combine the two, if you prefer working around others and providing educational services, public health is a good choice. For people who find the human body and how it works fascinating, medical school isn't the only choice. Master's programs in nutrition or dietetics provide training for an in-demand career.
There Will Always Be a Need for Healthcare
Even if you don't think working directly with the public is right for you, there is a place for you in the medical community. A master's degree will provide the background needed to pursue work as a medical researcher, to manage clinical trials, and even to work in emergency preparedness. Continuing your education will open the door for many careers that will only become more important in the future.
Do You Have What It Takes?
Many people hesitate when considering graduate school because they fear struggling academically. If you found your biology classes interesting as an undergraduate and were able to keep up in chemistry, you should have no trouble continuing. The many areas of concentration you can focus on making it easier to gravitate toward your strengths. Healthcare education often includes many opportunities to work as an intern, allowing you to explore options that you otherwise wouldn't be aware of.