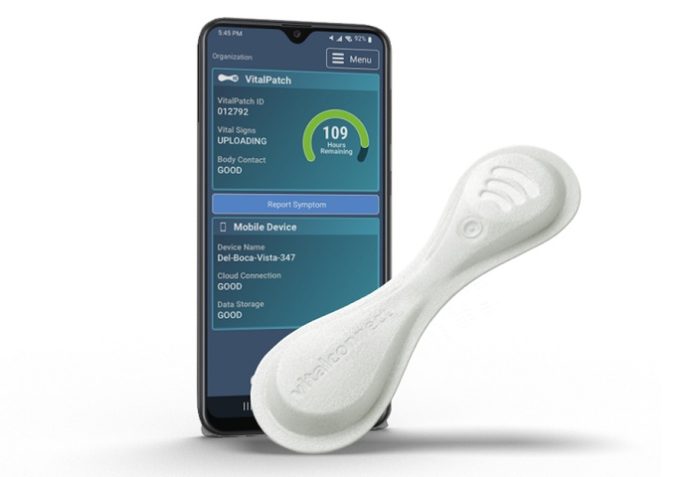 VitalConnect has launched its latest cardiac monitoring patch, the VitalPatch RTM, for patients who require extended Holter monitoring.
The wearable biosensor looks for 21 different cardiac arrhythmias by using an artificial intelligence electrocardiogram sensor. It continuously monitors four significant vital signs: heart rate, heart rate variability, respiratory rate and activity.
All of the captured data is sent and stored in real-time to the VitalCloud, a secure URL where physicians can view their patients' data. Patient data is also continuously monitored by VitalConnect's independent diagnostic testing facility, made up of nationally certified cardiographic and rhythm analysis technicians.
Along with the release of the VitalPatch RTM, VitalConnect is introducing its Extended Holter NOW service, which offers an interim diagnostic report after five days of monitoring. The service has the potential to shorten the monitoring period for some patients due to its ability to provide a more in-depth look at the patient's condition, VitalConnect said in its announcement.
Upon completion of a patient's monitoring period, VitalConnect will provide prescribing physicians with a final report of the patient's condition.
Extended Holter monitors, or ambulatory electrocardiograms, present a way to monitor patients' cardiac functions outside the walls of a hospital. Because of this capability, physicians can see the heart's activity during a patient's day-to-day tasks, according to the American Heart Association.
The fact that they can monitor patients outside of a medical facility frees up space for patients with more immediate needs and limits potential exposure for patients and staff – important considerations during the pandemic.
Earlier this year, VitalConnect received a Food and Drug Administration Emergency Use Authorization for its VitalPatch wearable sensor to monitor patients undergoing COVID-19 treatment. The EUA was granted to spot changes in patients' QT interval, which may be dangerously prolonged by experimental drug treatments such as hydroxychloroquine or chloroquine.
AliveCor also produces personal ECG devices for remote cardiology monitoring. Most recently, the company received $65 million in a Series E funding round to telehealth, detection and condition-management services to its platform.
For the remote monitoring of vital signs such as body temperature, pulse, heart rate variability, respiration rate, oxygen saturation, sleep and movement, there's Vitls and its wearable recording device Tégo, which received 510(k) clearance from the FDA this summer.
"Our VitalPatch RTM combines a state-of-the-art solution to comfortably monitor cardiac patients for arrhythmias, while also sending important patient vital signs to the physician," said Peter Van Haur, CEO of VitalConnect, in a statement.
"This solution not only offers an advancement in cardiac monitoring technology to the cardiology community, but continues to expand our footprint into healthcare markets that can benefit from the innovation that VitalConnect brings to patient care."