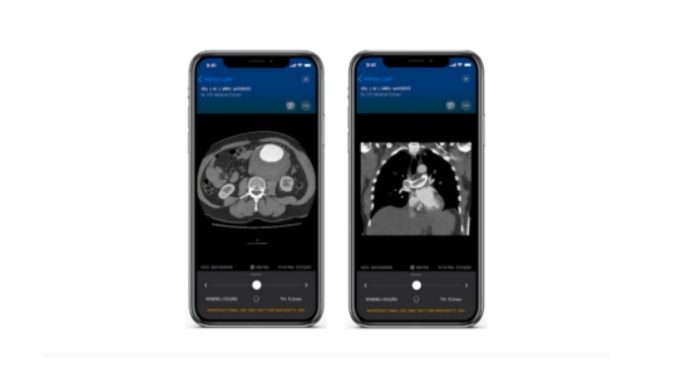 Viz.ai, the leader in AI-powered disease detection and intelligent care coordination announced the launch of VizTM Vascular Suite, AI-powered software enabling vascular care teams to automatically detect and triage care for suspected pulmonary embolism, right heart strain, aortic dissection, and abdominal aortic aneurysm (AAA).1 Viz.ai submitted a new 510(k) application to the U.S. Food & Drug Administration (FDA) for the AAA algorithm.
"Recognizing the symptoms of serious vascular conditions, such as aortic dissections, is hugely important because any delay in treatment can have a direct impact on patient outcomes," said Philip Batista, MD, Associate Program Director, Vascular and Endovascular Surgery Residency, Cooper. "When Viz identifies an abnormal scan, it quickly notifies the appropriate specialists regardless of their location, facilitating seamless communication via mobile application. We've been using the Viz software for the last several months and have seen improvements in patient care across our institution."
The Viz Vascular Suite uses artificial intelligence to automatically analyze an array of imaging modalities, including computerized tomography (CT), electrocardiogram (ECG), and more for suspected vascular diseases. If a suspected pathology is found, the app automatically alerts and displays high-fidelity patient scans on providers' mobile devices. Clinicians can use Viz Vascular Suite to remotely coordinate vascular pathology care within a hospital system's hub and spoke network and enable synchronous, HIPAA-compliant communication among specialists. The platform is enhanced by AI for immediate team activation and facilitates informed, efficient treatment decisions.
"We set out to build a solution where any patient with life threatening diseases can benefit from AI-powered care coordination with triage and real-time mobile communication. The Viz Vascular Suite will bring the advantages of intelligent care coordination to even more patients and help clinical teams achieve better clinical outcomes," said Chris Mansi, CEO of Viz.ai. "The feedback from our early adopters has been highly positive, and we look forward to expanding access to this solution to our over 1,300 hospital customer base."