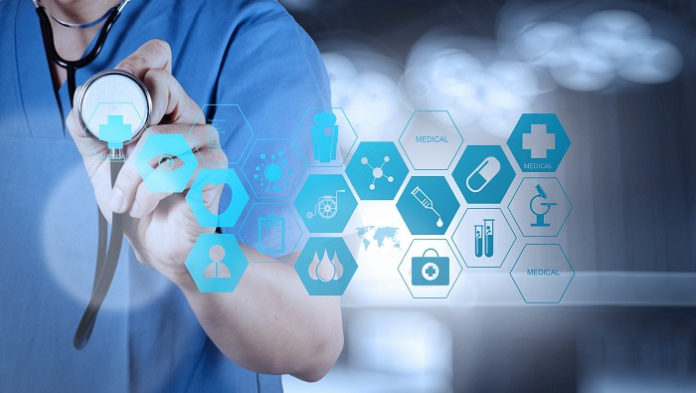 Yoon Dong-sup, who recently took office as president & CEO of the Yonsei University Health System (YUHS), emphasized words like future, people, and communication at his first press conference on Wednesday.
Having over 120 years of history, YUHS will make the next century focusing on people, Yoon said. "Through a sustainable innovation system, we will strengthen communication and connection, and help YUHS members work with pride and have fun," he said.
As the YUHS is preparing for a futuristic healthcare system where all knowledge and digital resources are connected, Yoon vowed to realize next-generation precision medicine using open innovation infrastructure, along with IT, digital healthcare, and big data.
Yoon's goals include enhancing IT infrastructure, digital healthcare and research, big data research environment, research support system, open innovation infrastructure, and support for developing medical devices and new drugs. He also said YUHS would build a collaboration platform among Yonsei University, YUHS, and an external institution.
As the first step, YUHS aims to become a data-driven hospital using IT, digital healthcare technologies, and big data. YUHS will collect all data from the Severance Health Check-up program, patients, affiliated hospitals, partner institutions, and researchers and create massive information under a big data center.
With a new R&D planning division, YUHS will utilize all medical assets — such as digital data, human-derived materials, clinical trial results, and intellectual property rights – for research.
YUHS will use research outcomes in various fields such as medical device, diagnostic testing, targeted therapy, and AI-based blockchain through a medical technology holding company and lead the future medicine, Yoon said.
To do so, Yoon said he would strengthen human resources and support for patent and legal issues for new medical devices and drugs so that research results can lead to commercialization.
Above all, YUHS will prioritize supporting talented professionals while boosting all the hardware and the hospital system, he went on to say.
Yoon plans to prepare a program to nurture doctors and help them obtain global competitiveness. He will actively support the Full-cycle Physician-Scientist Training Program and open more employment opportunities for excellent physician-scientists, he said.
In the long-term, YUHS plans to build a "Yonsei Cluster" through cooperation with various departments at Yonsei University College of Engineering, College of Science, and College of Life Science and Biotechnology.
YUHS will seek collaboration with Yonsei Cluster and outside institutions including other universities, businesses, and research institutions to achieve an integrated innovation on a platform that connects all the knowledge resources, Yoon went on to say.
Also, Yoon pledged to give customized support for five affiliated hospitals for their balanced growth.
For Severance Hospital, YUHS will help it become an internationally competitive, patient-centered, quaternary hospital by advancing the treatment of serious and intractable diseases. Also, Yonsei Cancer Center will get full support from YUHS to complete the construction of the Heavy Ion Therapy Center by 2022.
Songdo Severance Hospital in construction will be the base for YUHS' research power in the future, Yoon said. Through cooperation with Yonsei University, the hospital is expected to focus on futuristic research, he added.
According to Yoon, Songdo Severance Hospital aims to become the center of the biotech and healthcare industrial belt of the western part of the Seoul metropolitan area.
"Within my term, I want to put all my efforts into making YUHS one of the top 50 medical institutions in the world," Yoon said.
"If YUHS' affiliated institutions cooperate for future medicine having their own autonomy, they will grow as internationally competitive institutions."