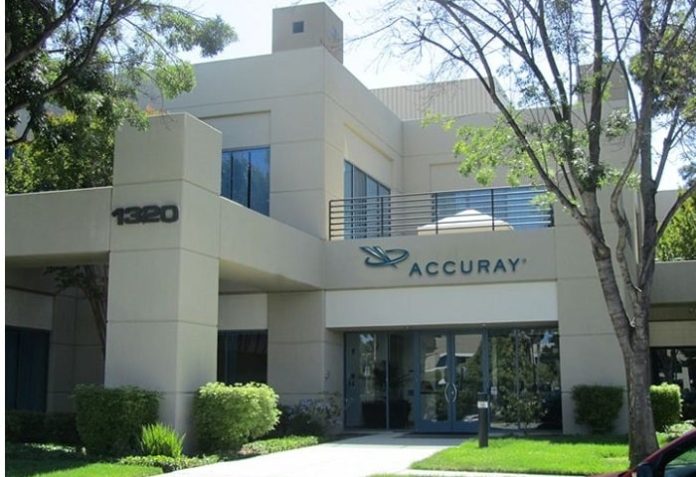 Hospital & Healthcare Management/ Healthcare Technology Advancements & Trends/ 29th October 2010 :- Accuray Incorporated, a global leader in the field of radiosurgery, announced today expansion of its Diamond service program to address the unique technical, business and operational needs of its customers. The Diamond service program has provided a means for sites to receive upgrades and technology updates as part of their service agreement. The enhanced program, named Diamond Plus, continues to push the innovative edge by offering professional consulting service options to CyberKnife customers.
The Diamond Plus service program will continue to offer customers the same industry-leading approach to servicing and upgrades that they've come to rely on. Additional services include access to a portfolio of professional consulting services and professional development programs, designed to help customers maximize the utilization of their CyberKnife System and address the unique clinical, physics and business development needs for their department. These programs include:
* CyberKnife Marketing Services: Provides marketing media tools, expertise and solutions for TV, print, radio and online, to assist sites in launching and growing their CyberKnife program.
* Treatment Planning Support: Offers access to experienced medical physicists trained on the CyberKnife System to provide on-call remote treatment planning.
* Remote Access Services: Allows users to remotely access their treatment planning system from any location and enables centers to collaborate and outreach to remote facilities and physicians. Also equips Accuray's service and support team to proactively monitor, diagnose and repair device problems remotely.
* Reimbursement Services: Provides access to a comprehensive set of regionalized payment services and solutions, including coding consultants, to assist CyberKnife centers with their reimbursement needs.
* Professional Development/Training: Offers a wide variety of educational models to enable high quality patient care, including new hire training, on-site professional development and new referring physician programs.
The expansion of Accuray's service offerings is a response to requests from the CyberKnife community and Accuray's in-depth understanding of their key needs. The Diamond Plus program includes all the value of the manufacturer's warranty, plus full Accuray service support and an easy pathway to adopt Accuray's consulting services and world-class upgrades.
A key benefit of the Diamond Plus Service Program is the predictability it offers in financial planning. Because the customer support, upgrade options and consulting services are all included in the Diamond Plus agreement, a medical center can now predictably plan for the cost of potential future upgrades or business, training and operational needs. This not only provides an effective budgeting mechanism but also a highly cost effective route to staying on the cutting edge and providing the best possible care for patients.
"The Diamond Plus service program reinforces a sustained partnership between the CyberKnife user community and Accuray. It allows our customers to maximize their return from a business and operational perspective and keeps their investment on the cutting-edge with access to the latest technology advancements," said Euan S. Thomson, Ph.D., president and CEO of Accuray.  "We believe this distinct blend of offerings will equip our customers with everything they need to run a growing and thriving CyberKnife program."
About the CyberKnife® Robotic Radiosurgery System
The CyberKnife Robotic Radiosurgery System is the world's only robotic radiosurgery system designed to treat tumors anywhere in the body non-invasively. Using continual image guidance technology and computer controlled robotic mobility, the CyberKnife System automatically tracks, detects and corrects for tumor and patient movement in real-time throughout the treatment. This enables the CyberKnife System to deliver high-dose radiation with pinpoint precision, which minimizes damage to surrounding healthy tissue and eliminates the need for invasive head or body stabilization frames.
About Accuray
Accuray Incorporated (Nasdaq: ARAY), based in Sunnyvale, Calif., is a global leader in the field of radiosurgery dedicated to providing an improved quality of life and a non-surgical treatment option for those diagnosed with cancer. Accuray develops and markets the CyberKnife Robotic Radiosurgery System, which extends the benefits of radiosurgery to include extracranial tumors, including those in the spine, lung, prostate, liver and pancreas. To date, the CyberKnife System has been used to treat more 100,000 patients worldwide and more than 206 systems have been installed in leading hospitals in the Americas, Europe and Asia. For more information, please visit www.accuray.com.
Safe Harbor Statement
The foregoing may contain certain forward-looking statements that involve risks and uncertainties, including uncertainties associated with the medical device industry. Except for the historical information contained herein, the matters set forth in this press release, including statements relating to service offerings and market acceptance are forward-looking statements within the meaning of the "safe harbor" provisions of the Private Securities Litigation Reform Act of 1995. Forward-looking statements speak only as of the date the statements are made and are based on information available at the time those statements are made and/or management's good faith belief as of that time with respect to future events. You should not put undue reliance on any forward-looking statements. Important factors that could cause actual performance and results to differ materially from the forward-looking statements we make include: benefits of programs, operational improvements, market acceptance of products, competing products and other risks detailed from time to time under the heading "Risk Factors" in our report on Form 10-K for the 2010 fiscal year which has been filed with the Securities and Exchange Commission, filed on August 31, 2010. The Company's actual results of operations may differ significantly from those contemplated by such forward-looking statements as a result of these and other factors. We assume no obligation to update forward-looking statements to reflect actual performance or results, changes in assumptions or changes in other factors affecting forward-looking information, except to the extent required by applicable securities laws.
SOURCE Accuray Incorporated
RELATED LINKS