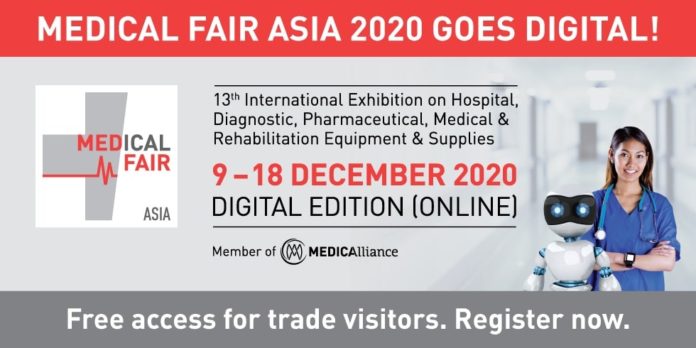 MEDICAL FAIR ASIA 2020 Digital Edition
Enabling business success online, 10-day of digital experience for a vibrant marketspace to conduct business 24/7
MEDICAL FAIR ASIA 2020 Digital Edition is set to take place from 9 – 18 December 2020. The shift to a digital event for its 13th edition is in response to the dynamic situation of the COVID-19 pandemic, where travel and physical restrictions are still in effect globally.
As the leading medical and healthcare exhibition in the region, the well-established exhibition will feature the latest medical technology and innovations, and healthcare equipment and supplies for the Hospital, Diagnostics, Pharmaceutical, Medical & Rehabilitation sectors.
Moving from in-person interactions at a physical trade event to making virtual connections anywhere in the world, MEDICAL FAIR ASIA Digital Edition aims to deliver the onsite benefits of a trade fair but with all the convenience of an online experience.
MEDICAL FAIR ASIA is organised by Messe Düsseldorf Asia, the subsidiary of Messe Düsseldorf GmbH based in Germany and organiser of the world's no. 1 medical fair – MEDICA. The exhibition is also a member of the MEDICAlliance, the global network for medical trade fairs worldwide.
For more information about Medical Fair Asia 2020 and to register, visit https://www.medicalfair-asia.com/
Event Name: MEDICAL FAIR ASIA 2020
Event Date: 9 – 18 Dec 2020
Event Organiser: Messe Düsseldorf Asia
Contact Person/Phone: Daphne Yeo / +65 6332 9620
Email: medicalfair-asia@mda.com.sg
URL: https://www.medicalfair-asia.com/