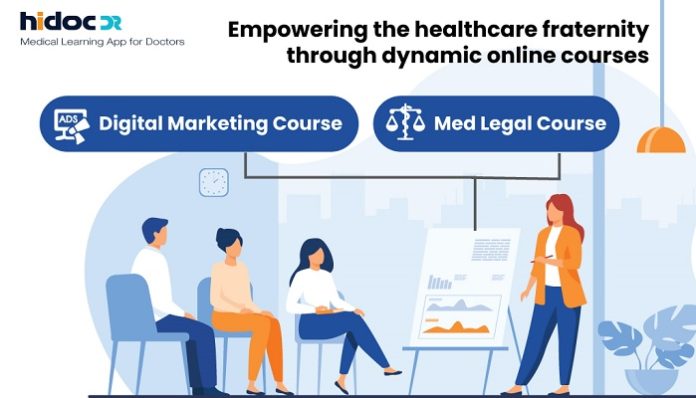 There is a Chinese proverb that says – "If you are planning for a year, sow rice; if you are planning for a decade, plant trees; if you are planning for a lifetime, educate people."
This is what HiDoc Dr. believes in. The last two years have changed the matrix of the healthcare sector in India drastically. Covid 19 splashed the sector in deep waters, and threw unimaginable challenges, pushing the industry beyond its limits. And we triumphed over it and how!
The two areas that emerged strongly in this period are the role of digital marketing in healthcare and the importance of legal knowledge pertaining to the industry. While these two did not enjoy much spotlight before, their role in shaping the fraternity has been growing at an accelerated speed.
We at HiDoc Dr. realize the importance of these and have been successfully implementing the same to ensure efficient service. However, our goal is much beyond our personal growth. We believe in growing together and hence are resolved to empower every healthcare professional through our specially designed courses. Available online, these courses shall equip you with the power boost you require to elevate your performance. Whether an individual doctor, a hospital, or a clinic, we are here to handhold you through this journey.
Digital Marketing Course
According to a Google report, 44% of customers choose to book doctor appointments online or over the phone. In today's world, it is imperative to have a strong and authoritative online presence to help you spread awareness and advertise your services to a wide range of audiences. Social media platforms, search engine optimization (SEO), search engine marketing, and content marketing can enhance your brand image and improve audience reach, thereby helping you attract new customers.
A robust website or a social media page with optimized user interaction and user experience goes a long way in enhanced service recall. A 24*7 online presence enables your patients and potential customers to view your offerings in just a few clicks, anytime from anywhere in the world. This tremendous exposure opens up avenues to make an impact beyond your immediate customer base.
Digitalization provides you with a wide range of innovative tools to serve your patients with greater proficiency. Take the review section for example. You may have many satisfied patients who are more than happy to refer you to others. Your digital presence provides them a platform to leave positive feedback online, which can go a long way to building patient loyalty.
Not only this, digitalization also helps you optimize your internal customer base (professionals within the healthcare fraternity) by developing the internal reputation of hospitals and controlling the competition for individual doctors.
Our course educates you in all these aspects and more. From designing and promoting your website, enhancing UI/ UX, optimizing online campaigns, and managing social media platforms like a pro to handling negative feedback, it is a 360-degree program covering every aspect of online marketing.
It is, hence, not a wonder that we have already trained more than 120 HCPs in Digital Marketing in such a short time!
Continuing Med Legal Workshop
Aimed to strengthen medico-legal knowledge, this course helps healthcare professionals to understand the law and safeguard their medical reputation and practice. Various incidents in the recent past have made it essential for doctors to be aware of their legal rights and ensure that they are not getting harassed.
Through real-life case studies and medicolegal expert recommendations, you can get in-depth knowledge of legal protocols on consent, telemedicine, multidisciplinary team meetings, virtual board connections, patient case studies, and more.
This, in turn, will help you protect yourself and others in the fraternity against any manipulations. Each one of us must be aware of our legal rights and how to ascertain them when the need arises.
Professionals from any specialization can benefit from this program. Based on an NPS score of 9/10, the learnings do come in handy in the day-to-day practice of an HCP.
Hence, this course is not only recommended but essential for every healthcare individual.
As both these courses are online, it allows flexibility and convenience to the doctors. We understand the hectic schedule of HCPs and hence, bring this knowledge right to your table, beyond any geographical boundaries.
We at HiDoc Dr. are committed to serving the fraternity and shall contribute in every way possible to uphold our healthcare industry.
To know more, email us at varun@hidoc.co or visit our website https://hidoc.co/