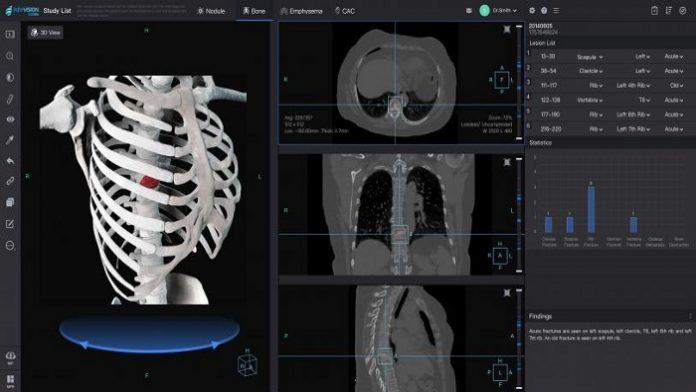 Big data and artificial intelligence  company Infervision announced the launch of InferRead CT Chest, a new product concept that detects four different conditions with just one set of chest scans, leading to faster and more comprehensive medical diagnoses. Additionally, Infervision introduced a new product concept for fast diagnosis in emergency conditions. The announcements were made at the 2018 Radiological Society of North America (RSNA) conference, Nov. 25-30 in Chicago.

The new InferRead CT (computed tomography) Chest will allow a doctor to review an image only once to perform multiple disease screenings in the chest including:
Lung nodule screening;
Chest fractures, bone metastases and bone tumor screenings;
Chronic lung disease (such as emphysema) screening; and
Cardiac calcification screening.
The lung nodule screening, while a core Infervision product, has been enhanced over the past year so it can now provide a complete view of the nodule, including volume and density. This product can automatically compare similar cases from a case report bank to provide further information and diagnostic information to physicians.
Also introduced by Infervision at RSNA is a new product concept which aims to help manage emergency conditions including stroke and bone fractures. The product allows doctors to use AI for fast diagnosis and treatment decisions. With this concept, the company is using the power of AI to improve emergency room workflow, and it is now being tested and continually improved in several hospitals in China.
Used to reduce the highly-repetitive work radiologists do each day, the goal of Infervision is to help doctors deliver more accurate reports faster. In fact, when Infervision's technology and a group of radiologists recently went head-to-head in a report-reading experiment with different types and sizes of nodules. Infervision's AI-CT predicted more accurately than radiologists in every category. For more information: www.infervision.com