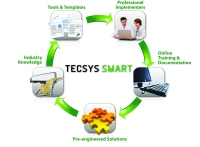 TECSYS Inc. , an industry-leading supply chain management software company, and the dominant provider of Consolidated Service Center (CSC) solutions to IDNs (Integrated Delivery Networks), announced today TECSYS SMART™.
The industry's first, it combines the power of TECSYS' in-depth expertise, proven business processes and knowledge resources that empowers IDNs in their supply chain transformational journey to a new level of efficiency, cost reduction, inventory visibility and improved service to patients across their IDN.
TECSYS SMART enables IDNs to be totally informed in their transformational initiative and empowers them to reduce the time, cost and complexity involved in setting up and deploying their CSC. With TECSYS SMART as much as 60% will be taken out of the time and cost associated with the implementation process and at the same time maximize the use of the full capabilities of the software application; ultimately translating into a significant ROI for their IDN operations.
"TECSYS SMART has provided us with a strong supply chain and application know how right from the get-go, even before we started building our 327,000 sq. ft. supply chain centre. Achieving supply chain excellence for maximum return is one of our core competencies. Managing a supply chainis not just about buying the right technologies. It is also about ensuring that management and users across your supply chain know how the business is supposed to flow to efficiently use the software application system. With TECSYS SMART, the complexity of the implementation process was vastly simplified; we have shed the light on our supply chain journey and removed the ambiguity typically associated with most software implementations. It is maximizing our know how based on industry-specific proven supply chain management roadmaps combined with dynamic educational resources to fully leverage the TECSYS software across our supply chain", commented Brent Johnson, Vice President, Supply Chain and CPO at Intermountain Healthcare.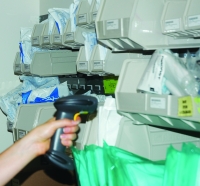 TECSYS SMART™ consists of:
• Industry Knowledge and Expertise spanning three decades
• Online Training and Documentation
• Industry Maps
• Industry Models
• Tools and Templates
• Pre-engineered Solutions
TECSYS SMART™ allows IDNs to:
1. Simplify the implementation process through proven industry-specific best practices and standards.
2. Expedite the deployment of software applications, reducing the implementation effort to a minimum, both for internal resources as well as consultants; therefore reducing cost substantially.
3. Deliver immediate value after go live, accelerating time to benefit.
4. Run the TECSYS system smoothly and successfully.
5. Reduce the probability of over-engineering processes.
6. Better train end-users, not only on functionalities, but also in thecontext of their role in fulfilling a business process.
7. Easily identify any gaps in processes to improve and optimize operations through supply chain Key Performance Indicators (KPIs).
Related Links:
About TECSYS SMART™
IDNs Turn Exclusively to TECSYS
About TECSYS
TECSYS is a leading supply chain management software provider that delivers powerful enterprise distribution, warehouse and transportation logistics software solutions. The company's customers include over 600 mid-size and Fortune 1000 corporations in healthcare, heavy equipment, third-party logistics, and general wholesale high-volume distribution industries. TECSYS' shares are listed on the Toronto Stock Exchange under the ticker symbol TCS.