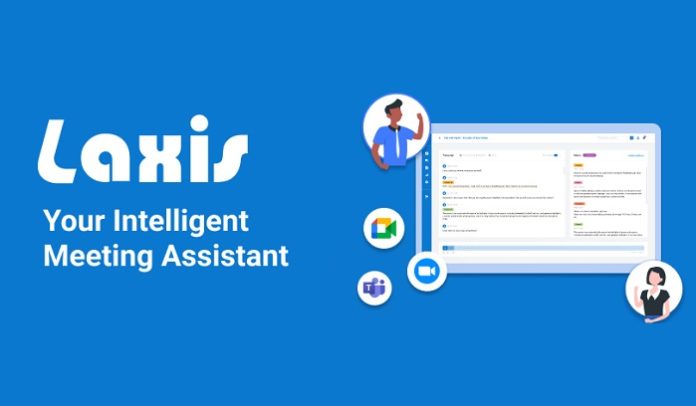 Laxis announced that the Laxis Intelligent Meeting Assistant automatically records and transcribes a conversation, takes notes, and uses AI to write follow up email copy. Laxis also offers real-time sentiment analysis and sales coaching during meetings for enterprise customers.
"We're all bogged down with too many virtual meetings, and are expected to stay present while meeting, take notes, and immediately follow up with next steps, which is why I am so excited about our new developments," said Erix Xiao, Founder and CEO, Laxis, Inc. "After a 45 minute meeting, no one wants to listen to the recording or go through long transcripts again to find key information. At the same time, people still have to spend time writing memos, reports, or follow up emails. The new Laxis will prevent anyone from missing anything during an online meeting, enhance key takeaways, and provide email copy to quickly use as follow up."
After a meeting, a user can request Laxis to quickly create meeting memos, reports, customer profile and requirements, action items, follow up emails, and all kinds of content based on the meeting conversation. After a quick review, these notes or outcomes can be sent to relevant recipients.
With Laxis Intelligent Meeting Assistant, users can:
– Use AI to get notes automatically post meeting
– Receive transcripts or a recording after meeting
– Obtain writing memos, reports, emails after meeting, and so much more!
"I spend most of my time in customer meetings. With Laxis, I can focus my attention on my customers during meetings, and automatically generate my email follow-up copy in seconds after meeting," said Martin Broadhurst, Sales and Marketing Consultant, Broadhurst Digital. "I have saved at least 4 hours every week!"