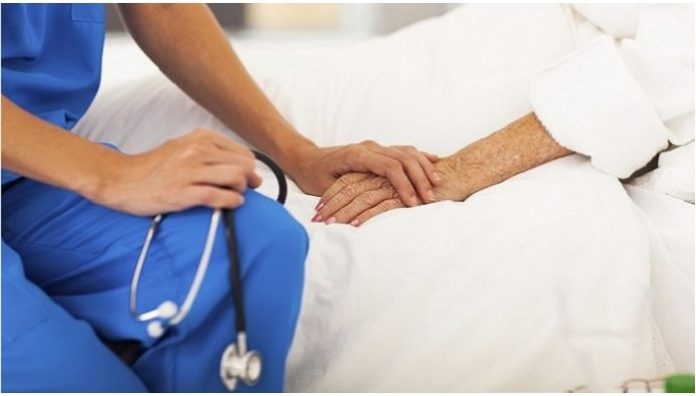 Wolters Kluwer Health and Vocera® Communications, Inc. (VCRA) have teamed to arm Halifax Health with a high-powered surveillance solution to advance its battle against sepsis. Linking the real-time clinical surveillance and analytics of the POC Advisor™ platform with Vocera's hands-free communications technology and mobile app accelerates the diagnosis of sepsis and the timely delivery of patient-specific advice to nurses and other clinical staff at the point of care.
"Time is the enemy when it comes to sepsis, with the likelihood of death increasing by 8 percent for each hour that passes without treatment," said Ginny Kwong, M.D., Vice President and Chief Medical Information Officer for Halifax Health. "Complicating early diagnosis is the need to aggregate data scattered across multiple clinical systems before it can be analyzed, and the results communicated to the point of care in a meaningful way.
"POC Advisor and Vocera integrate seamlessly into workflows to overcome these obstacles," she continued, "quickly alerting our clinicians to a potential sepsis case so they can make the proper diagnosis and begin appropriate life-saving treatment to patients at the earliest, most treatable stages."
Halifax Health is a two-hospital, 678-bed health system that is the largest medical provider in East Central Florida. A safety net hospital, Halifax is also one of the state's busiest emergency departments, with more than 115,000 visits annually. Its goal in deploying a sepsis solution was to build upon the success of an internal campaign that resulted in a 33 percent improvement in mortality rates. They chose to implement POC Advisor because of its scientifically proven results, published patient outcomes and industry-leading precision and timeliness. Another key factor was interoperability with Halifax Health's existing Electronic Health Record (EHR) and Vocera technology, making it easy for staff to use.
"At an average of nearly $19,000 per primary diagnosis, more than half of which is typically not reimbursed by Medicare, the financial cost of sepsis is staggering," said Sean Benson, Vice President and General Manager of Specialized Surveillance at Wolters Kluwer Health. "At Halifax, POC Advisor analyzes more than 300 data points within a patient's medical record to identify early signs of sepsis, warn caregivers of escalating risks and push evidence-based guidance to the point of care via the Vocera Badges and mobile apps that clinicians already use in their workflow. This results in faster diagnoses and treatment, which leads to reduced severity, decreased mortality and lower costs."
POC Advisor is a clinical intelligence platform from Wolters Kluwer that aggregates, normalizes and analyzes patient data from disparate clinical systems to drive early detection with predictive accuracy. Real-time analytics leverage hundreds of rules built into the platform to account for possible comorbidities and medication abnormalities, enabling prescriptive alerts with unprecedented levels of sensitivity and specificity to warn clinicians of patient risks without alert fatigue. These findings, published in the Journal of American Medical Informatics Association, also revealed that POC Advisor cut sepsis mortality in half and reduced 30-day readmissions by 30 percent, while reducing length of stay.
The Vocera Badge is a hands-free, voice-controlled communication device that enables instant two-way and one-to-many conversations. It combines secure text messaging and alerting and enables voice calls with intelligent routing by name, role, group and availability.
"Many applications, technologies and devices have been implemented within hospitals and health systems, but they are used in silos. Too often, key connection points between these systems are missed. The integration between Vocera, POC Advisor and the EHR is helping Halifax Health extract key knowledge from each system, leverage platform functionality and share valuable information with the right clinicians at the right time with intelligent alerting," said Rhonda Collins, MSN, RN, Chief Nursing Officer, Vocera. "It is a comprehensive and potentially life-saving assessment, detection and communication workflow that unfolds in less than one minute."
About Vocera
The mission of Vocera Communications, Inc. is to simplify and improve the lives of healthcare professionals and patients, while enabling hospitals to enhance quality of care and operational efficiency. In 2000, when the company was founded, we began to forever change the way care teams communicate. Today, Vocera continues to offer the leading platform for clinical communication and workflow. More than 1,400 hospitals and health systems around the world have selected our solutions for care teams to text securely using smartphones or make calls with our hands-free, wearable Vocera Badge. Interoperability between Vocera and more than 120 clinical systems helps reduce alarm fatigue, speed up staff response times, and improve patient care, safety and experience. In addition to healthcare, Vocera is at home in luxury hotels, nuclear facilities, libraries, retail stores and more. Vocera makes a difference in any industry where workers are on the move and need to connect instantly with team members and access resources or information quickly.
About Wolters Kluwer
Wolters Kluwer N.V. is a global leader in information services and solutions for professionals in the health, tax and accounting, risk and compliance, finance and legal sectors. We help our customers make critical decisions every day by providing expert solutions that combine deep domain knowledge with specialized technology and services.
Wolters Kluwer reported 2016 annual revenues of €4.3 billion. The company, headquartered in Alphen aan den Rijn, the Netherlands, serves customers in over 180 countries, maintains operations in over 40 countries and employs 19,000 people worldwide. Wolters Kluwer Health is a leading global provider of information and point of care solutions for the healthcare industry.