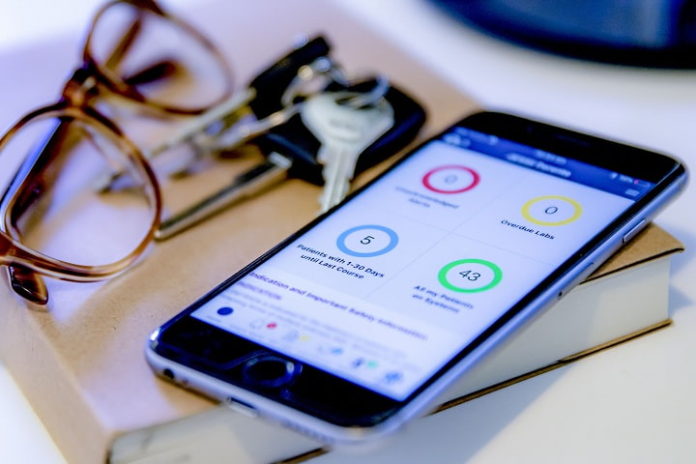 COVID-19 has driven a huge number of breakthroughs in health technology. Some have leveraged existing technology, as we've seen with telehealth. But there's been innovation around the hard stuff too, like genomic sequencing, testing and tracing, and mRNA vaccines.
In all of these innovations, we have seen the value of healthcare data. Providers have found new value in their electronic medical record (EMR) systems, for example. Having easy access to a patient's data makes a huge difference to the quality of the experience for both doctor and patient – and the outcomes as well.
The pandemic experience has also increased the willingness and the appetite to change and opened the way for further innovation. Telehealth is evolving into virtual care where more sophisticated technology is providing a better experience and more value for patients and clinicians.
It has become easy to imagine a scenario where a healthcare provider's EMR system connects to a patient's remote health monitoring device with an artificial intelligence (AI) algorithm able to raise an alert when it detects or predicts a potential health issue, in turn triggering a workflow to set up a videoconferencing appointment.
As healthcare providers embrace these technology-enabled care models, they will look for innovative solutions from suppliers including healthtech companies and start-ups, medical technology and device companies, pharmaceutical companies and others.
"Disruptive" solutions for better care
InterSystems is working with one company, RxMx®, that develops apps and portals around lab testing to ensure the safety of specialty medications, like those used for Multiple Sclerosis. Built on the InterSystems IRIS for Health™ data platform, RxMx's Chameleon platform provides automated risk management to keep patients safe throughout complex specialty treatments while integrating with labs and other vendors in real time.
For some patients on experimental new medicines, the careful monitoring of test results can mean the difference between detecting an adverse event and treatment success. Real-time information is of vital importance to patients and care teams alike.
We will see many more "disruptive" solutions that provide better care for patients and make lives easier for clinicians. Health providers will integrate their systems with those of medical device manufacturers and use big data and AI for improved diagnosis and predictive analysis. And we will see more innovative care solutions from start-ups and the use of new healthcare data standards like FHIR® to make them easier to integrate.
Exponential growth in healthcare data
There are still many challenges, however. Healthcare providers often struggle to integrate innovative solutions into their workflows and systems. In addition, there are data management, privacy and security challenges.
If we look at the medtech sector, companies need to manage the exponential growth of both data volumes and the number of data sources that products must integrate with. According to the IDC white paper, "Data Age 2025", healthcare data is projected to grow faster than in manufacturing, financial services or media, experiencing a compound annual growth rate (CAGR) of 36 percent through to 2025.
Smart healthcare devices and point of care devices located in patients' homes are just some of the drivers of this trend. This exponential data growth presents a major challenge for data scientists at medical device manufacturers, who often spend as little as 20% of their time on actual data analysis.
Interoperability a "stumbling block"
According to Juanito Doolub, Healthcare Solution Architect for InterSystems, the bulk of medtech data scientists' time is spent tracking down, cleaning and reorganising huge volumes of data stored in multiple silos and in different formats and standards.
"Unfortunately, the lack of interoperability between systems has been a major stumbling block for innovation," says Doolub. We are investing a lot of effort into solving this problem to make sure that our customers have clean, compliant and complete data available for advanced analytics."
Healthcare startups also have their challenges. It's estimated that 90% of healthtech companies fail in their first five years. And one of the biggest hurdles they face is the need for interoperability.
Exchanging data in a completely unambiguous way is important across the healthcare continuum, especially when it comes to caring for patients and for analysing the evidence for new medical treatments. This means that if healthcare startups want to develop new solutions and successfully bring them to market, they will need to build their interoperability capabilities and work with a range of data standards.
Integration with existing data standards
The healthcare industry has a veritable alphabet soup of interoperability standards, including Health Level Seven (HL7®), ASTM International, DICOM (Digital Imaging and Communications in Medicine) and IHE (Integrating the Healthcare Enterprise).
FHIR, HL7's newest clinical data standard, uses RESTful APIs, which are also the basis of the ecommerce and social media applications. That allows FHIR to be used in different contexts, from system-to-system messaging to consuming innovative new services. It's likely that most interoperability will be done via FHIR at some point.
However, right now, supporting earlier data standards and APIs, and even interfaces to systems that don't use standards, make it easier for a new solution to fit into the existing healthcare data ecosystem. Demonstrating this sort of flexibility could be a key competitive advantage for startup companies, and help them acquire more customers.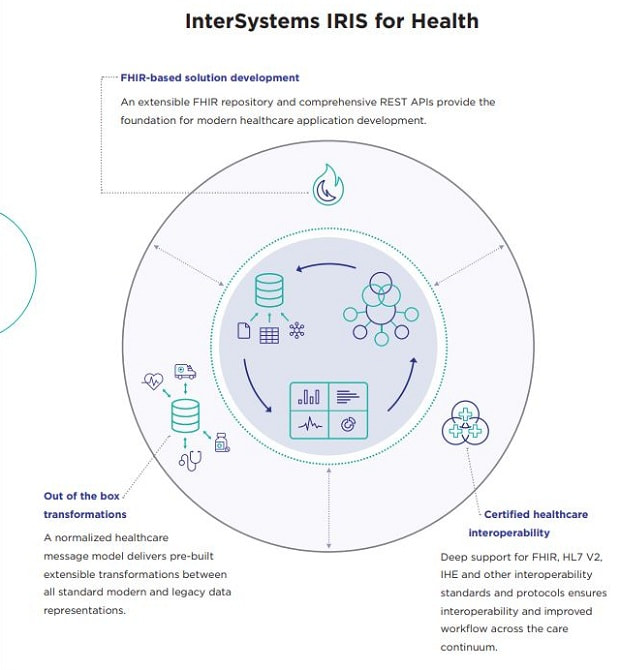 Better data management = better AI
Data management capabilities are also important. Clinicians and other carers are increasingly looking to leverage healthcare data to understand what is the best treatment for an individual patient, for example.
That could be through access to a complete set of patient data, or through applying AI algorithms trained using large volumes of comparable data. These processes are greatly simplified if data is consistent and flows easily between systems rather than being scattered throughout disparate data silos. Key to this is the availability of normalised data, or what InterSystems calls "healthy data".
It is quite breathtaking to see how quickly AI is being taken up by the healthcare industry. For example, machine learning – a key part of AI where computer algorithms automatically improve through experience – has been called upon to leverage healthcare data to help deal with many of the challenges COVID-19 has presented.
Public health systems have turned to machine learning to complement their contact tracing and other efforts to control the disease and track outbreaks. Private healthcare operators have embraced machine learning to remain competitive when faced with a drop in demand for elective surgery or, in many countries, a reluctance or inability to visit hospitals or clinics.
The pace of AI and machine learning adoption is also accelerating in hospitals. According to a recent IDC study of 210 hospitals in the US, UK and Germany, half already have an AI framework in place and the rest plan to be online within 24 months. The study found that reading images to assist with diagnoses (30% of hospitals) and early identification of hospital-acquired infection (30%) were among the top three use cases for AI.
For example, Mercy Radiology in New Zealand, working with Ferrum AI, has deployed AI algorithms which use machine learning to improve over time with use. Operating in a second read capacity for radiologists, the use-cases are in lung nodules on CT scans and limb fractures on X-ray. The algorithms have improved the quality of reporting and "there has been positive engagement from clinicians as well," says Lloyd McCann, CEO of Mercy Radiology and Head of Digital Health for Healthcare Holdings Limited.
Machine learning for smarter triage
One area where we will see widespread advancements with AI is in hospital triage. Most triage systems rely on simple risk scoring systems with a small number of variables to identify which patients need immediate attention or access to higher acuity resources.
Machine learning increases the number of variables which can be taken into account to make smarter triage decisions. At Northwell Health – with 23 hospitals, New York State's largest healthcare provider – machine learning is making better use of resources and improving patient experience. The technology is used to identify patients who need to be woken up to take their vitals versus those stable enough to sleep through the night.
InterSystems believes it is essential to prioritise healthcare data interoperability and data-cleansing so that it's usable in machine learning and other innovative, data-driven solutions. The company's cloud-first data platforms also solve the speed and scalability problems that healthcare must overcome to manage the exponential growth in data it produces.
Providers and their suppliers have an incredible opportunity. To take advantage of it they require systems capable of processing health data in real time, connecting with all the data sources they need, ensuring healthcare data is fit for purpose, and integrating innovative solutions into existing healthcare systems.
Yes, there are challenges to be overcome. But the pandemic has shown us the value of technology and we will only get better at leveraging healthcare data to enable new, more effective models of care.