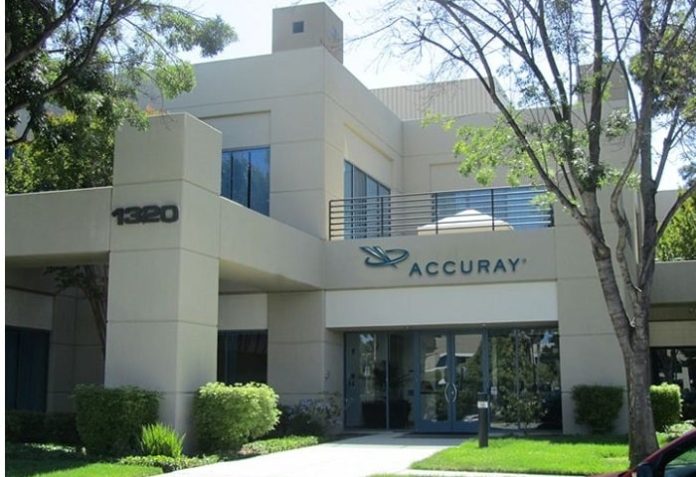 In October 2019 Accuray announced that Thailands Lopburi Cancer Hospital, a leading facility in the Mueang district of Thailand designated a national center of excellence became their first client in the Asia-Pacific region to clinically use the combination of RaySearch's treatment planning system RayStation® with Accuray's Radixact® Treatment Delivery System.
You can find the full announcement here.
Hospital & Healthcare Management – HHM Global conducted an interview with Birgit Fleurent, Chief Marketing Officer, Accuray as well as with Lopburi Cancer Hospital.
View the full interview with Lopburi Cancer Hospital on why they opted for Accuray's Radixact® Treatment Delivery System the benefits Lopburi Cancer Hospital has seen from the system and and how the center has become a pioneer in advanced technology to treat patients.
Birgit Fleurent which spotlights Accuray's development in the Asia-Pacific Region and how their platforms are helping to change the landscape of cancer treatment methodology today.
Q1. How exciting is it to be associated with Lopburi Cancer Hospital, Thailand and where does your company go from here? How do you plan to spread across the Asia Pacific region where the opportunities are immense but the socio-political landscape is complex too?
Ans: It is very exciting to have established this partnership with Lopburi Cancer Hospital, known as a national center of excellence for cancer treatment. It is especially rewarding to know that patients will be receiving the best and most personalized carefor their cancer with the hospital's purchase of the Radixact System combined with RayStation treatment planning.
Accuray has a growing presence in Asia Pacific, and it is through our work with exceptional distributors that this growth is possible. Our distributor partners have strong local knowledge and networks, and we rely on them to plan for and understand the impact of the regional economic and political climates.
Q2. How frequent is the research and development which keeps taking place as far as Radixact is concerned?  Is there any customized approach that you follow in dealing with specific clients from specific geographies?
Ans: We at Accuray are known for innovation in radiotherapy and have development programs in place on an ongoing basis for our systems, software and service to meet the needs and challenges of our customers. We do this work internally as well as in partnership with our customers in order to ensure we have the most precise, efficient and patient-first offering available long-term.
Q3. The system has already made inroads in Breast, Prostate, Lung, Intracranial and Head & Neck treatments. Are there are any other range of cancer treatments which the company is currently planning for in the near future?
Ans: In fact, the Radixact System, with its unique helical architecture, is ideally suited to treat any indication and any patient. Today, it is used in this capacity in many cancer centers around the world.
Q4. How unique is the Radixact Delivery Treatment Platform from its competition and mention some immediate benefits it can give to its users?
Ans: The Radixact System, our next-generation TomoTherapy platform, has a unique helical architecture not found on any other linac today. Based on a CT scanner platform, the system provides continuous delivery of radiation from 360 degrees around the patient, or delivery from clinician-specified beam angles. These unique features, combined with daily 3D image guidance, enable physicians to deliver highly accurate, individualized dose distributions which precisely conform to the shape of the patient's tumor while minimizing dose to normal, healthy tissue, resulting in fewer side effects for patients.
Ourunique design allows for exquisite precision and accuracy in treating both simple as well as very complex cancer cases. This versatility and precision are an advantage for clinicians who are seeing a broad range of clinical cases, from breast and prostate to total marrow irradiationand total body irradiation, such as is the case for the Lopburi Cancer Hospital.
Q5. How is CyberKnife Systems, the TomoTherapy Systems, and the Radixact Delivery Treatment Delivery Platform all put together helping in changing the shape of cancer treatment methodology today?
Ans: The innovations we have developed across the CyberKnife System, the only robotic SRS/SBRT System, as well as the Radixact System, the next-generation TomoTherapyIG-IMRT/SBRT platform, truly provide the most precise, patient-first treatment available today. We are pioneers in the development of technology that automatically adapts and synchronizes the movement of the radiation beam to the target in real-time, and in the creation of radiation therapy delivery systems that will enable our customers to safely and precisely deliver hypofractionated and ultra-hypofractionated treatments to their patients.These treatment modalities will increasingly become standard of care in today's value-based care environment, and allows for a clinically effective and highly efficient workflow we are very proud to help our customers achieve.