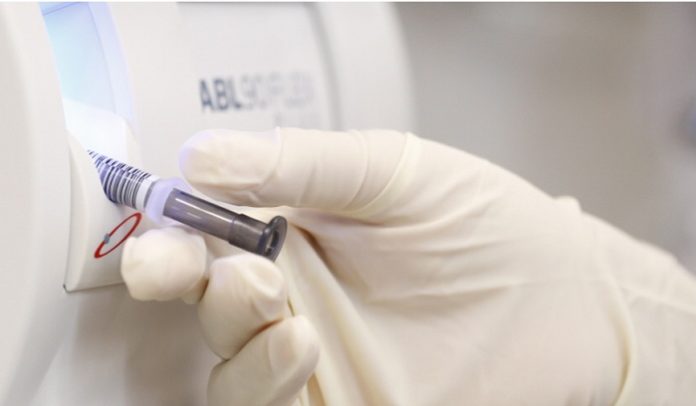 Background
Critical care settings often rely on quick, accurate tools to help providers make appropriate clinical decisions. Blood gas analyzers are essential in high-volume medical units since they rapidly measure key parameters1 and give clinicians crucial data for diagnosis and treatment. Handheld and bench top point-of-care (POC) devices have been developed to analyze samples on-site in various medical settings for rapid treatment of patients2. POC devices are commonly used in fast-paced clinical settings, making them prone to testing errors associated with adverse patient outcomes3. Blood gas analysis requires an invasive procedure to obtain arterial blood; thus, the need for additional needle sticks can be highly unpleasant for the patient, especially for older patients or patients with difficult venous access4. Therefore, the ideal POC device should be precise and reliable while requiring minimal sample volume and needle sticks to deliver high-quality patient care5.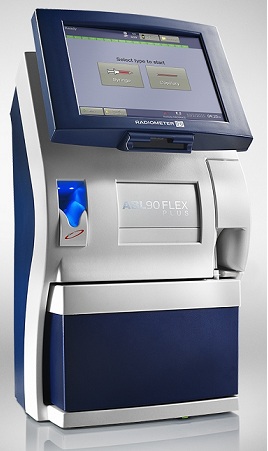 Suboptimal connectivity of the analyzers combined with limited software features also led to inefficiencies. The devices did not automatically communicate with electronic medical record (EMR) software and occasionally lost connection with the hospital servers. Manual data inputs were required, delaying the "effective" turnaround time (TAT, i.e.,the time from the analysis until physicians can access the results for clinical decision-making). Staff had to switch between the analyzer and a desktop computer to enter patient information. Clinicians could not modify/correct records without going through a middleware, which demanded additional time and increased costs.
Analyzer Selection & Evaluation
Considering the clinical, workflow, and cost implications of the issues caused by the blood gas analyzers, stakeholders at Baptist Health were prompted to look for an alternative. A committee headed by two leaders from the respiratory department was formed to identify and evaluate multiple devices, and considered various features in the device selection process, prioritizingTAT, EMR integration, and product reliability. Another key consideration was vendor support due to their recent experiences with the previous manufacturer. The committee traveled to conferences, talked to peers, and consulted other members of the Baptist Health network to narrow down a list of potential replacement options. It did not take long for Radiometer America's reputation to reach the Baptist Health team. Following positive feedback concerning Radiometer's devices and customer support, the committee brought in the vendor team for a live demonstration followed by an opportunity to run tests on the new device in front of a group of stakeholders, which found the device impressive and provided favorable feedback.Radiometer America also offered flexible contract options, and continuous product support during and post-implementation. Based on a thorough assessment, Baptist Health leadership chose the ABL90 Flex Plus (Radiometer Medical ApS, Copenhagen, DK) for its long-term blood gas analyzer needs.
Device Adoption & Observed Impacts
Baptist Health Leadership collaborated with internal (i.e., hospital IT team) and external (i.e., Radiometer America team) stakeholders to ensure a smooth transition. The hospital began the adoption of the devices at the flagship Little Rock campus, followed by the large and then regional hospitals, which would allow implementation challenges to be addressed at larger hospitals with more resources before smaller facilities transition to the new devices. By January2021, eight devices were introduced to the Little Rock campus;Baptist Health stakeholders felt "more confident with the new changes" as the analyzers instantly presented significant improvements in clinical, workflow, and cost-related outcomes8.
One of the most significant improvements with the ABL90 Flex Plus was the faster TAT since it could generate test results in 35 seconds.Furthermore, the devices came equipped with AQURE (Radiometer Medical ApS, Copenhagen, DK), a companion software with POC data management, EMR integration,convenient updates, and the elimination of the need for middleware. Through this software, the analyzers connected seamlessly with the EMR system and directly uploaded the results without the need for data entry, saving valuable time for clinicians and improving the"effective TAT".
Robust Reliability &Minimized Redraws:
The ABL90 Flex Plus provided accurate results using a single sample and performed reliable measurements on 17 parameters.Unlike the previous devices, the analyzer informed users when the specimen was contaminated or unfit for analysis.Moreover, the reliability of the analyzers minimized redraws,preventing patient discomfort and eliminating the clinician time needed for device maintenance/troubleshooting.

Final Thoughts and Next Steps
This case study suggests that organizations may significantly improve their clinical practice, workflow efficiency, and patient-provider satisfaction by transitioning to medical devices that effectively meet their needs. Extensive vendor involvement and customer service proved valuable during the pre-and post-implementation processes.After fully transitioning to the new analyzers at its largest campus, a key stakeholder at Baptist Health commented that they were "extremely likely to recommend" these new devices to similar institutions mainly for their "reliability and user-friendliness"8.Currently, the health system is in the process of implementing these analyzers in its regional hospitals,with Little Rock campus staff members leading training and adoption efforts.
Shelly Brown, MBA, RRT-NPS, NCTTP1 Baptist Health Medical Center, Little Rock, Arkansas
Candi Curtis, BS, RRT1 Baptist Health Medical Center, Little Rock, Arkansas
Niccolo Dosto, MHS2 Boston Strategic Partners, Boston, Massachusetts
Halit O. Yapici, MD, MBA, MPH2 Boston Strategic Partners, Boston, Massachusetts
Reference
Hill, J. (2007). Blood Gas Analysis. Biomedical Instrumentation & Technology, 41(1), 55–56. doi:10.2345/0899-8205(2007)41[55:bga]
Acute care testing handbook. Radiometer Medical ApS, 2700 Brønshøj, Denmark, 2014. As accessed on http://www.radiometer.com/en/knowledge-center/handbooks/acute-care-testing-handbook.
Dukić L, Kopčinović LM, Dorotić A, Baršić I. Blood gas testing and related measurements: National recommendations on behalf of the Croatian Society of Medical Biochemistry and Laboratory Medicine. Biochem Med (Zagreb). 2016;26(3):318-336. doi:10.11613/BM.2016.036
Awasthi S, Rani R, Malviya D. Peripheral venous blood gas analysis: An alternative to arterial blood gas analysis for initial assessment and resuscitation in emergency and intensive care unit patients. Anesth Essays Res. 2013;7(3):355-358. doi:10.4103/0259-1162.123234
Kapoor D, Srivastava M, Singh P. Point of care blood gases with electrolytes and lactates in adult emergencies. Int J Crit IllnInj Sci. 2014;4(3):216-222. doi:10.4103/2229-5151.141411
About Baptist Health of Arkansas: Our History of Caring. Baptist Health. https://www.baptist-health.com/about-baptist-health-arkansas/. Published 2021. Accessed September 7, 2021.
Baptist Health. Encyclopedia of Arkansas. https://encyclopediaofarkansas.net/entries/baptist-health-5118/. Published 2021. Accessed September 7, 2021.
Data on File. Interviews conducted at Baptist Health of Arkansas by Boston Strategic Partners, Inc. July 2021.