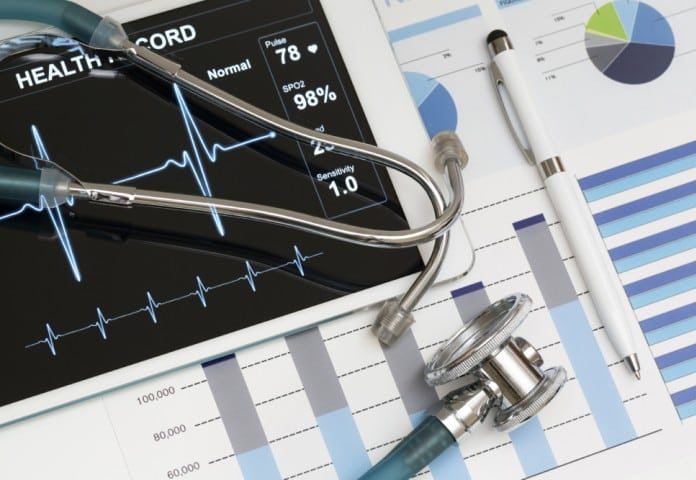 So what is healthcare analytics, really? Health analytics comprise of the technologies and skills used to deliver business, clinical and programmatic insights into the complex interdependencies that drive medical outcomes, costs and oversight. For example, Figure 1 shows a sample progression of questions related to diabetes that can be answered through standard reports, ad hoc reports, query drill-down, alerts, statistical analysis, forecasting, predictive modeling, and optimization – with each providing increasing levels of depth and multifaceted analyses.
The evolution from hindsight reporting to predictive analytics in the case of diabetes analysis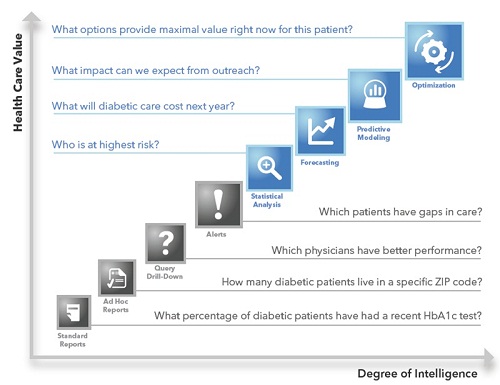 Through modeling, optimization, predictive analytics and business intelligence, organizations can gain insights to strengthen financial and budgetary performance, deepen consumer-centric relationships and improve the way health care is conceived and delivered for better outcomes across the entire spectrum of health industries When integrated into a business process, analytics can transform your organization into an agile, learning entity. The analytic process can become a ripe platform to fuel learning and insights from all your data assets – corporate and external. It can be the cornerstone on which your health care organization can develop &grow – financially and intellectually.
Taking a closer look, as seen in Figure at its most basic level, the analytic process: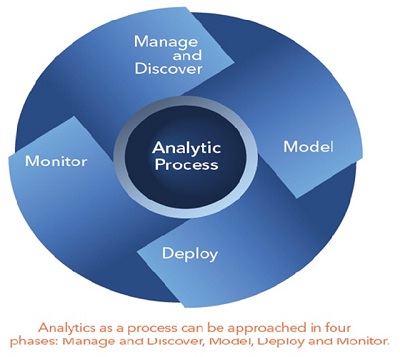 Manages data and reveals insight.
Models the insight to better understand what will likely happen in the future.
Deploys the insight to support decisions that will create better outcomes.
Monitors the results.
Ensure that you are addressing any barriers
When a healthcare organization does all of the process, it learns. All organizations learn, but do they learn quickly enough to outgrow the industry levels? Never before has health care had to learn to respond to change faster than today. And to be a learning health care orga¬nization that flourishes, the analytic process must be repeatable and scalable with long-term, sustained executive commitment. Like any other organizational strategy designed to deliver significant results, analytics requires a major commitment to achieve success.
In the past, organizations have often taken tactical approaches to analytics focused on specific projects. While this approach can add limited value, you must have a strategic analytics plan to create broader organizational value. You need a master plan to make sure the tactical steps come together to create a bigger picture of analytical excellence to deliver value.
In a very real sense, analytics lives at the intersection between operational systems (EMRs, supply chain, care management, quality, etc.) and productivity systems (Microsoft Office, Excel, PowerPoint, etc.). Before the adoption of strategic analytics, executives often thought of analytics as a set of discretecapa¬bilities without much thought to the larger analytic process. Today, organizations that are strategically approaching analytics have understood that the steps in the analytic process are interconnected, and the lack of integration can significantly affect the degree of manual work – and thus the overall orga¬nizational value. They have recognized the need to implement their analytics environment as an integrated platform that can interact with both their operational and productivity platforms – i.e., an analytics platform.
An analytics platform, like operational and productivity plat¬forms, provides an integrated environment that will support the entire analytic process from managing data and discovering insight to monitoring the results. The platform must maximize the productivity of your analytics team, empower business users, easily grow and be supportable by your IT team (if and where there is dependency on IT). Also, it must easily interoperate with the operational and productivity platforms throughout the analytic process.
Interoperability is critical in two of the four steps in the analytic process. To manage and explore data, the analytics platform must be able to quickly access operational data and prepare that data for analytic work. Most organizations have a variety of operational systems; therefore, strong abilities to interact with a wide range of data sources are important ingredients to the analytic team's productivity.
Deploying the analytic insights is the other critical integration point between platforms. Deployment requirements will vary depending on the characteristics of the analytic insight and the depth of deployment. Often deployment starts with providing reports and dashboards. Here, integration with the productivity platform can be a major benefit to your analytics team. An analytics platform should allow your organization to interact with live analytics through Microsoft Office, Excel, PowerPoint and SharePoint. Analytics effectively embedded in the natural workflow of your productivity platform becomes much more accessible, consumable and useful.
Deploying analytics often requires interaction with operational systems to deliver predictive insight into the business or clinical workflows. An analytics platform should provide many opera¬tional deployment options, ranging from scoring an analytic model in an operational database to interacting with business rules to real-time analytic scoring. These capabilities include the ability to automatically turn an analytic model into software code that can run in the operational environment, saving time otherwise lost with manual coding, debugging and testing. Without the ability to interoperate with operational systems, full organizational value from analytics will never be realized.
Grow Your Analytic Maturity
Similar to the analytics platform's positioning between opera¬tional and productivity platforms, the analytics team will work at the intersection between data and organizational knowledge – creating both clinical and financial value. Given the future demands for value-based health care, an analytics team will likely focus on challenges relating to:
Managing financial risks and incentives.
Proactively managing quality and outcomes.
Improving the efficiency of care delivery.
Managing population health and engaging patients.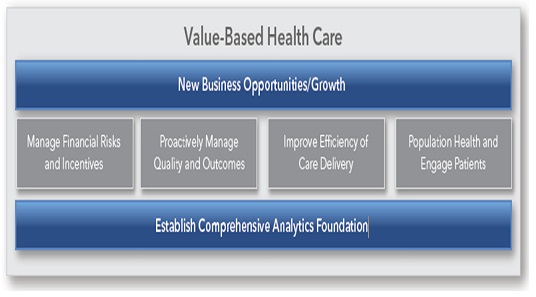 Using analytics to create value in these areas will be a learning process for the analytics team and the broader organization. Since analytics is relatively new to health care, many team members may come from other industries that are less complex than health care. As the depth of your team's health care under¬standing increases, so will the analytic value it creates.
In summary, creating value in healthcare requires a combination – a committed leadership, a highly-productive analytics platform and the right team which willsupport the strategic application of analytics within your organization.When you have such a heady mix, with each successful project, your organization become more agile while continuouslylearning from your data, adding organizational value at each step and in turn deriving exponential returns from analytics.