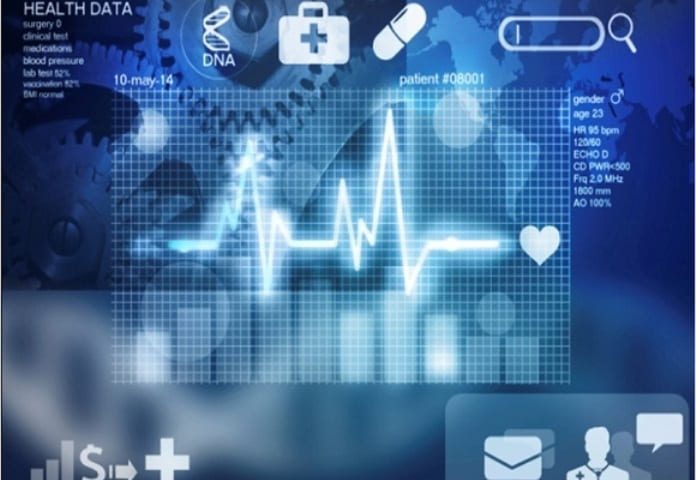 Everyone has heard that today, "air travel is the safest form of transportation in the world."  The impressive safety of the airlines is a dramatic example of the power of "variability reduction."  Indeed, in numerous sectors outside of healthcare, the erratic quality and costs that result from variability have long been acknowledged.  Henry Ford revolutionized manufacturing with his assembly line concept, aimed at reducing quality and cost irregularities in automobile manufacturing.
The success of air travel is more comparable to what is needed in healthcare:  a mixture of both simple checklists (a pre-flight requirement) and complexsolutions (cockpit technology) which significantly reduce variability, leading to demonstrable improvements in safety and other quality metrics, while reducing costs.At the heart of the current healthcare reform revolution is value-based care.  And at the heart of value-base care is variability reduction.  As in the cockpit, the greatest opportunity to meaningfully reduce healthcare variability and both improve clinical outcomes and cost efficiency requires solutions both simple and complex:Clinical Decision Support (CDS) solutions.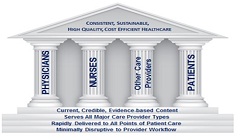 When reform truly was recognized as inevitable, the timeline and vagaries of some new healthcare legislation led to panic in many hospital C-suites. In a knee-jerk response, institutions simply bought a variety of CDS solutions without first taking a moment to formulate an organized CDS strategy.  Today, as providers have a better understanding of reform and the limits of CDS technology (through often painful experience), many are re-evaluating what CDS can and should mean to their clinicians, patients, and organizations as they now more carefully plan to allocate their limited financial and human resources.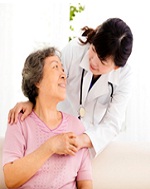 Envision a powerful CDS strategy as a marble temple (Refer to Image 1).  A peaked white stone roof held up by four unwavering pillars, each standing strong atop a four-layered foundation.  That roof represents the goal of your CDS strategy.  Yes, of course " Improving Clinical Quality" and "Reducing Costs of Care" are critical components of that goal.  But there's more.  A successful CDS strategy must also achieve "Sustainability " over a long period of time.  It must also produce "Consistency," not only across all major care settings, but in providing non-conflicting information and guidance for all provider types.
The foundation of our impactful CDS strategy structure is built in four layers, each a requirement of any high-value CDS solution.  First, all information must be Current, Credible, and Evidence-Based (if the latter is not available, then at least "Evidence-Informed").  Next, the information must Serve All Major Provider Types (more on this in a moment), meaning that while the format of the material must be appropriate for the given provider type (doctor, nurse, pharmacist, etc.), the information itself must be consistent so that the doctor, nurse, and others are offering the same clinical guidance, and that guidance is consistent with patient education materials.  Next, CDS solutions must Deliver Knowledge Rapidly At All Points of Care.  Otherwise, physicians, patients, and others will still go to Wikipedia®, Google®, or other lightning-fast search engines, despite their questionablemedical credibility. Finally, although some vendors may claim otherwise, CDS solutions do not often (if ever) improve workflow, so seek products which at least only Minimally Disrupt Provider Workflow.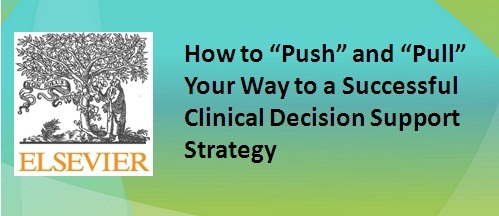 Rising firmly from our four-layer foundation to hold up our rooftop goals are four pillars, each representing a major provider category which must be empowered by targeted CDS solutions.  The first pillar is "Physicians," the second is "Nurses," and the third is "Pharmacists, Therapists, and other Traditional Providers."  The fourth provider pillar is the most critical CDS audience if indeed the potential of healthcare reform to improve our health, healthcare, and associated costs is to be realized:  "Patients."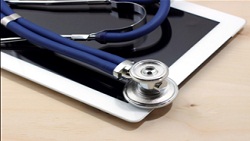 Finally, a word about CDS solutions: they fall into two broad categories.  CDS "Pull Solutions" allow providers to seek and find current, credible, evidence-based information to guide care.  These tools (such as reference solutions) are like the seatbelt in your car:  they're very impactful in reducing risk, but only if the driver and passengers buckle them.  Thus CDS "Pull Solutions" carry the inherent challenge that not all physicians will know when to use them, and that even some who may recognize their need for information may choose not to search for answers.  More impactful are CDS "Push Solutions."  In our car analogy, "Push Solutions" are airbags.  They are passive safety systems which rely nothing on the user but automatically deploy when needed.  In the healthcare world, CDS "Push Solutions," such as Order Sets, automatically present guidelines and other current, credible, evidence-based information to the provider for consideration.  And as in your car, the combination of "Push" and "Pull" solutions which meet the four foundational requirements represent the greatest opportunity to improve the quality of your populations' health and healthcare while reducing costs.
 Whether you're like most of us who are now first truly evaluating our long-term CDS strategy or you're among the fortunate few who have yet to journey deeply into the CDS jungle, taking a step back to strategize on the process offers enormous ROI.  Define your goals (be ambitious, and remember: a CDS strategy isn't a wedding, it's a marriage…think long term.)   Don't initially consider any CDS solution which fails to meet the four foundational requirements.  Determine your provider priorities from the four pillar choices.  And then honestly evaluate your resources, both financial and human.  Finally, based on the above decisions, begin with "Push Solutions" whenever possible, followed by "Pull."