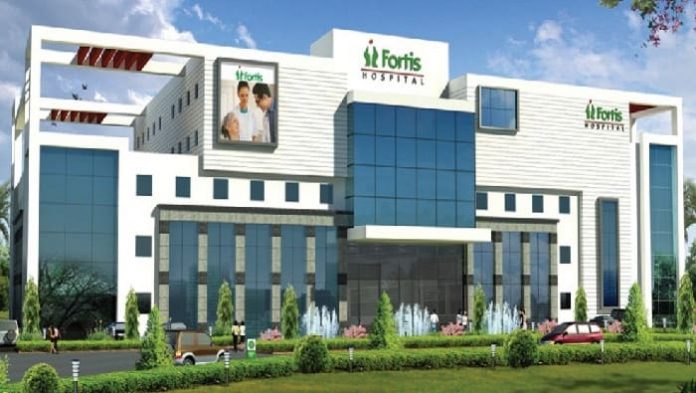 Bryan Camoens: Vishal, can you please tell us, given your vast experience in the field, what are the do's and don'ts of building health facilities as sovereign identity?

Vishal Bali: I think fundamentally Bryan we are moving in a world of branded healthcare delivery. Given my last 2 decades of experience in India and also of witnessing changes that are taking place around the world and also because we in India treat a lot of international patient, I think branded healthcare delivery and ensuring that what is committed to the patient and down to the expectations are met within the enterprises is going to be a very important criteria of success in the current healthcare delivery marketplace. Secondly, I think in terms of the kinds of facilities that we are creating in terms of infrastructure both from the perspective of patient care delivery and also from the perspective of adequate and excellent clinical care delivery has to be met. That's why I think we're definitely moving towards a world of high-end, state of the art infrastructure, coupled with modern technology and offering personalized healthcare experience to our patients.
Bryan Camoens:You spoke of branded healthcare a little bit, what I would like to know is – India has always been one of the few places in Asia where people from Europe, America, the rest of Asia would go for cost-effective healthcare that doesn't break the bank. Does it mean that we are about to see the healthcare sector in India become more pronounced. Standards will obviously improve but will healthcare also become more expensive in the long run?
Vishal Bali: Not at all, I think, one of the experiences of India and I think the reason why the world is coming to India for healthcare is because of affordable healthcare delivery with state of the art technology and quality of healthcare that is delivered. Now having said that, I think the fact that India is predominantly a private healthcare delivery system. It's private healthcare providers who fundamentally contribute 80% of India's healthcare that would ensure that because we constantly deal with the fact that patients in India have to pay other pocket and so therefore we need to create affordability as a dominant system. So, I think it should not and it will not happen that just because we are getting patients from around the world that our systems are going to become more expensive that healthcare delivery is going to become more expensive. On the contrary, I think the continuity of affordability is going to be a very important part of India's healthcare delivery system because we are a billion and a half people, and we therefore need to create a very high-end, affordable healthcare system for our people, and what we create for India will then also become advantages to the rest of the world because they would continuously find high quality, affordable healthcare in India.
Bryan Camoens: How do you go back creating health facility that is seamless from the moment of patient checks in to the time he checks out? Not only for patients but also for the staff of the hospital?
Vishal Bali: I think creation of modern healthcare facilities is not just about the brick and mortar, so I think the designing of the facilities has to be correct, we need to create facilities which can be managed well, and so therefore over designing is not the right thing and also I think, what is going to be important is that because we are very specialtyoriented, so specialty healthcare delivery is another area that we particularly have the Fortis Hospital Group in India are following very clearly in terms of we are in tertiary healthcare services and which means that whether it's cardiology, orthopedics, neurosciences, minimal access surgery.
So I think, with focus super specialty healthcare provision is a very important part of what we are offering. The facilities need to have a design element where the corelationship of these specialties and the relationship of outpatient to inpatient healthcare delivery has to be very well thought of. So I think, fundamentally we need to design right, we need to design with the patient at the center of all that we are going to do, and this would also include a very strong ITenabled system at the back-end. So when, right from the time the patient enter the facility to the time that they are discharged from the facility.
There has to be a system by way of which they find moving within the services and within the facility absolutely seamless. So, I think this combination of ensuring that both the outpatient and the inpatient are not too segregated areas within the hospital but from effectiveness point of view, they are able to provide a very high degree of seamlessness to patients; and diagnostic because in today's healthcare delivery environment, high tech diagnostic services whether it is CT, MR, the CAT labs, the ER – the emergency room, the I think the adjacency of these functions to what we are going to offer to our patients is again a very important criteria in terms of ensuring the seamlessness of care. So, I think it's all about the right design, it's all about the right technology of the back-end, and it's all about ensuring that from your services perspective your people are very well trained to ensure that they offer high degree of personalized healthcare in to our patients.
Bryan Camoens:And of course as countries like India become more mature and more affluent, you are going to see a very large growing ageing population in the country, how would the healthcare system acclimatize to these ageing population?
Vishal Bali: I think, in countries like India, it is still going to be a little later in the future, but you're absolutely correct, and I think one of the biggest challenges for healthcare delivery in the future is fundamentally to treat the ageing population and particularly in developed world, it will become a huge issue, because developed world is graying very quickly, and obviously in countries like India and in other countries in India – we are going to have a very fast evolving aged population, and that means that in terms of both the services that we offer, in terms of the clinical services that we offer and in terms of the design of the hospitals that we offer, we need to become more and more sensitive to the needs of the aged, and so I see often hospitals not really having a design where the aged people can actually move easily within the hospital and so therefore this is a category of patients that needs minimal movement and needs minimal roadblocks in their moment within the hospital, so I think the fact that geriatric medicine is going to be one of the fastest evolving areas of medicine in the future – it needs to be sensitized and we need to make our healthcare providers more and more sensitive to geriatric care and very frankly I think geriatricians are rare group of clinicians and so therefore we need to actually create more avenues for people with geriatric medicine as a background to come and settle down in our environment.
Bryan Camoens:What are some of the future-proofing health facility development trends and techniques that we will begin to see going forward, taking into account the ageing population in developed and in maturing economies?
Vishal Bali: I think number one – chronic disease and ensuring that one is in a position to manage chronic diseases. So whether it is high-end neuro services, whether it is highend orthopedic services, high-end cardiovascular services, critical care… so I think management of chronic diseases is going to be a key element of the future, and I think the only way that we can future-proof ourselves is to ensure that we offer a continuously improving technology which fundamentally is able to look at chronic diseases and make the management of chronic diseases that is much more patient-friendly.
Bryan Camoens: You mentioned technology that is used in hospitals going forward, but given that technology changes very quickly, for instance first we have Wi-Fi now we're having WiMAX and the iPad is apparently is set to be changing the role of operational work for healthcare professionals. How can the healthcare sector keep up with technology or is it just a matter of incorporating the best technologies at the time?
Vishal Bali: Well I think Bryan what is also very important is that – it's not just about technology but I think it's more about cost-effective technology. We need to ensure in Asia that we continue to ensure that we do not go into an era like the developed economies in particularly the US where 17% of the GDP is spent on healthcare. We definitely cannot afford a very expensive healthcare system in Asia. I think the fact that Asia has been able to project to the world more affordability and that is the reason why the west is moving to the east for healthcare is fundamentally because of the fact that we have optimized the use of technology, we have optimized the use of clinical excellence, we have optimized the hybridization of these two elements and ensure that at the end of the day we do not lag behind clinically from the rest of the world and that we are able to optimally use the technologies that are current generation technologies. So I think one of the key learning has been that while there is innovation which will happen almost on a daily basis, while new technologies will continuously evolve from the perspective of medical equipments, but what we really need to see is how do they optimize our current delivery systems; and I think that's going to be critical so we need to ensure that yes we need to keep pace with technology but we also need to utilize it optimally, so we can't have technology sitting on our shelves, which is not used at all or is used rarely, and continuously keep on creating more extensive healthcare delivery systems.
Bryan Camoens: Finally Vishal, can you please tell us where do you see the future of health facilities and design development evolving over the next decade in Asia?
Vishal Bali:I think basically that Asia as I said, has a lot to learn from how healthcare delivery systems of the west have shaped over a period of time. One of the most important criteria for Asia is going to be – we need to increase the throughput of our medical talent and paramedical talent, and I think that's going to be one of the key elements of Asia's supremacy in healthcare delivery because the more talent that we continue to create within our healthcare delivery systems we will ensure that our healthcare delivery systems continue to run very effectively; and I think that's one – that from an Asian delivery context. I think the next most important thing is – as I said, that the world is moving to the east. So there are lessons which the east can give to the west, and we need to continuously ensure that these lessons are enhanced on an ongoing basis. So, we need to continuously innovate and I think Asia has innovated tremendously in creating affordable healthcare delivery systems and over the next 20 years Asia should evolve and continuously innovate itself because of the fact that Asia treat such a large population of patients. So our ability to innovate new clinical procedures, our ability to create new patient care protocols will be the ones which will ensure that Asia continues to lead in the healthcare delivery systems of the future