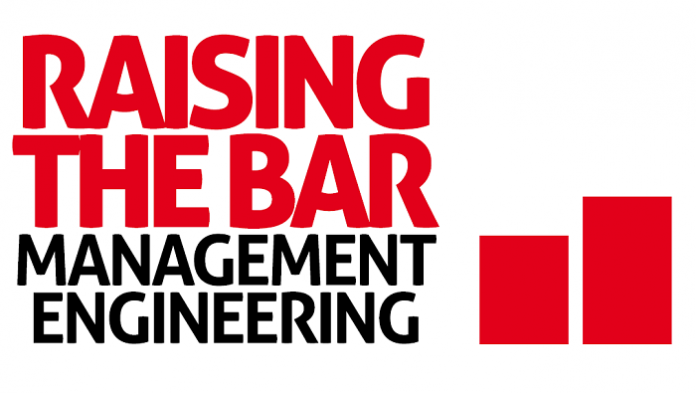 Practices that are standard in other engineering fields, such as measurements, testing, feedback and risk management – when applied appropriately to a business, models the organization as an interacting system proving vital for future growth. Management Engineering is a vibrant, innovative concept that takes a comprehensive approach to management.

Edna Boone's career has focused on financial and clinical systems integration in ambulatory, acute and community care settings. With more than 25 years of experience in healthcare management, she has worked with clinicians and served as Director of Clinical Systems and Physician Relations at United Health Services and as Director of Grants and Funding for NextGen Healthcare prior to joining HIMSS in 2008.
Today, healthcare executives are often finding themselves at a cross road in their organizational transformation journey, and are faced with the dilemma of pursuing conflicting paths; i.e, reduce costs while increasing access, improve quality of results at a time of shrinking reimbursements, and improve satisfaction ratings while minimizing staffing levels. The task is daunting enough without the inclusion of the complexities and uncertainty of new and pending regulations and legislation. There are a group of professionals who have the required training and toolsets to aid hospitals and healthcare organizations in navigating this challenging operational landscape; the Management Engineering and Process Improvement professional.
Management Engineering (ME) and Process Improvement (PI) professionals bring the advantages of an extensive variety of work experience and educational credentials to their work. Their role is to address the design, installation and improvement of integrated systems of people, material, facilities, information, equipment, and energy. ME-PI professionals draw from many disciplines, providing unique perspectives and skill sets to improvement initiatives and professional knowledge. These include management, business administration, and organization development disciplines that have grown from the Total Quality Management, known twenty years ago to today's Six Sigma, Lean and other performance improvement practices. The footprints of ME-PI in an organization can be found in an increase in productivity, revenue, process and quality outcomes, and a decrease in costs and inefficiencies.
A formal Management Engineering education is typically housed in the department of Industrial or Systems Engineering and includes the following types of courses: Calculus, Differential Equations, Physics, Statistics and Probability, Engineering Database Systems, Digital Simulation, Economics, Operations Research, Quality Assurance, Process Modeling, Human Systems, Logistics and Supply Chain Management, Financial and Managerial Accounting, Healthcare Information Systems, Healthcare Delivery System Models, and other healthcare oriented courses.
To an engineer, the world is filled with systems and processes, each of which can be analyzed and mapped according to critical and non-critical steps.  By understanding outcome goals and objectives, resource constraints and interrelationships, and overall system parameters, an engineer can optimize a process to maximize desired results within a given set of resources.  Engineering focuses on solving problems systematically, with proven analytical techniques and methods.
ME-PI professionals help individual stakeholders and executive management to:
Facilitate change.
Apply project management principles and practices to adhere to project schedules and budgets, and rectify problems relating to process, facility, and program.
Educate staff on operation management principles, continuous process improvement tools and techniques, processes and procedures related to change, etc.
Provide integrated Information Technology (IT) support by helping to define and interpret user requirements for workflow, data, ergonomic issues, staffing and equipment.
Influence, as and when applicable, the number of service lines for patients and the schedules of affected staff by ensuring quality and consistency of processes.
Process improvement is a continuous journey.  A logical place to start is in the area of intra-hospital supply chains, as there are proven best-practices to draw from in the Industry and significant gains can be measured in cost, quality, working capital, productivity, and staff satisfaction.  If implemented correctly, these projects can showcase process improvement methodologies and team approaches that can be used to pursue more complex processes and improvement challenges throughout the hospital.
Case Studies
Christian Hospital Northeast, a member of BJC Healthcare in St. Louis, MO, implemented a Supply Optimization Project in collaboration with a large supply distribution partner.  The project utilized Lean Production techniques for team-based process optimization and targeted quality, delivery, safety, and cost objectives. Voice of Customer (VOC) techniques were used to uncover the desires, needs, and constraints of the nurses who used the various supply areas in the hospital.  Spaghetti Diagrams and Current State Maps were developed to reflect the current state of workflows and the processes used to find, retrieve, and replenish critical supplies.  Product "Velocity" was analyzed by item numbers stocked in the supply rooms.  In addition to using Lean methodology to simplify processes and reduce waste, the team employed the DMAIC process of Six Sigma.  DMAIC stands for Define, Measure, Analyze, Improve, and Control.

The following summarises their findings:
Current Situation:
Every nursing supply area was organized according to personal unit preference.
Nursing units were allowed to set product par levels based on what made them "comfortable" with the process.
Supply Distribution maintains inconsistent inventory and replenishment processes within facilities and across the system.Opportunity:
Coordinate processes to compliment Clinical Workflow Initiative (CWI) efforts.
Develop a system that is standard for inpatient supply room set up.
Develop standard work for inventory and replenishment process.
Improve service to hospital by supply distribution operations designing product category for stocking locations (grocery model)
Improve customer service, increase productivity, and reduce service costs
Results:
Quality  (VOC)
Right supplies, right place, right quantity, right time Delivery
Visual cue – re-order point dots (re-order trigger vs. PAR)
A,B,C product ranking – count products by velocity (50% less touch points)
Color coding – easier location of product (less time to find and stock supplies)
Safety
Higher probability of getting product when needed
Better rotation of products (minimize expired product)
Cost
Project 93% IRR – 14 month Pay Back
Reduction in supply distribution line fees (approx. 25% reduction)
Reduction of count and cycle time by more than 10,000 hours
Supply stocking location inventory will remain cost neutral
Barnes-Jewish Hospital, with 1200 licensed beds, is the largest of the 13 hospitals in BJC HealthCare.  The hospital partners with Washington University School of Medicine and has 9,300 employees in support of 53,800 annual in-patient admissions.  Its size and diversity of services makes organizational strategy, training, and support, critical to the success of any re-engineering or process improvement efforts. In the past, the hospital applied traditional Performance Improvement (PI) methodologies that tended to be reactive, slow to implement, and committee-driven.  Now, the hospital and its parent organization BJC HealthCare have implemented a blend of Lean and Six Sigma in order to target more hospital-wide goals.
Organizationally, the hospital is focused on reducing its dependency on dedicated expertise to drive process improvement by developing a culture of Lean thinking by everyone.  Management Engineers are assigned to departments and train Subject Matter Experts (SMEs) within those areas to create an environment of continuous learning and process improvement.  A new lean curriculum was developed to educate every employee in the hospital in order to establish a broad culture of continuous process improvement.
Like modern factories, Barnes-Jewish Hospital has embraced the five S's of Lean: Sort, Straighten, Shine, Standardize, and Sustain.  Kanban cards are used to set up a pull system for critical supplies.  Performance Boards of area-specific performance metrics that relate to the strategic goals of the hospital are posted in each area and reviewed at the end of each work shift.  SMEs in each area help facilitate a dialogue of daily improvement.  The Management Engineer is used to begin the process of Lean in an area; and, like a parent assisting a child learning to ride a bike, over time they are able to step away and let the area sustain its Lean efforts.  By educating and involving the entire organization in Lean, Barnes-Jewish Hospital hopes to ensure a dynamic and sustainable model for continuous process improvement.
| | | |
| --- | --- | --- |
| Daily Huddles by Area | Performance Boards | Kanban Cards for Surgical Supplies |
ME-PI at HIMSS
The Healthcare Management Systems Society (HMSS) was founded 50 years ago to support the profession of Management Engineering in healthcare.  As information systems grew in prevalence throughout healthcare, HMSS was expanded to become the Healthcare Information and Management Systems Society (HIMSS).  Simultaneously, Management Engineering as a profession became less visible and was inconsistently practiced in hospitals across the country.  Unlike industry, which had embraced the role of engineers to analyze, optimize, develop, and support innovative manufacturing and operational processes that delivered continual improvements to cost, quality, and productivity, healthcare had been built around the premise that healthcare professionals delivered highly skilled care tailored to the unique needs of each patient.  There was limited appreciation for the value of an analytical systems approach that adhered to standard work practices, streamlining operations, reducing variability, and engaging all workers; not just the most highly skilled.
Times have changed and healthcare has recognized the value of learning from the industrial world.  Hospitals across the country are hiring engineers away from industries like automotive, aerospace, electronics, and consumer packaged goods to apply their proven methodologies for process improvement, systems analysis, and operational problem solving.  Even non-engineers from within the organization are being trained to fulfill the role of management engineering and process improvement.  Within HIMSS, the Management Engineering and Process Improvement (ME-PI) Community has grown from 500 in 2008, when the Community was formed from the ME-PI Special Interest Group, to slightly over 4000 members today.  Based on a recent member survey, only 9% of the ME-PI Community members responding were formally educated as engineers.  Most were either educated as information technology professionals (37%), management/administrators (31%), or physicians and nurses (19%).
The HIMSS Management Engineering and Process Improvement Community supports and promotes the profession of Management Engineering and Process Improvement by providing opportunities for networking, collaboration, publication, promotion and professional development of Management Engineers and Process Improvement professionals in healthcare organizations.  The community released the HIMSS ME-PI toolkit last year.  The toolkit is an evolving dynamic body of knowledge.  HIMSS invites the use of these tools and topics within your organization to educate your staff, improve your processes, and promote effective and efficient use of Health Information Technology that improves patient care.

About HIMSS
HIMSS is a cause-based; not-for-profit organization exclusively focused on providing global leadership for the optimal use of information technology (IT) and management systems for the betterment of healthcare. Founded 50 years ago, HIMSS and its related organizations have offices in Chicago, Washington, DC, Brussels, Singapore, Leipzig, and other locations across the United States. HIMSS represents more than 30,000 individual members, of which two thirds work in healthcare provider, governmental and not-for-profit organizations. HIMSS also includes over 470 corporate members and more than 85 not-for-profit organizations that share our mission of transforming healthcare through the effective use of information technology and management systems. HIMSS frames and leads healthcare practices and public policy through its content expertise, professional development, and research initiatives designed to promote information and management systems' contributions to improving the quality, safety, access, and cost-effectiveness of patient care.
To learn more about HIMSS and to find out how to join us and our members in advancing our cause, please visit our website at
www.himss.org