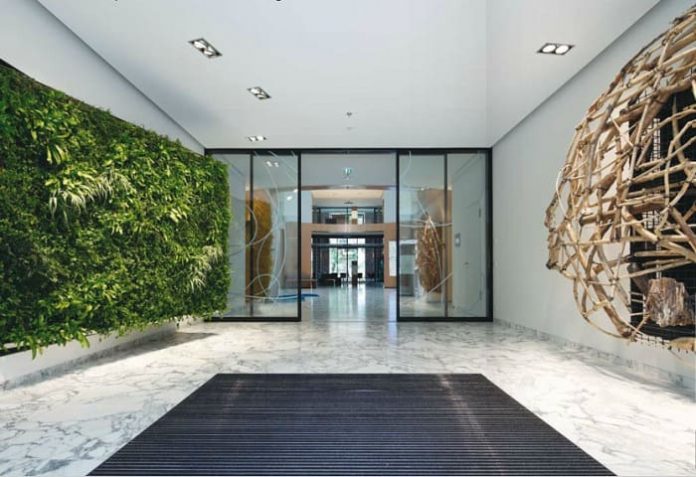 Health facilities can achieve sustained success only if they are able to reconcile economic and ecological goals. Support is offered here by Siemens' "Green+ Hospitals" – a modular program which health facilities of all sizes can use to achieve their environmental efficiency and quality goals both simultaneously and quickly. "Green+ Hospitals" not only includes holistic concepts for a high savings potential in energy and resources, but also offers solutions for optimized workflows that enable efficient usage of time and money.
Treatment quality and comfort are the most important evaluation criteria from a patient's point of view. With "Green+ Hospitals", Siemens offers solutions for short examination times, reliable and low-dose diagnoses and patient well-being and entertainment.
How "green" is your health facility?
Part of the program is the "Green+ Check" that helps healthcare providers to assess their initial situation and define a Sustainability Masterplan. Once the basic data has been collected and a workshop attended by all project participants has been held, a "Green+ Score" sustainability index is determined to inform the hospital's management as to just how sustainable it currently is.
Furthermore, the "Green+ Radar" provides an overview of the strengths and weaknesses of an institution and gives hints where improvement measures pay off fastest – for the benefit of patients, in the interest of financial success and for the protection of our environment.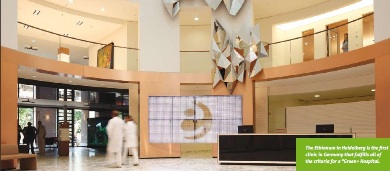 Consistently implemented sustainability
Last year, the month of June saw a clinic of a very special caliber opening its doors on the old university campus in Heidelberg, Germany: the Ethianum, a Clinic for Plastic-Reconstructive and Esthetic Surgery and Preventive Medicine at the University Clinic, Heidelberg. The clinic's philosophy is just as simple as it is uncompromising. The patient is always the center of its attention. Individuality and appreciation are top priority. The initiator, Scientific-Medical Head and Medical Director of the Clinic is Prof. Dr. med. Günter Germann.
With the Ethianum, he would like to realize his vision of a modern, progressively oriented and patient-centered clinic. The Ethianum is also one of the first clinics in Germany possessing an infrastructure which is consistently geared towards the principle of sustainability. Sustainable solutions were developed for all of the clinic's key processes, namely, energy management, patient care, IT infrastructure, and logistic organization.
First-rate medical treatment, research and teaching as well as patient-centered care can all be found under one roof here. "The patients in particular benefit from this, as they reap the advantages of first-class medical know-how and the latest methods of treatment at the highest medical level", explains Germann. "We are convinced that our demand for medical quality management cannot be effectively achieved without state-of-the-art medical technology." In order to achieve these high expectations, the people responsible at the Ethianum commissioned Siemens to develop and implement comprehensive solutions in the areas of energy management, patient care and communication infrastructure which took shape in highly efficient building automation, innovative medical technology, workflow-optimized information and communication design, hotel standard furnishings and "Green+ Style".
Technical equipment at the highest level
The operating rooms are equipped with the latest room and medical technology, thus permitting innovative surgical methods, such as microsurgical or endoscopic procedures.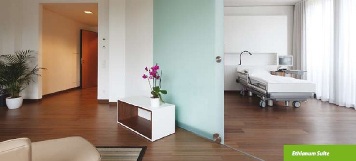 Monitors located directly adjacent to the operating area enable the surgeon to access the electronic patient record at all times. In addition to text documents, this paperless documentation of patient data and services also includes digitally filed X-ray and MR images or photographic documentation of the results of the operation. Optimal patient care also includes attending to the patient outside the operating room as well. Via a multimedia terminal located next to the patient's bed, the patient can interact with the clinic's staff and access everything from his own personal therapy plan, consulting and examination appointments etc. to an entertainment program of his own choice. Structured treatment paths provide an optimized workflow which lightens the workload of physicians and nurses. Patients in turn enjoy the comfort of a hotel stay accompanied by first-class medical care. "Through the solutions provided by Siemens, we are setting a new standard for sustainability in healthcare", sums up Dr. Peter Görlich, Commercial Director of the Ethianum.
"Green+ Hospitals" put into practice
The energy supply of the Ethianum is ideal because of its utilization of geothermal energy; the building produces fewer emissions than conventionally built hospitals . Furthermore, all processes connected with heating, ventilation, and air conditioning were optimized in cooperation with Siemens. Decentralized panel cooling systems thus ensure that the peak-load requirement of the heating, cooling and fresh air supply systems can be met. The energy consumption of the complex was thus reduced to a minimum.
With solutions it has thus realized, the Ethianum in Heidelberg is the first clinic in Germany that fulfills all of the criteria for a "Green+ Hospital". e-Market Development Board Hospitals at the Siemens Healthcare Headquarters in Erlangen, Germany.