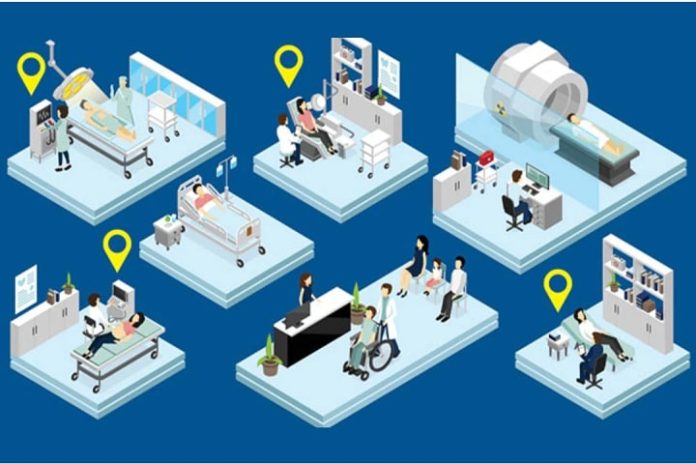 The COVID-19 outbreak is threatening to swamp hospitals across the United States. Some hospital systems are already beginning to reach capacity, and these facilities are focusing more and more effort on treating patients sick with the coronavirus.
The crisis is putting a tremendous amount of pressure on hospitals — probably more than what they've felt in the last few decades. As a result, doctors, nurses and other hospital staff need all the aid they can get to overcome the challenge this outbreak poses.
New hospital technology — like RTLS systems — can help hospital staff with administrative tasks and patient care, reducing the burden currently placed on medical providers.
What Is an RTLS System?
An RTLS is a real-time location system — a program that provides immediate tracking of objects and people in a given area. In a medical environment, this usually means staff, patients and valuable medical equipment — like ventilators and patient monitors.
Depending on a hospital's need, these systems may cast a wide net or provide fine detail. One RTLS system may use tags installed at hospital entry and exit points to track whether or not a patient or piece of equipment is still in the facility. Another may use specialized GPS or radio-frequency identification (RFID) tags to track and provide the exact location of a piece of equipment on a floorplan.
These tracking features can provide a range of major benefits for hospitals facing shortages of staff, equipment and time as COVID-19 cases rise.
Typically, RLTS can integrate into other hospital systems, like maintenance management and security systems or electronic health records. As a result, they can help hospitals better manage their use of essential medical equipment.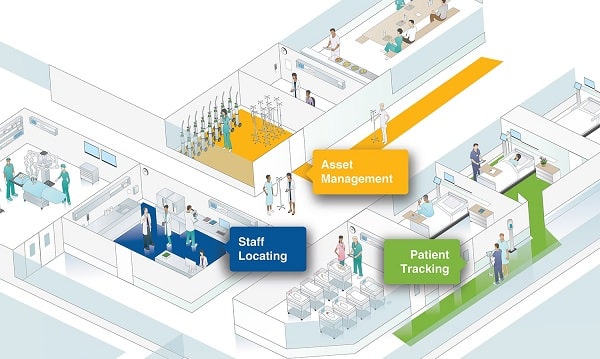 How RTLS Can Improve Hospital Efficiency
With an RTLS, healthcare organizations can effectively reduce administrative workload so that doctors and nurses have the most time available to tend to patients.
RTLS systems are most effective in chaotic situations, where equipment and staff aren't guaranteed to be where they're supposed to, and protocol can change from hour to hour. Conditions like this mean the location of critical resources can become hard or impossible to predict.
With one look at the RLTS via a hospital workstation — or, with some systems, via a mobile device — a worker can find the precise location of the team member or machine they need. This process reduces or eliminates the time they would have spent searching.
On average, a nurse walks four to five miles per 12-hour shift. Transit already makes up a significant portion of a nurse's workload. Searching for necessary equipment that may have been moved around due to rapidly shifting priorities eats up time they could use caring for patients. A lack of time forces nurses to stretch their hours and attention spans even thinner.
RTLS healthcare strategies can also help hospitals boost their bed capacity. The system can automatically alert administrative staff the second a bed becomes available. This ability enables patients who need a bed to receive the quickest possible care, avoiding wait times. Recent research has found that length of stay can decrease by an average of 4 hours with the right solution in place — the equivalent of adding 10 extra beds.
Other Benefits of RTLS
With an RLTS, healthcare providers can also use stocked medical equipment more efficiently. This advantage is essential during a crisis when new devices can be hard to obtain. Texas Health, for example, has been using an RTLS system to manage equipment usage since early last year. The hospital saved more than $400,000 and reduced equipment repairs by 80%, merely by optimizing their use of equipment the hospital already had on hand.
RLTS systems can also help nurses, doctors and other hospital staff track which rooms are currently being used to treat COVID-19 patients. Patients with compromised or weakened immune systems, like those recovering from surgery, can be effectively separated from people who are ill with the coronavirus. That enables hospital staff to reduce the risk of the infection spreading throughout the hospital.
Other features occasionally included in RLTS systems can assist nurses and doctors in calling for help when they need it. In an emergency, hospital staff may need immediate assistance. RTLS systems with panic buttons allow them to signal for help and immediately provide their location to other team members who can offer aid — without stopping what they're doing.
Improving Capacity for Care With RTLS
The coronavirus outbreak is pushing hospitals to their limits. As numbers of cases continue to rise exponentially, the pressure is likely to grow. Hospital staff will need all the help they can get to keep pace with the growing number of COVID-19 patients.
RTLS healthcare may be able to help hospitals manage some of the chaos they're currently experiencing. These real-time location systems can assist hospitals and their staff with supervising the location of equipment and team members. In a crisis, this information can be invaluable, ensuring medical personnel have as much time as possible to treat patients in need.