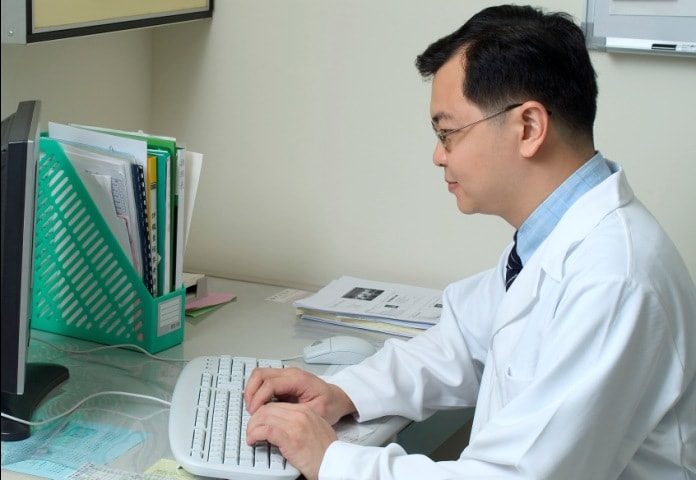 Turning decades of research data into valuable medical insight making it more secure and accessible resulting in better medical care and health promotion to improve people's longevity and quality of life.
Medical research plays a vital role in developing preventive measures, treatments and cures that help improve quality of care and patient outcomes. However uncovering new insights from huge stores of unstructured research data can often be a daunting task – one that Kuakini Health System (Kuakini) has worked to overcome by taking advantage of sophisticated content management and data warehousing solutions.
The Hawaii-based organization had transform decades-worth of research paper files and medical specimens into a rich store of digital information, and is simplifying and accelerating access to this research data.
A newfound ability to easily and rapidly analyze research data will help advance important scientific studies and support greater collaboration with other research centers. Kuakini broaden the scope of the platform to include clinical information, which holds great potential for improving the understanding of aging, longevity and human disease, and translating that knowledge into better medical care, health promotion and lifestyle.
The need
Kuakini Health System struggled to extract insight from decades of paper-based research records – including unique longitudinal studies of Hawaii's ethnic Japanese population – potentially impeding future research.
The solution
Kuakini transformed paper files into digital content and developed a data warehousing solution to enable more effective analysis, using solutions from the IBM Watson Foundations portfolio.
The benefit
Researchers can quickly and easily access the information they need and analyze it for new insights, potentially leading to new research and potential breakthroughs that will improve medical care and health outcomes.
For Kuakini, having the right partners is crucial to guaranteeing project success. "We have a clear vision for what we want to achieve. Active support and involvement of key executives is crucial to keeping this project moving forward and turning our vision into reality," says Wilfred Higashi, Manager of Corporate Audit and Compliance, Kuakini Health System.
Keeping vital research work on track
Uniquely, Kuakini holds an extensive collection of epidemiological and clinical data contributed voluntarily by the Japanese-American community in Hawaii, including questionnaires, blood and tissue specimens, and brain tissue from autopsies. For decades, this data has helped to conduct numerous studies on cancer, heart disease, dementia, longevity and more.
Wilfred Higashi, Manager of Corporate Audit and Compliance at Kuakini Health System, states, Kuakini has collected a huge amount of research data, with some of our oldest documents and specimens going back nearly 50 years. As these files were all paper-based, there was a risk of the documents deteriorating and becoming unusable due to frequent handling. We wanted to find a better way to preserve this data and ensure that it would be available to researchers for years to come.
In addition to maintaining the integrity of its research data, Kuakini wanted to make it easier for internal teams and researchers from external research centers to access and analyze this wealth of information. A fast, reliable way of sourcing and querying data would enable Kuakini to boost collaboration and accelerate the progress of research work, potentially helping scientists to make breakthroughs that improve the health status of the community.
Finding the right partners
Seeking to transform the way researchers used information, Kuakini's President and CEO, Gary Kajiwara, spearheaded an initiative to digitize research data and make it more readily available for analysis by developing a robust data warehousing solution.
"We evaluated a number of offerings from different software vendors, but none of them fit our needs", remarks Wilfred Higashi. "It was only after meeting with IBM that we found a solution that really matched what we were looking for. IBM brought in healthcare industry consultants and software experts to lead an Industry Business Value Assessment, which helped map out our requirements and create a clear vision for a solution that met these needs."
Kuakini also engaged Sirius Computer Solutions, its long time service provider, to provide consulting services throughout the project, covering solution analysis, design and implementation activities.
Wilfred Higashi notes, "This was a big undertaking for Kuakini, and we wanted to ensure that it was done right. Sirius has played a key role in the project, from design to knowledge transfer, and we are still working closely with them today. Their expertise with IBM software has been really valuable, and we have been very satisfied with the level of service they have provided."
Moving to digital data
Kuakini began by working to digitize its huge volumes of unstructured research data, including paper questionnaires and medical records of the periodic exams and clinical data collected from research cohorts. The organization used IBM FileNet Capture to transform the scanned images into useful digital content, which is housed in a central IBM FileNet Content Manager repository.
This solutions gave them a complete peace of mind, said Wilfred Higashi. "Moving from paper files to digitized content means that we no longer have to worry about the integrity or accessibility of our research data. We are confident that the information will be there when researchers need it in the years and decades to come."
"Having access to a secure, central data repository of digital information also saves our teams huge amounts of time and effort. Researchers no longer have to hunt down paper files; instead, they can quickly find the information they are looking for with just a few clicks of the mouse. As a result, they spend less time tracking down data and more time analyzing it, and this helps accelerate research work."
Moving from paper files to digitized content means that they no longer have to worry about the integrity or accessibility of their research data.
Turning information into insight
Having established a solid platform for capturing and managing the newly digitized content, Kuakini turned its attention to building the core warehousing solution that would enable researchers to analyze this rich data and extract new insights from it.
IBM InfoSphere Warehouse acts as the foundation of Kuakini's research data warehouse. Powered by industry-leading IBM DB2 database software, the solution provides a reliable, high-performing environment for consolidating and analyzing both structured and unstructured data.
With easy access to relevant, categorized content, researchers can more readily unlock new insights from the organization's huge volumes of research information.
Wilfred Higashi comments: "Our old database system was fairly limited in scope, and it required us to treat each study as a separate dataset, limiting opportunities for collaboration across projects. The new data warehouse is enabling us to break down these barriers and integrate all our research data, so we can deliver the right information to any users who might need it. This opens up new possibilities for our research teams – now that they are no longer restricted in the kind of data they can access at one time, it is easier for researchers to query more information and potentially uncover new insights."
Strong foundations
To support its new content management solutions and research data warehouse, Kuakini knew that it needed a robust infrastructure capable of delivering the high performance that researchers required to rapidly access and analyze large volumes of data.
The organization has implemented a rock-solid hardware architecture, built on IBM Power Systems and IBM System servers, connected to IBM System Storage devices through a storage area network. The IBM infrastructure provides high levels of computing power and availability for Kuakini's content management and analytics applications, helping keep vital research work on track.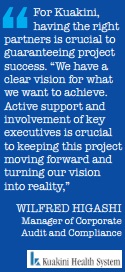 Improved collaboration
To foster greater collaboration with researchers from other research centers, Kuakini has developed a secure portal through which authorized external users can access the organization's data. Making research data available to the wider scientific community will help the organization attract more researchers to identify new research initiatives and create new opportunities for joint research.
Wilfred Higashi says: "Now that we have a robust platform for managing research data, and an easier, more reliable way of accessing and analyzing it, we can broaden our horizons in terms of research and collaboration. We will be able to promote our data to the global scientific community, which will invite valuable new insights on decades of data and increase Kuakini's prestige as a research institution."
Future enhancements will allow Kuakini to engage in real-time collaboration with researchers and study participants through virtual communities, wikis, blogs and more, creating an ideal environment for advancing joint research work.
"Researchers no longer have to hunt down paper files; instead, they can quickly find the information they are looking for with just a few clicks of the mouse. As a result, they spend less time tracking down data and more time analyzing it, and this helps speed research work." Wilfred Higashi, Manager of Corporate Audit and Compliance, Kuakini Health System
Finding the keys to a healthier and longer life
The flexibility of the new platform offers exciting opportunities to expand the scope of research and analysis work at Kuakini. The organization has plans to incorporate electronic clinical data into the data warehousing and analytics solution, and to merge this information with existing research data to find new connections between genetics, lifestyle, longevity and specific diseases. The insights gleaned from such analysis can be used to improve clinical practices and patient care, and to improve the health status of targeted populations.
Wilfred Higashi concludes: "If we can take our clinical data and tie it into existing research on healthy living, aging and genetics, it could have a huge impact on the quality of the treatment and care that we offer. With predictive analytics, for example, we could look at past practices and outcomes, and use that information to model treatment pathways that deliver the best outcomes for individual patients, helping them maintain a healthy lifestyle as they age."
Kuakini's ultimate goal is to provide a higher level of care to our patients and to improve the welfare of the community as a whole." The IBM solutions give us the ability to uncover new insights from a wealth of data. This will go a long way in helping Kuakini's researchers to understand the factors that can affect human health and aging, and translating that knowledge into practical improvements in medical care and health promotion that can improve people's longevity and quality of life."