Milton Keynes University Hospital NHS Foundation Trust wanted its staff to be able to operate at peak performance.

At Milton Keynes University Hospital, the IT infrastructure was out of date and failure prone. Ideas like paperless and digital seemed in the realms of science fiction. Today a unified Cisco® network is something that's directly supporting it in becoming the newest UK university hospital.

The hospital's old network was down once or twice a month, and finding the experts to fix it was a problem. Meanwhile, with two different phone systems, costs were beginning to climb. 
Trying to digitise processes and support new healthcare systems exceeded the limits of the original network design. With lots of young, web-savvy medical students arriving on campus it was time to make things better.
Unified communications opens the door to greater efficiency and improved outcomes at lower cost.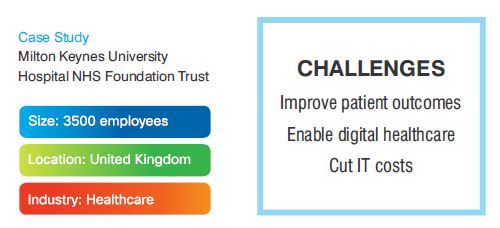 Unified network gives greater return on investment 
The hospital seized the chance to reduce costs and improve IT by moving to Cisco technology for its LAN, Wi-Fi, and telephony needs. The solution, installed by BT, includes a fully-redundant Cisco network.
Before, the hospital had two phone systems and three numbering plans. By including Cisco Unified Communications in the network upgrade, it saved a five-figure sum on the cost of installing a single, old-style phone system.

Secure mobility available everywhere 
With the previous wireless network, strength and reach were patchy. Using advanced features such as Cisco CleanAir® Express Technology, the Wi Fi network has boosted coverage and wireless performance across the entire campus.
A Cisco Identity Services Engine checks to make sure users and their devices are safe to connect to the Wi-Fi network. Clinicians have special rights for accessing data and services, compared to patients and visitors who can browse the Internet and stay in touch with friends and family.
Always-on and at high speed 
Both fixed and wireless domains are managed through one system, Cisco Prime™ Infrastructure, saving time and further reducing effort.
Associate Director of IT, Craig York, says: "Now we don't get any outages and, at 10Gbps, people can instantly get to the data and apps they need to work efficiently."
Network downtime reduced from several hours a month to zero.

Working closer and more efficiently together 
Now, it's easier to reach people. With new tools, like Cisco Jabber®, doctors and multidisciplinary teams can work closer and more efficiently together. They can see when colleagues are available and connect on the spot through voice, video, conferencing, and instant messaging.
IT is simpler and less expensive 
The hospital has a single, unified network using standard components. It works better, with no downtime, and it's simpler to manage. "Our people have a good, stable network connection," says York. "You can plug in a new Cisco phone or access point anywhere and everything works straightaway."
A springboard for further progress 
The network is helping accelerate IT projects, such as the rollout of a new electronic patient record system. It's also much easier to connect medical students when they start their courses.
"We recently became a university hospital and were named one of the best places to work in the NHS," says John Blakesley, deputy chief executive. "For such advances it's vital to have a strong network in place."