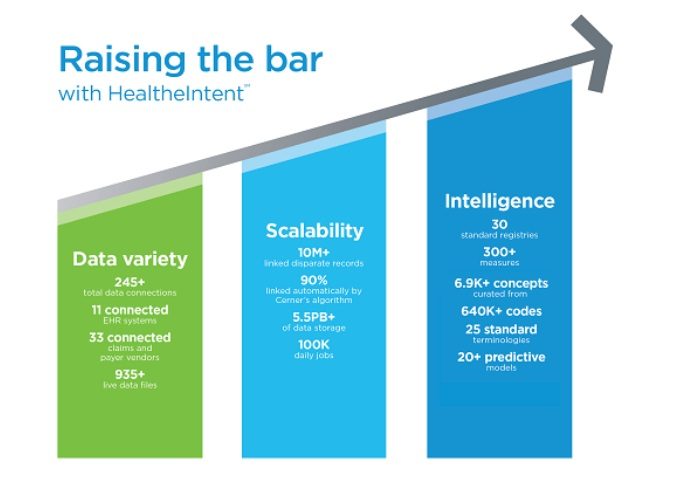 1.  What do you think is the key to quality care.
I believe there are many factors that can contribute to the overall increase high quality care delivery process. Two of the most crucial elements are great people, supported by outstanding next generation technologies.

Systems such as Cerner's Millennium platform can play a huge role in improving the quality of care by reducing variance in care, leveraging evidence based workflows, and appropriate, actionable decision support.  Today, technology can enable care providers with the most innovative and appropriate pathways of care in their disciplines.  In this golden age of information and technology, Cerner's solutions are structured to present the right data, face up at the point of care, at the right time, to the right care provider to provide the best outcomes for a specific individual.

 2. How do you see Cerner contributing towards the improved healthcare delivery system in the near future?
Cerner does this today in more than 30 countries around the globe, connecting more than 20,000 facilities worldwide, and we're growing every day.
In many countries around the world, the health care IT focus has always revolved around the digitization for each specific venue of care.  Systems for the hospitals, systems for the polyclinics, system for the nursing home.  As the trend in healthcare is shifting towards managing health across the continuum of care – data sharing will become key.  This is why the topic of interoperability is on the forefront of discussion in the industry.
When it comes to interoperability, we believe: Every patient has a right to his/her data and data should not be restricted from moving between different information systems if the patient grants permission.
Interoperability has long been a central tenet of how we design our systems and how we approach our business interactions. Although approaches to interoperability have evolved over the years, we've always supported open architecture concepts that allow data to flow easily between disparate systems.
We have a history of leading and supporting industry initiatives that advocate for the use of common standards and practices that underpin interoperability and open platform approaches.
3. In which stream of healthcare do you think that an innovative approach is needed the most?
A key component is individual engagement and responsibility.  It's a challenge to convince the unhealthy to be more than just a passenger on their healthcare journey. Many take their health for granted until it is too late, or it's at risk.  Getting individuals to own their health status, and co-manage their engagement with health care providers is an area for healthcare innovation.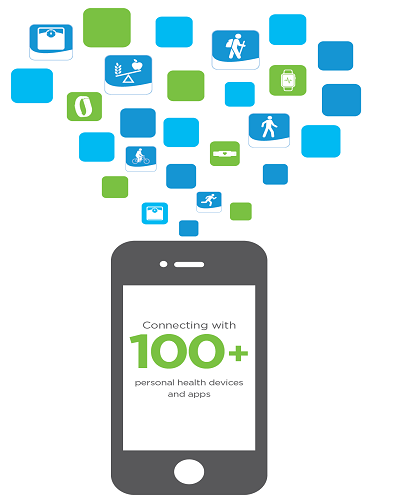 Cerner creates tools and portals that make it easier for patients and care takers to engage with each other and share data, communication and updates. These can advance and become the norm throughout the industry. Improving these tools and developing new processes that put the individual in the driver's seat, or at as a co-pilot on their health journey is the future of managing and improving the health.
4.  What do you think are the biggest worries of healthcare providers while implementing new technologies?
Can I use this technology and keep up with current patient volumes or will it slow me down?
Will the technology be a barrier between my patients and I?
5.  How do you overcome these fears?
By making sure our solutions are fast, easy and smart for everyone involved in the care process to use as they treat their patients.  The systems have to have rapid response times, so that information is presented in sub-second response, and only a few clicks away from the initial screens presented to the user.  The software has to be easy to use, almost intuitive to use without attending formal training.
And while the systems should be easy enough to use without training, ensuring an appropriate training plans are in place to help ensure comfort with the tools that are available before the clinician is in front of a patient.  We find at the elbow training especially impactful to drive adoption early on in the system roll out phase.  Some one that can be right there as the use the system the first time and can point when that using is having a bit of stage fright.
There is also a fear that the technology will get in the way of caregiver to patient interactions, so it is important for the training to talk about how you can use the system with the patient, showing them lab results, where to put the devices, etc, all play a role in how the technology can strengthen the relationship vs. become a barrier.
6. Do you find cost to be a roadblock to adopt innovative technologies and digitization, especially in developing countries?
It's understandable, but I think organizations really take into account the entire picture when considering to implement new technology. The return on investment is seen as potential productivity gains, (eliminating time spent tracking down medical records), increasing revenue generation (better documentation leading to improved revenue recognition) and other financial savings (medical records storage space repurposed into patient care service space), and most importantly lives saved due to patient safety quality related improvements that can be systematically implemented across an organization.
Adoption barriers can vary by region and by the specific solutions being implemented, but certainly things like infrastructure and connectivity are key challenges that need to be overcome in developing countries. Now at the same time, every day, as technologies become more advanced, these issues becomes less and less of a challenge.  Think about what you can do on your mobile phone today (log onto your patient portal and schedule an appointment, or see your lab results) verses what you were doing on it 10 years ago (call your provider's office).
7. What as per you is the Next Big Wave that will redefine IT in healthcare.
At Cerner we are going from sick care to health care. Cerner's vision for population health management is simple: healthier people, better quality of life and stronger organizations, which contribute to sustainable growth in our communities. We believe that addressing people's health care needs and encouraging healthier behavior in the work and at home is a key component of our vision.
HealtheIntent, our population health management solution, has proven its ability to scale. In 2015, it had 5.5 petabytes of data, 59 million persons, and performed more than 100,000 processing jobs daily across activated clients, giving them access to near real-time data of their population.
It supports our clients' abilities to scale their population health management activities, allowing the automation of personalized plans for care and programmable intelligence
8. What are the Core principles on which Cerner plans to build its future.
Our success is a function of three things: 1. having a compelling vision for the future, sometimes years or even decades in advance, 2. innovating by investing heavily in solutions and services that create future value for clients, and 3. building a culture of trusted relationships based on a shared commitment to health.
What we do is incredibly important, and it's personal. It touches our friends, our family and, ultimately, ourselves. I am fortunate to have thousands of associates and clients that share a powerful mission to change health care for the better.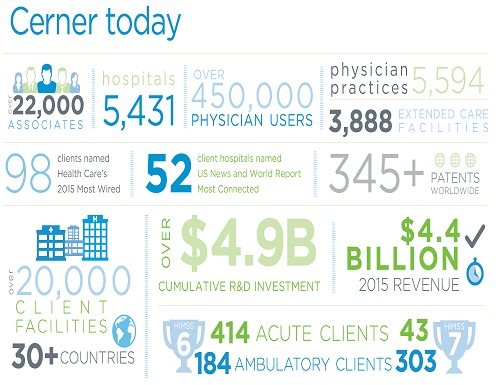 9. What makes Cerner stand out to be the best partner for the healthcare providers.
We are a partner for today and where our clients are going tomorrow. We believe that size, scale and skills are important to partner with health care providers to solve their challenges today and prepare for an uncertain future.   Cerner has spent over 4.2B USD investment in research and development of our solutions during our history, and spends 650M USD annually in this space.  Understanding this commitment to continuous innovation is incredibly important to our clients around the globe, as they count on us as their partner to provide solutions that will enable them to change the traditional models of healthcare care delivery.