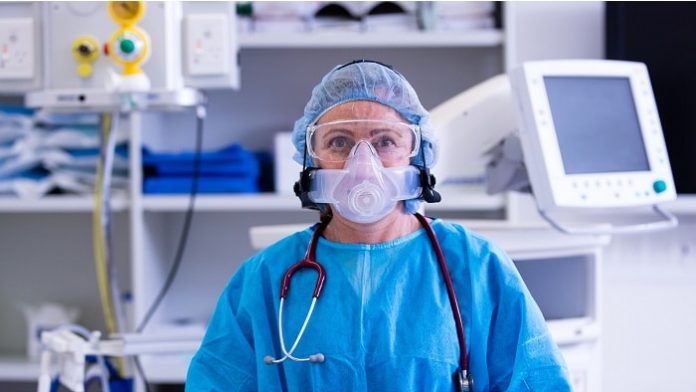 Global conditions are such that the threat of a respiratory pandemic is greater than ever before. In order to adequately respond in the face of an outbreak, healthcare workers need to be protected so that they can continue to provide care to patients.
It is vital that hospitals and first-responders are prepared with ready access to adequate supplies of personal protective equipment (PPE) that is easy to use, comfortable to wear and that staff that are trained and confident in its use. In the face of respiratory pathogens, having the right respiratory protection is key to this strategy.
Contributing Factors TO RESPIRATORY PANDEMIC SPREAD
Population density
High mobility
Ageing populations
Decreased vaccination rates
Potential bioterrorism
People are more mobile and population densities are more concentrated than ever before. More than half of the world's population lives in urban areas and the last two decades has seen the rapid growth of 'mega-cities' with greater than 10 million people.[i] Additionally, there is unprecedented mobility with over 8 million people flying internationally each day.[ii] This fast flow of people between heavily populated areas enables up a highly connected global network that has made natural barriers to the spread of disease (time and distance) ineffective.
At the same time, there have been significant social changes to urban populations and additional threats.  Refugee migration is also adding pressure to government and healthcare resources. This group has low rates of vaccination and a high disease burden.[iii] In 2014, 59.5 million people were forcibly displaced.[iv] Aging is one of the main risk factors for acquiring respiratory disease.
With growth of this at-risk group, there are more hospitals and aged care facilities requiring effective infection control measures.Vaccination rates are decreasing; in recent years, the drop in vaccination rates has resulted in outbreaks of preventable infections. Diseases previously thought to be eradicated are now, thanks to genetic engineering technologies, able to be readily synthesized at modest costs[v].Biosecurity agencies are discussing the heightened risk of these viruses should they be released at concentration to a naïve population where the impact would be fast and widespread.
"Any one of these external factors represents a significant challenge for effective infection control," says Prof. Raina MacIntyre, Professor of Global Biosecurity at Australia's world-renowned Kirby Institute and head of the NHMRC Centre for Research Excellence, Integrated Systems for Epidemic Response (ISER). "When we see such powerful macro-trends converging, alarm bells really start to ring".
Challenges with PPE adoption and use
While gloves and gowns have made it into daily use in patient care, protective respirators have not. Generally protective respirators are adopted whena diagnosis of respiratory infection is made, or in pandemics.  In the healthcare setting, the time from initial presentation to isolating an infected patient can involve close contact with up to 10 staff and significant travel through the common areas of the hospital.
"The biggest infection risk is in the pre-diagnosis stage. Once a medical professional has a diagnosis, protective protocols and equipment are quickly triggered. Before then, the patient has potentially infected the reception staff, triage teams, patients in crowded waiting rooms, and unprotected clinical and ancillary staff," says Prof. MacIntyre.
Disposable respirators, such as N95s, have been widely accepted by hospitals globally due to their ease of use. N95's have serious weaknesses for protecting healthcare staff including poor fit, discomfort (heat, moisture and breathing resistance) and improper use. The disposable nature of these devices means sudden increases in demand for high volumes can cause shortages where staff may care for patients with used masks, or without protection at all, resulting in potentially high rates of healthcare worker stress, infection rates and absenteeism.
Should a pandemic occur in the US, it has been calculated that up to 7.3 billion N95 masks would be needed to protect workers.Currently 60 million masks are stockpiled,[vi] and there are no national guidelines for maintaining PPE stockpiles, leaving it up to hospitals to fund and manage their stock.
In some cases, where a healthcare worker cannot be fitted with an N95 or where hospitals have adopted higher protection protocols, powered systems (PAPRs) are used, but despite offering advantages over the disposable mask (i.e. higher protection, re-usability and good user comfort), PAPRs are only minimally used and stocking levels are generally low.
The barriers for wide adoption of PAPRs are the bulkiness, heavy weight and high complexity preventing a quick don, doff, clean and re-process. When faced with an on-the-spot choice between an N95 and taking five minutes to don a PAPR, users with time pressures will tend to choose the fast and simple option, even when this compromises their own protection.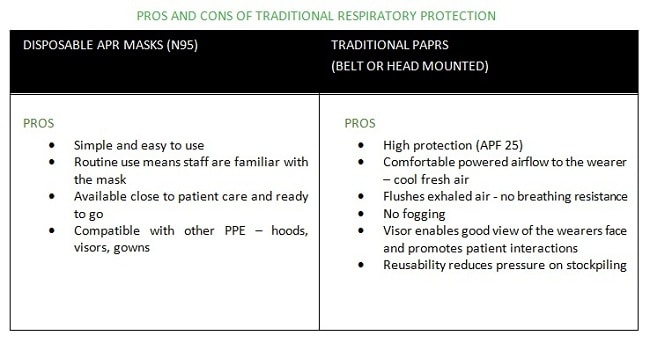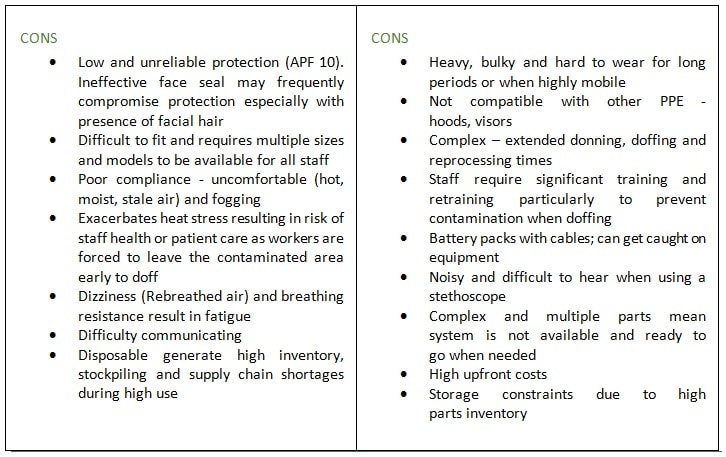 A NEW ERA IN RESPIRATORY PROTECTION
Hospitals and agencies need to review PPE accessibility and scale up; they must evaluate new equipment that increases comfort, protection and reusability," says Prof. MacIntyre. Using PPE, on a day-to-day basis helps staff become familiar with the PPE to improve adoption, correct use and compliance when the pressure is on.
A new generation of respirators designed specifically for healthcare addresses the limitations of traditional N95s and PAPRs. These are not iterative changes but offer a paradigm shift in respiratory protection. Advanced technologies can now deliver significant increases in performance with user comfort, ease of use and operating efficiencies to protect healthcare workers.
One innovative device has eliminated the major disadvantages of N95s and traditional PAPRs. These respirators are ultra-light (500g/1.1lb), simple (no hoses/belts), and small with powered airflow making them comfortable to wear: in short, offering the high protection levels of a powered respirator with the ease of use of an N95. The equipment is reusable, compact and modular, providing cost savings, operational flexibility and ease of storage.
There is a clear mandate for hospitals around the world to prioritize the improvement of policies, procedures and equipment for PPE. In the current environment, where the scale and magnitude of an outbreak is forecast to be significant, there is now a compelling need for the adoption of better respiratory protection for healthcare workers.