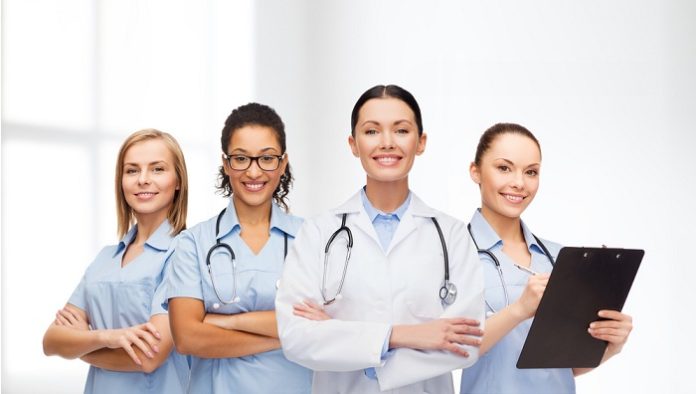 The medical field is one that will always be necessary. People will always need medical care, whether it's because they've become ill, gotten injured or are just aging. What changes are the specialties that need the newest graduates to keep them running smoothly.
With that in mind, consider the following five most promising medical careers as we move into 2020 if you're interested in changing your career or field in the coming year.
1. Dental Hygienist
If you're looking at medical career options, you might not typically think of including dentistry in your search. But if you overlook the possibility of becoming a dental hygienist, you'll be doing yourself a great disservice.
This is one medical field you can tackle with as little as an associate's degree — no need to spend years in schools or accrue tens of thousands of dollars in student debt. The average dental hygienist's program will take three years to complete, including obtaining the necessary licensing to practice in your state.
According to the Bureau of Labor Statistics (BLS), the average dental hygienist makes just under $75,000 a year, or $36 an hour. This field is projected to grow much faster than average — 11% — between 2018 and 2028, adding more than 23,000 new positions in the next 10 years.
2. Respiratory Therapist
Respiratory therapists specialize in treatment and care for individuals who experience breathing problems, like those with COPD, asthma and similar conditions. A job in this field is usually a full-time position, and the field is expected to grow 23% between 2016 and 2026, according to the BLS.
The average respiratory therapist needs an associate's degree, though some will work through a four-year bachelor's degree program instead. The reported median pay for these specialists in 2018 was $60,280 a year, or $28.98 per hour.
Respiratory therapy is easily one of the fastest-growing fields in medicine, so now is the perfect time to make the switch to that specialty or start a respiratory therapy program at your local college.
3. Radiologic Technologist
While radiologic technologists might not examine diagnostic imagery to make a diagnosis, they're a vital part of the diagnostic process, managing all the equipment necessary to take X-rays, MRIs, CT scans and more. Radiologic technicians have the benefit of being able to work anywhere that uses imaging equipment, from hospitals and outpatient facilities to research labs and even veterinary medicine.
While this field isn't growing as fast as some of the other careers on this list — only nine percent between 2018 and 2028, according to the BLS — a radiologic technologist can expect to enjoy an average median salary of $56,670 and up.
Becoming a radiologic technologist requires only an associate's degree, so if you want to change your career quickly, you've only got two to three years between you and your new career in radiology.
4. Occupational Therapy Assistant
Occupational therapists help people learn the skills they need for daily life and work while helping them recover from an injury, disability or illness. Becoming an occupational therapist requires a master's degree, but working as an assistant to a therapist requires only an associate's degree.
You need a two-year occupational therapy assistant's program as well as 16 weeks of fieldwork to gain experience before you can work in the field.
According to the BLS, occupational therapy assistants are in one of the fastest-growing fields in the country, which is expected to grow an astonishing 31% between 2018 and 2028. Occupational therapy assistants make an average of $57,620 a year, and this degree program can be a fantastic stepping stone if you're considering seeking a master's degree in occupational therapy.
5. Dietitian or Nutritionist
The average person finds it challenging to know what to eat to ensure they're getting the best nutrition. That's where nutritionists and dietitians come in. Specialists in this field are trained to help people learn how to eat healthily to improve their lifestyle or reach a specific goal.
This career does require a bachelor's degree as well as an internship or residency to be able to practice, but professionals in this field can expect to enjoy a median annual salary of $60,370, according to the BLS.
While this specific field isn't growing as fast as those for occupational therapy assistants and respiratory therapists, it's expected to grow by 11% between 2018 and 2028, which still makes its growth much faster than average.
Looking Toward 2020
The medical field is changing as we move closer to 2020. If you're trying to choose your major or feeling burned out in your current field and want to look for a change, remember that these five careers are some of the fastest-growing in the country.
Do some research and see if one of them might be a good fit for you as you continue your career in medicine. Every field is necessary, but not all fields are created equal when it comes to career growth, so choose wisely.