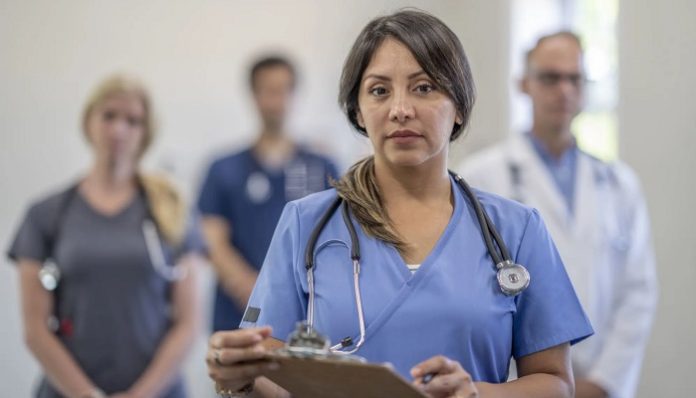 The Biden administration has unveiled a substantial investment of $100 million aimed at addressing the growing nurse shortage crisis within the healthcare sector. The U.S. Department of Health and Human Services (HHS) officials have highlighted the urgent need to bolster the numbers of registered nurses, nurse practitioners, certified nurse midwives, and nurse faculty to meet escalating demands. The funding is designated to augment the nursing workforce in multiple ways, including expanding nursing school faculty, facilitating the progression of licensed practical and vocational nurses into registered nurse roles, and training additional nurses for essential roles in addressing mental health concerns, substance use disorders, and maternal health issues.
Carole Johnson, the administrator for the Health Resources and Services Administration (HRSA) within HHS, emphasized the pivotal role this funding plays during a press call. She stressed the importance of eliminating barriers that might deter potential nurses due to financial constraints, as well as the intention to enhance the presence of nurses in the mental health sector while tackling burnout concerns. HHS Secretary Xavier Becerra also joined the conversation, pledging comprehensive efforts to support aspiring nurses and broaden the mental health nursing domain.
A recent insight brought attention to the severe attrition the nursing field endured during the COVID-19 pandemic, with 100,000 nurses exiting their roles and a projected 800,000 more following suit by 2027. These departures were often attributed to burnout and emotional exhaustion. With the growing baby boomer population and an escalating demand for healthcare services, the American Association of Colleges of Nursing predicts an exacerbating shortage of registered nurses, with estimates indicating a required increase from 3.1 million in 2021 to 3.3 million in 2031.
To address these challenges, HHS has allocated the $100 million investment strategically. The funds will aid in expanding the ranks of primary care nurse practitioners, certified nurse midwives, and clinical nurse specialists who can provide vital services like such as mental health, substance use disorders, and maternal health care. Additionally, the initiative seeks to establish a nurse residency and fellowship program to equip advanced practice nurses with comprehensive training in primary care settings, similar to the approach taken for physicians. To foster growth in nurse faculty, HHS will provide low-interest loans and loan cancelation incentives through the Nurse Faculty Loan Program. This multifaceted investment aims to cultivate a robust nursing workforce and bridge critical service gaps across various healthcare domains, particularly in underserved regions.
The Biden administration's $100 million investment targets the pressing nurse shortage crisis, channeling funds into expanding nursing school faculty, enabling career progression for practical and vocational nurses, and training nurses for essential roles in addressing mental health, substance use disorders, and maternal health issues. This investment responds to a significant attrition of nurses exacerbated by the pandemic and aligns with projections of an escalating nursing shortage as healthcare needs grow. The funding strategically supports the expansion of primary care practitioners, offers advanced training akin to physician residencies, and incentivizes nursing faculty roles through financial assistance programs. This holistic approach seeks to strengthen the nursing workforce and address critical healthcare gaps across multiple fronts.