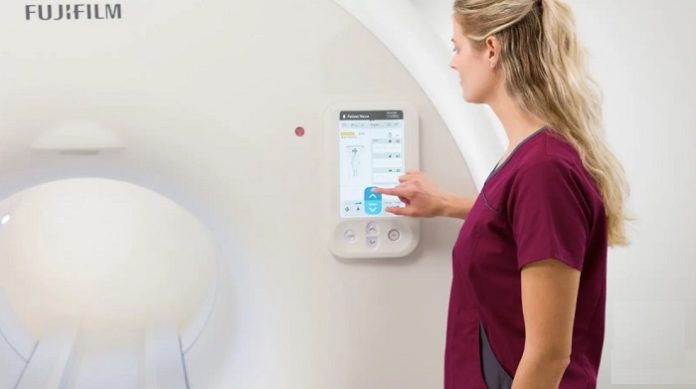 The FDA has granted 510(k) clearance for the Echelon Synergy magnetic resonance imaging (MRI) system, which combines artificial intelligence (AI) enhancements for image acquisition and quality with improved radiology workflow efficiencies.
The Echelon Synergy MRI system utilizes proprietary Deep Learning Reconstruction technology to improve the quality of MRI scans and the speed of acquiring the images, according to Fujifilm Healthcare Americas Corporation, the manufacturer of the new 1.5 Tesla MRI system.
One key benefit of the Echelon Synergy MRI system is the AutoExam One Touch, which allows automated workflows for brain and knee MRI exams.
In order to facilitate improved patient comfort, Fujifilm said the Echelon Synergy system offers reduced acoustic noise through SoftSound™ gradient technology as well as a 70 cm-wide bore and 62 cm-wide table that can accommodate patients weighing up to 550 pounds.
"Fujifilm is committed to delivering medical advancements focused on enhancing the patient's experience while streamlining the workflow for today's busy imaging providers," noted Shawn Etheridge, the executive director of modality solutions for Fujifilm Healthcare Americas Corporation.
"Echelon Synergy is designed to facilitate optimal comfort and help alleviate anxiety with its large bore and wide patient table. Alleviating any patient anxiety not only helps to enhance the patient experience, but could also improve a radiologist's workflow, as the less nervous a patient, the more efficient and quickly the scan will get done."
>>>>