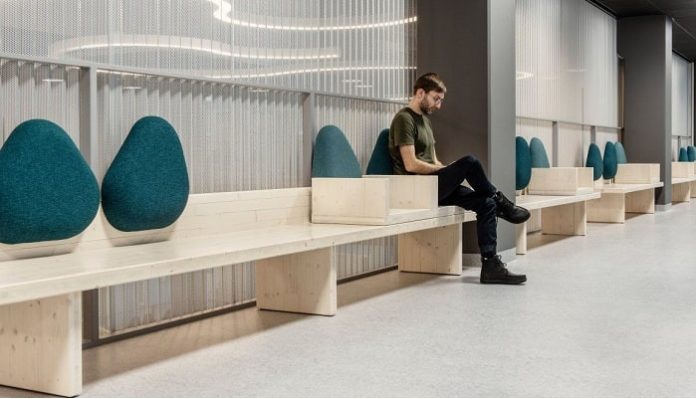 The Finnish hospital sector had been stuck for a long time, suffering from ageing hospital facilities and a lack of new healthcare models. The old Jyväskylä hospital in central Finland was a prime example. Hospitals needed to be rethought and research was an effective way to begin the process of thinking outside the box.
From 2010, in his role as a professor at the Aalto University, Helsinki, Teemu Kurkela led a research project developing theoretical models for future hospitals with Hospital Nova as a case study. In 2012, Hospital Nova became a real project and patients were admitted this year.
The first new build general hospital to open in Finland since the 1970s, Hospital Nova balances the clinical requirements of an innovative next generation hospital with an intuitive design sensibility inspired by surrounding Finnish nature.
The underlying aim has been to address the hospital client's vision that also informed Kurkela's own research: a future hospital with a totally new innovative concept and operation system.  What is unique about Hospital Nova is that, in terms of both functional concept and building type, is that it has been designed entirely from first principles.
JKMM approached the rethinking of the hospital building typology very much from within. As a result, Hospital Nova is not a single, large-scale and maze-like building. Instead, it is divided into four separate building typologies. These are 'Hot Hospital' (surgery and treatment), 'Hotel' (wards), 'Health Care Shopping Mall' (outpatients) and 'Factory' (supporting functions).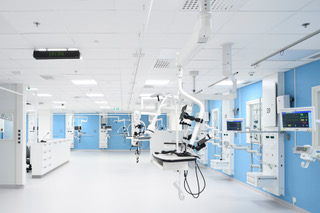 This model has several benefits, from providing better patient care to more efficient logistics. A large hospital is like a small city. It needs logical organisation. To achieve this, a new operation system was developed for Hospital Nova.
1) A unique Finnish 'Hot Hospital' concept was developed for Hospital Nova. 'Hot Hospital' means that all 24/7 'hot' functions are gathered into one optimised functional unit. This occupies just 25% of the total area of the hospital. The key functions of the modern hospital are thus arranged in much more compact and effective way compared to old hospitals. A Critical Patient Pathway ensures rapid movement of emergency cases to operating theatres, also designed by JKMM.
2) A new model was also developed for Outpatients departments. These are designed as a 'Health Care Shopping Mall' in which all 360 consultation rooms are arranged along the main interior atrium. The consultation rooms are standardised and shared by different medical specialities.  Patients stay in the same consultation room rather than moving from one part of the hospital to another, with doctors and nurses coming to see them there.
3) Communications among medical staff are greatly improved by doctors and nurses meeting and working together in the 'Knowledge Centre', a large shared workspace behind the consultation room zone. (There are no private staff rooms.) This is an effective system enabling medical specialists from different fields to compare and contrast notes thus ensuring a more wholistic assessment of any individual patient.