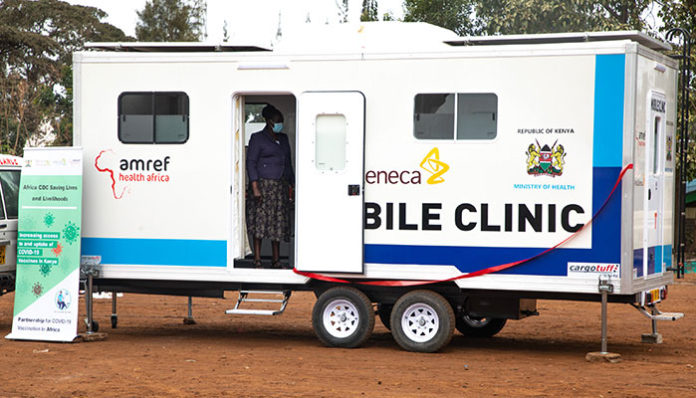 In an effort to shield last-mile communities from the pandemic, Amref Health Africa and AstraZeneca are introducing a fleet of Mobile Vaccination Clinics (MVCs) in partnership with the Ministry of Health (MoH) in Kenya. The ten mobile clinics will target hard-to-reach communities throughout Kenya with COVID-19 vaccinations and other health services.
The programme will boost Kenyans' access to and use of vaccines. As of June 17, 2022, 31.4% of Kenya's adult population had received the full COVID-19 immunisation, falling behind other world areas by 17.7%. When all 10 mobile clinics are fully operational, the daily vaccination target for each one will increase to 1,000 individuals.
By offering vaccine information, COVID-19 testing, convenient vaccination, and post-immunization care, the mobile clinics will aid in closing the COVID-19 vaccine gap. The custom-built clinics are run in collaboration with the County Health Departments and adhere to health and infection prevention control requirements. They are equipped with solar-powered refrigerators and a backup power supply. On-site web-enabled PCs make it easier to collect and report data on time. In order to ensure the mobile clinics' efficient deployment, Amref Flying Doctors would restock them in difficult-to-reach locations.
It is obvious that health emergencies are going to stay, and thinking outside the box via innovations in health may be their only shot at prompt reaction if and when emergencies strike, stated Group CEO of Amref Health Africa, Dr. Githinji Gitahi. To prevent the harmful effects that health emergencies like COVID-19 have on communities, it is essential to address other health factors like non-communicable diseases that determine how health crises affect individuals. Therefore, the mobile clinics are a fantastic addition to the toolset that will guarantee equality of access to last-mile communities with crucial health services and much-needed vaccinations. They remain dedicated to maintaining the momentum toward immunising 70% of the eligible population through this creative solution, working with their partners, the Kenyan Ministry of Health, AstraZeneca, and other stakeholders in the commercial and governmental sectors. In the end, the clinics will strengthen the infrastructure of the healthcare system, enhancing the country's readiness for medical catastrophes.
They are delighted to initiate this inventive collaboration with the Ministry of Health and Amref Health Africa to make sure that no Kenyan is left behind in their efforts to protect lives from COVID-19 and other life-threatening diseases, said Area Vice President, AstraZeneca for the Middle East and Africa, Dr. Pelin Incesu. This is a part of AstraZeneca's continued dedication to a pandemic response that puts patients first. Their COVID-19 vaccine has already been distributed in more than three billion doses around the world, potentially saving 3.6 million lives.
The clinics will incorporate health promotion to make people aware of non-communicable diseases (NCDs) and provide continuity of NCD health services, focusing in particular on people with diabetes and hypertension. This will happen when Kenya incorporates immunisation services into primary health care. The clinics will assist current public health systems by acting as fixed clinics when they aren't engaged in community outreach, easing the strain on nearby healthcare facilities.